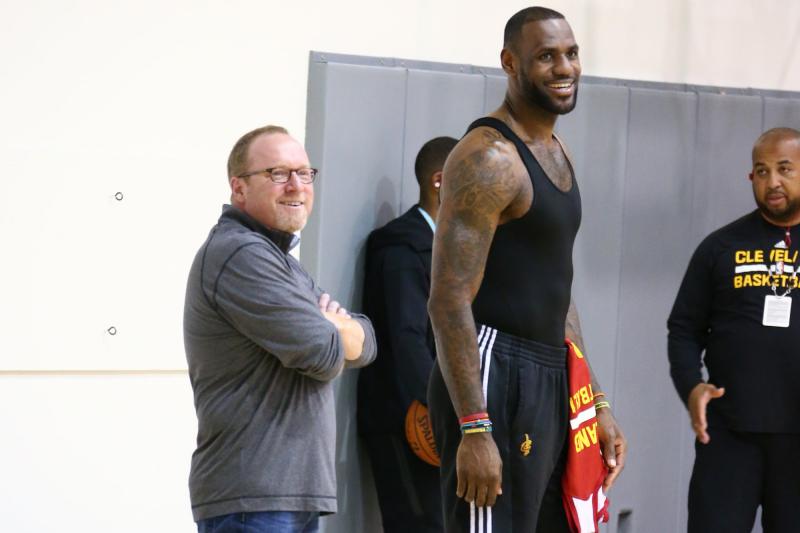 LeBron James is on the cusp of history. It's been since 1964 that a single player has been to eight straight NBA Finals and James is trying to become only the fifth man to reach eight or more NBA Finals in a row. With a younger and less experienced roster makeup around him, James' eighth run to the Finals won't be like past seasons. Instead of a go-to guy in Kyrie Irving right next to him on the court, James has George Hill and Rodney Hood operating with him in the backcourt. To make matters even more riveting for those watching greatness unfold, James is without head coach Tyronn Lue for the time being. Lue has stepped away from the team to take care of his health, something that has been affecting him for most of the season.
Everything about the current situation in Cleveland has a former Cavaliers general manager singing LeBron's praises, especially if he makes it back to the promised land.
That would be David Griffin, who helped construct the team that brought home the first Cleveland team championship since 1964. Griffin has been pretty vocal throughout the season on the Cavs' situation, as it was announced that he wasn't going to be retained as the general manager before the Kyrie Irving trade situation was handled this past off-season. So it comes as no surprise that Griffin spoke out on the greatness of LeBron that just keeps on getting greater.
Griffin spoke with BusinessInsider.com and gave his take on the matter:
"If he makes it to the Finals this year with the group he has, it'll be the truest testament to his greatness. Because, mentally, to be able to grind and do the things he's had to do, if he were to do it eight years in a row, it would just be truly unprecedented. I think this year in particular because there's been so much turmoil, because it's been such an unsteady year in some ways emotionally, it would be an even bigger feat mentally than it ever has been."
With just a handful of games left in the regular season, it's about that time when LeBron gets going into a mode that only a select few can get into. And with his eyes set on the NBA Finals once again, there's no doubt the entire world will be watching his every move.

NEO Sports Insiders Newsletter
Sign up to receive our NEOSI newsletter, and keep up to date with all the latest Cleveland sports news.