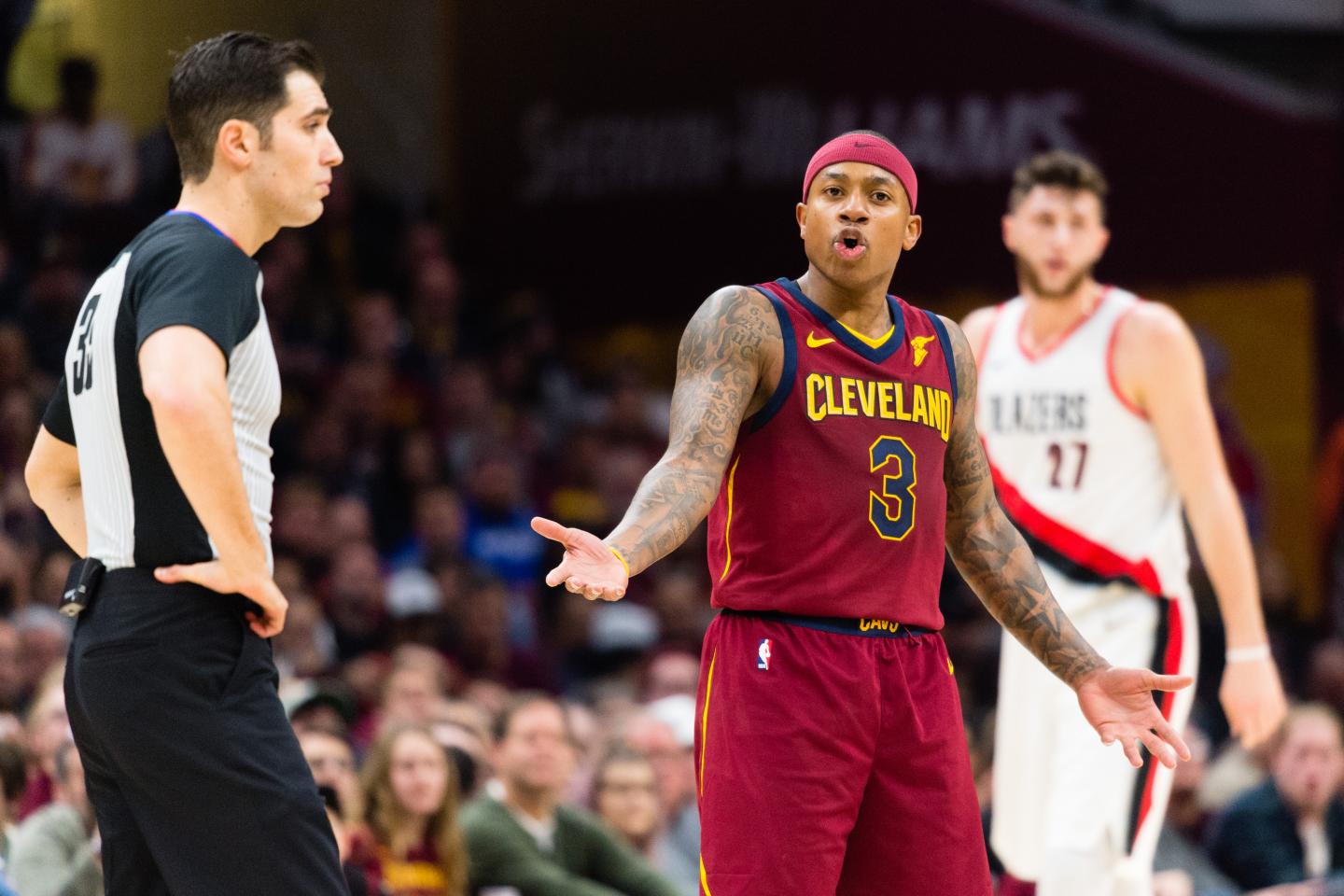 One-time Cavalier and now Denver Nugget guard Isaiah Thomas won't be getting a hero's welcome when Denver comes to Cleveland to play the Cavaliers on November 1st.
Saturday night in a video posted on Instagram, Thomas called the city of Cleveland "a s—hole," stating that "I can see why LeBron left — again."
Here's the video as Thomas, who did nothing but disappoint when he was a member of the Cavs for a whole 15 games before being dealt to the Lakers at the trade deadline.
Isaiah Thomas isn't holding back ? pic.twitter.com/NkvsGBb58u

— Dante Turo (@DanteOnDeck) August 12, 2018
Thomas later posted an apology on Twitter, and then posted an additional video on Instagram saying "Cleveland wasn't that bad."
I apologize for my choice of words about Cleveland. I was on my live playing around. They don't show you everything for a reason smh. Right after that I clarified what I said…. All love to everybody who had love for me in Cleveland.

— Isaiah Thomas (@isaiahthomas) August 12, 2018
He may say that, but the wrath of fans of Cleveland are not going to let Thomas off the hook that easy, as quickly Twitter exploded slamming the guard into submission.
Isaiah Thomas right now … pic.twitter.com/qIq5snUk05

— Steven R. Walker (@Steve_R_Walker) August 12, 2018
Isaiah Thomas can talk as much ? as he wants. He avg'd 29 2 seasons ago. Y'all show how much y'all don't know hoops. The Celtics owe him like $80m's for how they did him. If he dunked y'all would call him the ? FOH. 60th pick ain't supposed to have a better career than the 10th

— GRADS (@MGRADS) August 12, 2018
The Cavaliers have had their share of solid players, a few great players, a couple of hall of famers, and a large selection of mediocre-to/terrible players. Yet I haven't seen the fans hate any former Cav more than Isaiah Thomas (for good reason, btw).

— Tony Mazur (@TonyMazur) August 12, 2018
My Hatred of @isaiahthomas went from my one of my top 10 hated players in sports to top 2 under Draymond Green and Tied with Kevin Durrant. ?? @ Cleveland, Ohio https://t.co/cegJCX640I

— cabessports (@cabessports) August 12, 2018
The only Isaiah Thomas I recognize played for the Detroit Pistons.

— Jim Sintic™ (@Gym51nt1c) August 12, 2018
How Isaiah Thomas calling Cleveland a "shithole"? He's lucky Denver wants his inch-high private eye ass.

— 2002 Chris Jericho (@ASAPVick_) August 12, 2018

NEO Sports Insiders Newsletter
Sign up to receive our NEOSI newsletter, and keep up to date with all the latest Cleveland sports news.