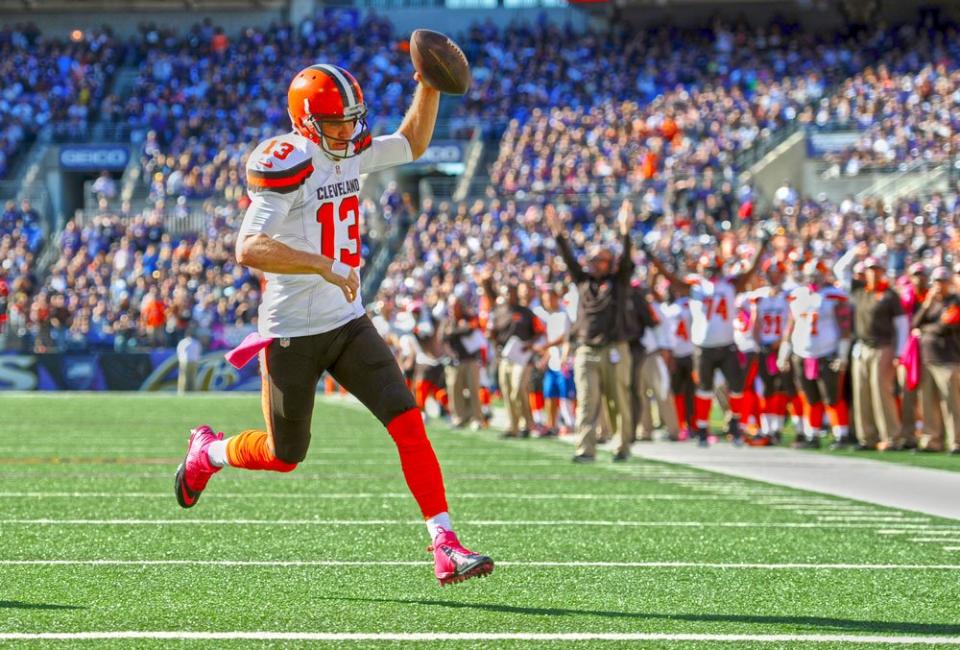 In two seasons with the Cleveland Browns, quarterback Josh McCown found little success, going 1-10 and being shown the bench when the team picked up fragile free agent quarterback Robert Griffin III in the offseason of 2016.
McCown still stepped in when Griffin wasn't able to take the field in 2016, a year in which the Browns won just one game, and was 0-5, throwing six touchdowns and six picks in usually tough situations.
He was let go this offseason, and found a new home in New York with the Jets, where in four games he's already won two games against the Dolphins and last week an overtime win over the upstart Jaguars.
McCown spoke a lot about his former team in a conference call Tuesday, speaking about how he was the Browns decision to let him go, and how he does understand how they are trying to build a successful franchise.
"They made the decision to move on so I understood, like I said back then, where they were headed with the position and that they are trying to find their long-term answer. I understood that," McCown said.
"For me, I appreciated it just because it gave me some time to kind of get the landscape of where I was with everything and the market and then pursue my next opportunity. I appreciated that from their end at least not letting it drag out but doing it as quickly as possible.
"Now, I'm just glad to be here. I was excited about joining the Jets and what they are trying to build here. It is early and not unlike the situation that we were in when we got to Cleveland, just understand that they are trying to build something and move forward with their program.
"I was glad to be a part of us, and it has been fun so far. It is really great getting to know the guys, a good locker room and glad to be back with these guys and back in the season in the swing of things. Sitting here at 2-2, I feel pretty good, but we have a long way ahead and a lot of season left."
McCown likely isn't the long term answer in New York with the Jets either, but based on the fact the team was expected to be at or near the bottom of the AFC and the AFC East all season, the fact they have already won two games has been a surprise to most Jets fans.
Back to his time in Cleveland, McCown says he knows that winning is going to be tough, and he sees a difference between the time with the Jets where there's still somewhat of a foundation on defense, and in Cleveland where it seems they are starting all over again.
"(Jets Head Coach) Todd (Bowles) having been here now in his third year, I think that is huge when you are building something and that consistency that we have on defense has been big as far as when you are starting something over, it is really hard when you are starting on both sides of the ball brand new, learning a new system and learning all of those things," McCown said.
"I think it just puts you that much further behind the pace of other teams that have maybe been together. Even if you make the decision to kind of turn the roster over a little bit and rebuild, if you are still in a system that has been the same for two or three years, I still think you have a chance to be better and that for us, defensively, I think that is what probably makes the biggest difference in what I can see in the team here and where I have been previously."
Four games in, Cleveland fans are already tied of hearing about waiting, rebuilding and watching their team being beaten each and every week.
McCown is well aware of the process, one that he got to see the last two seasons as he and the Browns went through more growing pains as he started 11 games, winning one, this despite throwing 18 touchdowns and 10 interceptions.
"As much as people don't want to hear it, I think they are in a different kind of building process that is going to take some time, but I really enjoyed my time there, enjoyed the people and my teammates and the guys I got to play with," McCown said
"To play with a guy like (OL) Joe Thomas and what he means to the league and what he has been as a player. Things like that I think are what make it special and the people in that building are excellent. The guys in the equipment room, (equipment manager) Brad (Melland) and those guys, (head athletic trainer) Joe (Sheehan) in the training room, there are a ton of good people in that building. I think that is what I will appreciate and remember the most."

NEO Sports Insiders Newsletter
Sign up to receive our NEOSI newsletter, and keep up to date with all the latest Cleveland sports news.