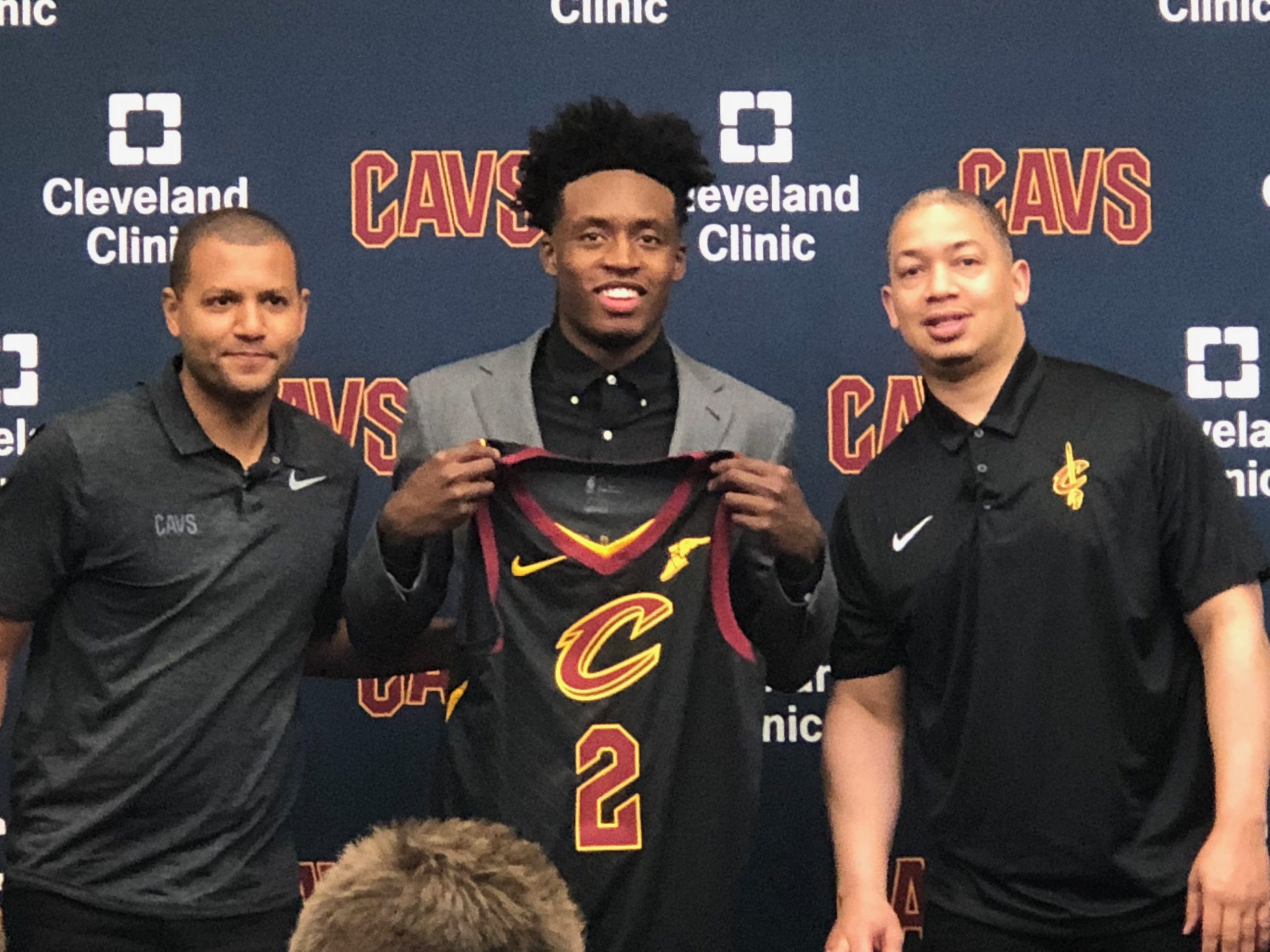 INDEPENDENCE, Ohio0– The newest face of Cleveland Cavaliers basketball is here. On Friday afternoon, the team introduced first-round pick Collin Sexton to the local media as well as fans watching online.
First impression of Sexton: Energy, and a whole lot of it.
Sexton was beaming with a smile from the start of the presser until the conclusion. He answered every question with poise and clarity while also providing good vibes throughout the room.
From living up to the expectations of Kyrie Irving and handling the stage of the NBA Finals, the former Alabama point guard heard every question you'd imagine. But he came prepared with answers for everything thrown his way.
"I feel I'd be ready for that," Sexton said when asked about the magnitude of the NBA Finals. For those that didn't know, Sexton was in Cleveland for a workout and was able to attend Game 4 of the 2018 NBA Finals.
Of course, it's things like that that make Sexton such a likable pick. His determination to knock down every wall placed in front of him is something Cleveland fans can rally behind.
Another thing to like about Sexton is the fact that he played for former NBA head coach Avery Johnson at Alabama, something he believes groomed him for his future. Cavaliers head coach Tyronn Lue, who was coached by Johnson as well, tends to believe that also.
One of the biggest questions hurled Sexton's way was about his selection of the jersey number: No. 2. But not why he chose to wear the number, more so about the last guy that wore it.
"Not at all. Coming in, I'm setting goals for myself," Sexton said. "I feel like I'm not going to have to live up to anybody's shoes. I'm just gonna come in and learn and be the best player I can be on the court, as well as off the floor."
There are things that are similar between Sexton and the last guy to don No. 2 in Cleveland, Kyrie Irving. The tenacious way they attack the basket is obvious, but it goes past that. They both want to win at all costs.
While Irving's desire to win went to the extent of trying to keep playing through nagging injuries during his Cavaliers tenure, Sexton once played down two men in a game last season.
It was a 3-on-5 game against Minnesota back in November, a game where Alabama had their entire bench ejected, a player fouled out, and a teammate sprained his ankle to take him out of the game. But Sexton didn't care, leading his team from 10 points down to fall by only five points, 89-84. Sexton dropped 40 points on the then-ranked No. 14 Golden Gophers and even had Alabama in a spot to tie the game with a minute left in regulation.
That's the player that Cleveland general manager Koby Altman and company sought after.
Two years ago today, fans flooded the streets of downtown Cleveland for the celebration of their 2016 NBA Championship. Two years following that occasion, the Cavs celebrate in a different manner.
This time, it's for the outlook of their future.

NEO Sports Insiders Newsletter
Sign up to receive our NEOSI newsletter, and keep up to date with all the latest Cleveland sports news.