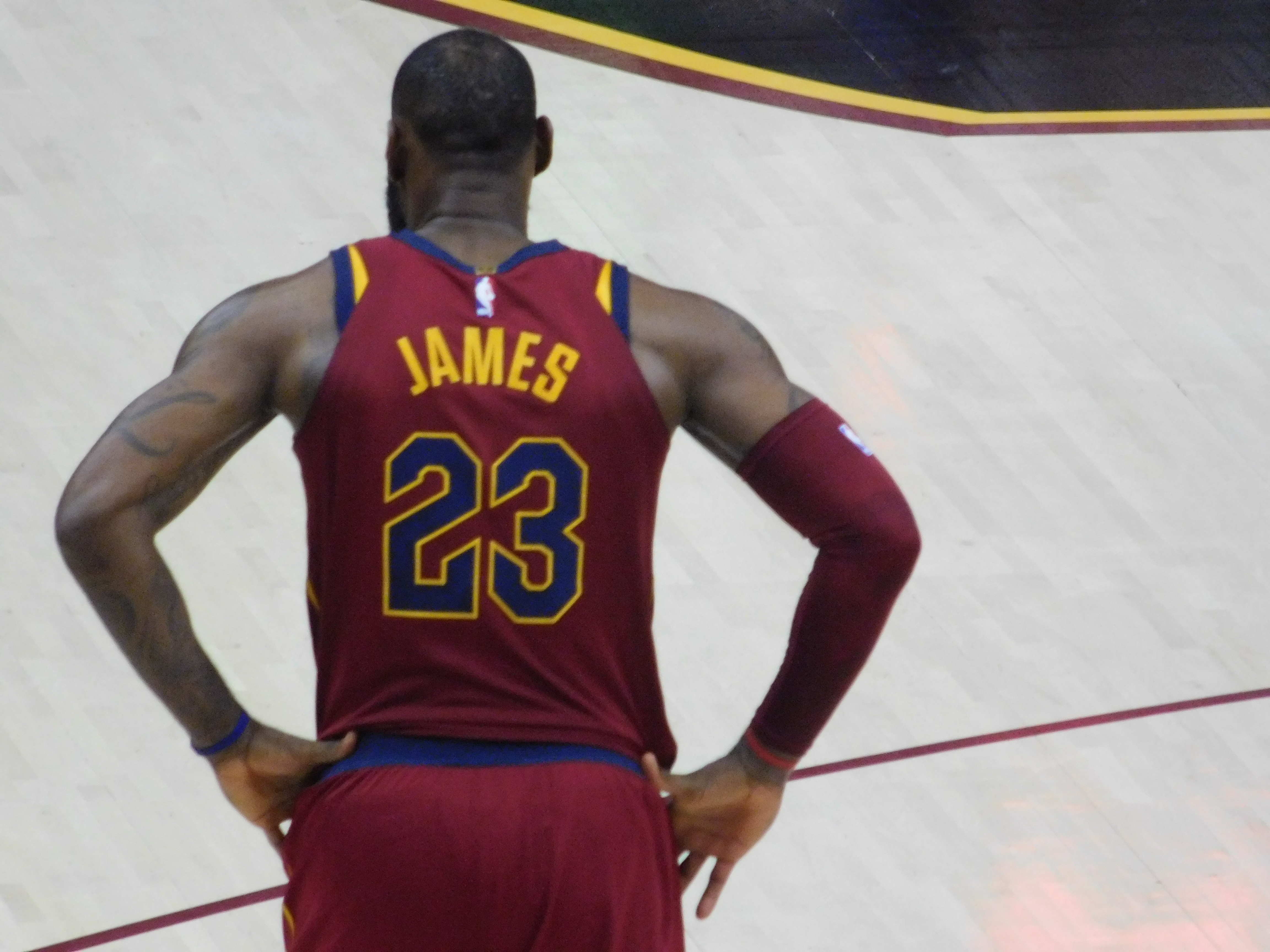 CLEVELAND– With the Cavaliers' season ending, the real stress for fans can begin with LeBron James' impending free agency decision.
The Cavs superstar gave reporters very little insight into what he is thinking about his future following Friday night's Game 4 loss.
"I have no idea at this point," he said when asked whether or not he feels he's played his last game in a Cavs uniform.
The one thing he did concede is that his family will play a major role in his decision-making. His wife Savannah also hails from Akron. Their oldest son, LeBron James Jr., will be entering eighth grade. Their younger son, Bryce, is turning 11 in a matter of days and their daughter Zhuri is three-years-old.
"The one thing that I've always done is considered, obviously, my family," he said. "Understanding especially where my boys are at this point in their age. They were a lot younger the last time I made a decision like this four years ago. I've got a teenage boy, a pre-teen and a little girl that wasn't around as well.
"So sitting down and considering everything, my family is a huge part of whatever I'll decide to do in my career, and it will continue to be that."
LeBron says he has "no idea" what he is doing next year. Says his family is as huge part of whatever he'll decide to do. pic.twitter.com/SWiPsHKhlW

— Ashley Bastock (@AshleyBastock42) June 9, 2018
James could exercise his $35.6 million player option before the end of June, but don't hold your breath– he has never exercised a player option in his career. The Cavaliers could offer him the most money of any team in the league, a whopping $209 million dollar contract.
It's also important to remember that James has said multiple times that he wants to retire in Cleveland, even as recently as media day in September. However, he has never completely shut down rumors about a potential departure.
"I hope he stays," Cavs coach Tyronn Lue said when asked about James' future. "I mean, we all know that. But after a game like that, I'm not in any position to talk about that. I just appreciate what he's done for us this season. That's all I can really speak about."
And what a season he had. James played in all 82 regular season games, the first time he's accomplished that feat in his career. He appeared in 104 total games this year, and averaged 34 points throughout the playoffs– that includes eight 40-point outings, tying Jerry West for most 40-point games in a single postseason.
"To be the best player in the world and to give everything you've got in your 15th season," Lue said, "play all 82 games, probably one of the greatest playoff runs that we'll ever see from an individual, to carry this team the way he did all season and leading by example, it's just a testament to his character and who he is as a person and as a player."
For as great as James' season was individually, what is in store in hisfuture is currently unknowable– but we do have some clues about what he is looking for. Twice in two days, James has brought up wanting to play with a "cerebral" group of teammates.
Thursday following practice, James said teammates with basketball IQs to compliment his own played a role in him going to Miami in 2010, and then coming back to Cleveland in 2014.
"I played with (Dwyane) Wade, I played with (Chris) Bosh in the Olympics," he said. "I knew their minds. I knew how they thought the game, more than just playing the game. Obviously, we all knew their talent, but I knew their minds as well. So I linked up with them.
"Then you come here. I knew Kyrie (Irving), having the talent, I wanted to try to build his mind up to fast track his mind because I felt like in order to win you've got to have talent, but you've got to be very cerebral too. Listen, we're all NBA players. Everybody knows how to put the ball in the hoop. But who can think throughout the course of the game?"
And on Friday night, he used the same line of reasoning, perhaps sending the Cavs a very thinly-veiled message about what they need to do to keep him. He wants to play with "cerebral" players to help him compete with the Warriors.
"I made the move in 2010," he said, "to be able to play with talented players, cerebral players that you could see things that happen before they happened on the floor, and your teammate can do the same throughout the course of a season, throughout the course of a game, throughout the course of a playoffs, throughout the course of a Finals.
"So when you feel like you're really good at your craft, I think it's always great to be able to be around other great minds as well and other great ballplayers, in my instance, and other great just, I think, studies of the game itself. That's never changed. Even when I came here in '14, I wanted to try to surround myself and surround this franchise with great minds and guys that actually think outside the box of the game and not just go out and play it."
Ultimately, besides family, the other big factor in James' decision is knowing he has what it takes to still compete for titles.
"I still have so much to give to the game," he said. "When you have a goal and you're able to accomplish that goal, it actually– for me personally, it made me even more hungry to continue to try to win championships, and I still want to be in championship mode. I think I've shown this year why I will still continue to be in championship mode."
LeBron on whether one championship completes the unfinished business he felt he had when he returned to Cleveland: "that's a trick question." pic.twitter.com/TQNbvSRNqE

— Ashley Bastock (@AshleyBastock42) June 9, 2018
Whether James stays or goes, his legacy is arguably already cemented here in Cleveland. He will always be remembered by the standard of 2016, when he and the Cavs overcame a 3-1 deficit in the Finals to win the franchise's first championship and the first title in 52 years for the city of Cleveland.
When James returned to Cleveland in 2014, he said part of the reason he returned was unfinished business. Naturally, on Friday he was asked if 2016 alone meant his business was finished in Cleveland and said "that's a trick question."
"At the end of the day, I came back because I felt like I had some unfinished business," James said. "To be able to be a part of a championship team two years ago with the team that we had and in the fashion that we had is something I will always remember. Honestly, I think we'll all remember that. It ended a drought for Cleveland of 50-plus years, so I think we'll all remember that in sports history."

NEO Sports Insiders Newsletter
Sign up to receive our NEOSI newsletter, and keep up to date with all the latest Cleveland sports news.