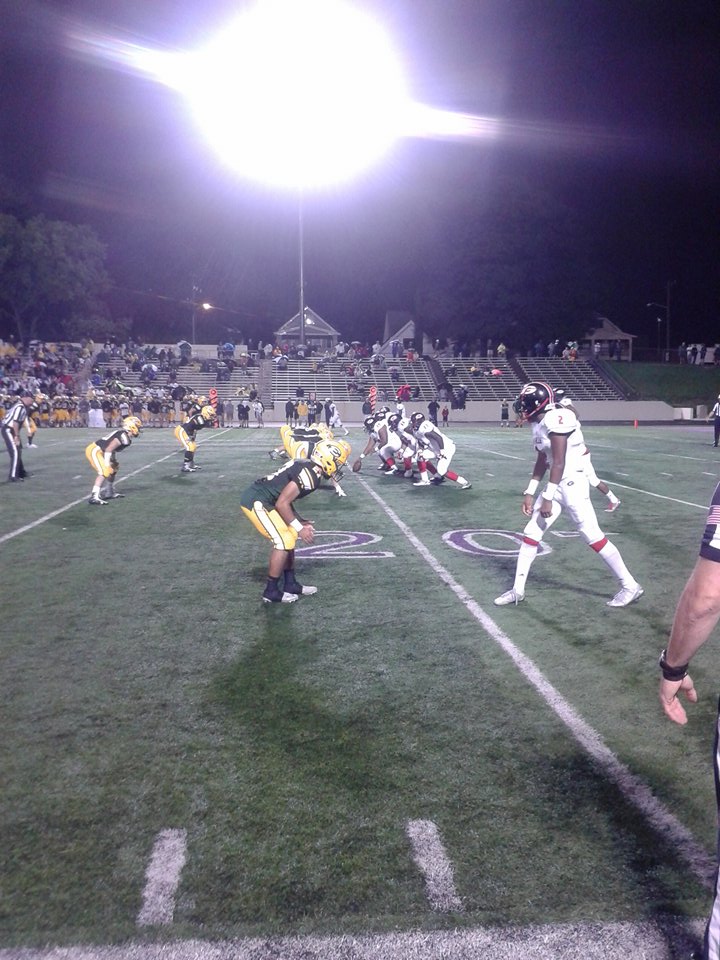 The game between the St. Edward Eagles and the Glenville Tarblooders is sponsored by Rain Barrels N MORE.
LAKEWOOD– On a day that started off hot and humid it turned into a cool and wet Saturday night. The St. Edward Eagles and the Glenville Tarblooders faced off but was delayed for 50 minutes due to weather. During the day Saturday the temperature was around 90 degrees until storms came in the area. Around 7:50 when the game had started the temperature went down to 73 degrees.
To start off the game the Eagles started off the game with the ball but ended up punting the ball on the first drive of the game. Glenville ended up doing the same thing but instead the punt was blocked by St. Edwards. The Eagles started off their second possession with the ball at the Tarblooders 3 yard line. The Eagles only needed one play to score, and it was Curtis Szelesta with a rushing touchdown to give the Eagles a 7-0 lead with 7:56 left. On the Tarblooders next drive, the punt was blocked again. This time around the Eagles only need two plays and it was Szelesta once again with a 7 yard touchdown run, the extra point was missed but the Eagles lead 13-0. Szelesta finished the 1st quarter with a rush of 36 yards as time expired.
To start off the 2nd quarter Kevin Kramer threw a  6 yard touchdown pass to Ryan Rockwell. About 4 minutes later around the 7 minute mark, Kramer connected with Rockwell once again for a 6 yard touchdown pass. For the Tarblooders they converted their first 3rd down of the game with a little under 11 minutes left. Xander Spikes threw an interception with a little under a minute left in the first half for Glenville.
During the first half , the first six drives for St. Edwards started off in Glenville territory. 8-29 plays for the Tarblooders were for negative yards. For the Eagles 19-24 of their plays were in Tarblooders territory. The Eagles played strong defense in the first half and mainly throughout the whole game.
During the second half of the game the Eagles brought in their back ups and they played with a running clock 3:20 left in the 3rd quarter when Tylan Rice had a 1 yard touchdown.
This play with about 3:35 left in the game, just about finished the game for the Eagles to get the victory.
Zach Kincaid ran for 1 yard for an Eagles touchdown to extend their lead 41-0.
The St. Edward Eagles improved to 3-0 on the season and the Glenville Tarblooders dropped to 0-3.
PLAYER OF THE GAME:
Curtis Szelesta : 9 attempts, 56 yards, 2 TDs

NEO Sports Insiders Newsletter
Sign up to receive our NEOSI newsletter, and keep up to date with all the latest Cleveland sports news.