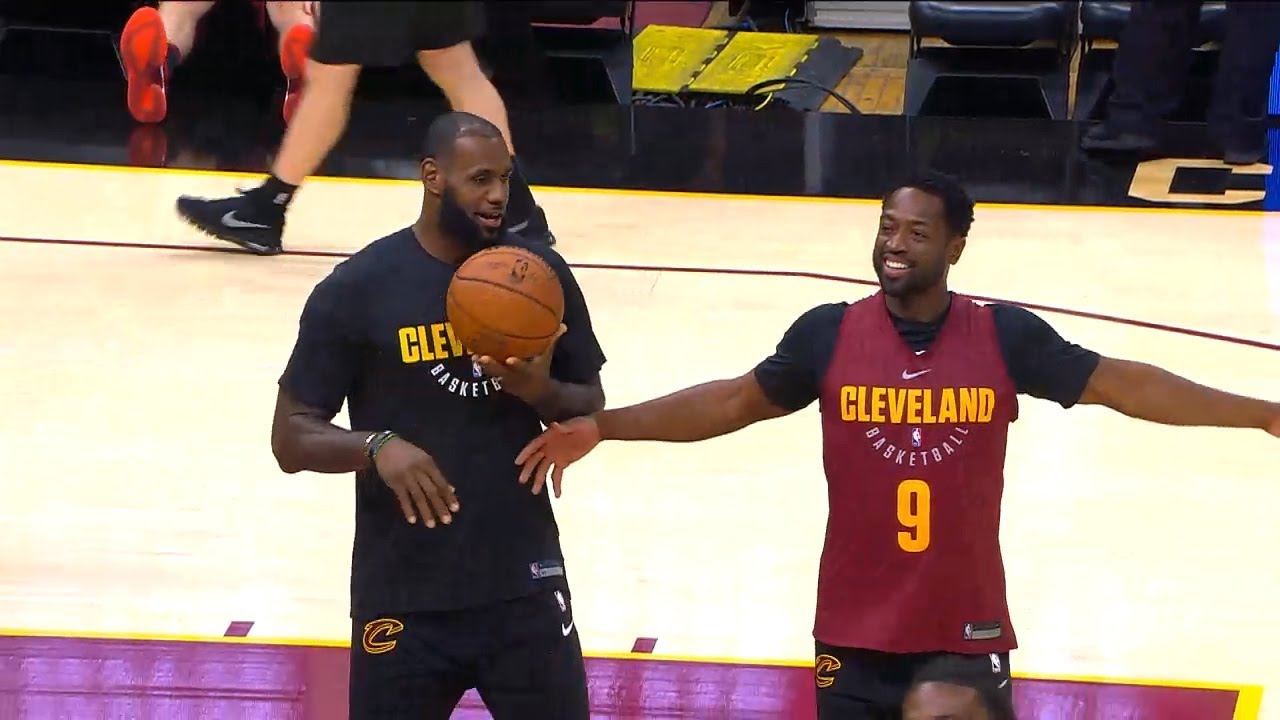 Cleveland Cavaliers shooting guard Dwyane Wade hasn't had much time to get acclimated to a starting lineup featuring he, LeBron James, Kevin Love, Derrick Rose and Jae Crowder. Not only had James been dealing with an ankle injury since the start of training camp that kept him out of all but one preseason game, head coach Tyronn Lue didn't announce that Wade would be a starter until there were two games left in the preseason.
In the lone preseason game where James was able to take his place in the starting lineup with Wade, the Cleveland Cavaliers lost 108-94 against the Chicago Bulls. However, they were only down 67-72 at the end of the third quarter before Lue took the starters out for the rest of the night.
James finished the game with 17 points, 5 rebounds, 3 assists, 1 steal, 1 block and 8 turnovers in 30 minutes. The turnovers were both a result of James missing the Cavs' first three preseason contests and his unfamiliarity with a starting lineup that's only returning one starter from last season.
Wade had 4 points, 4 rebounds, 4 turnovers and 2 steals while going 1-7 from the field (James went 8-13). Wade's ineffectiveness seemed to be an effect of the lack of spacing and movement although James seemed to handle it just well (then again, he is the best player in the world). It's more likely when looking at Wade's turnovers that he too had to make an adjustment to the players he was with on the court. Wade was excelling in the second unit with Kyle Korver, Iman Shumpert, Jeff Green and Tristan Thompson and if you look at the amount of three-point threats that unit has, it's unlikely that playing in the starting lineup was all too different from Wade from a spacing standpoint. From a player personnel and role standpoint, it was for different for Wade though.
Rose went 5-9 from the field and finished the game with 13 points, 5 rebounds, 5 assists and 2 turnovers in 27 minutes. Crowder went 3-7 from the field but was 3-4 from three-point range. He finished the game with 9 points, 3 rebounds, 2 assists and a steal in 25 minutes. Love went 1-12 from the field and 1-4 from three-point range. He finished with 3 points, 8 rebounds, 1 assist and 2 steals in 21 minutes.
After that game, Lue said he felt the offense was too stagnant and added some offensive sets that generated continuous ball and player movement. Because James tweaked his ankle on a spin move early in the preseason exhibition game against the Bulls, he has yet to experience Lue's changes in a game situation.
Wade commented on the ability to replicate in-game situations with James still recovering from ankle injuries after Tuesday's shootaround.
"It's been tough… Obviously LeBron is still making his way [back from an ankle injury]. Feeling himself out, trying to make sure he's healthy enough. So, we haven't had a lot of time together with that unit but it's not an excuse. We gotta be ready to play."
Wade continued:
"We just gotta be ready to play. We make mistakes. We figure it out. But we're all excited… We're ready to roll".
The Cleveland Cavaliers face the Boston Celtics on Tuesday night for their preseason opener. It'll be an interesting games with riveting storylines after former Cavs point guard Kyrie Irving requested a trade during the offseason. That trade landed him in Boston, on a team that earned the top seed in the Eastern Conference playoffs last season.
The Celtics traded two of their most passionate, if not their two most passionate, players in Crowder and Isaiah Thomas.
While Crowder and Boston fans have had a rocky relationship, Thomas was beloved by the fans and the organization. That's why the fact he was traded to a conference rival, after he gave his all to the team (even playing in a postseason game just after learning news his sister passed away), has stung him. He might never talk to Celtics general manager Danny Ainge ever again.
Tonight, the Cavs will watch two players who were the face of the franchise (James still is, of course) square of at The Q. The game will start at 8PM (EST) and aired on TNT.
According to shooting guard J.R. Smith, James mentioned how he hasn't missed an opener since he was 8-years-old. Saying he'll play tonight should be a safe bet. Win or lose, it's certainly a step forward for a team with more new faces this season than players who returned.

NEO Sports Insiders Newsletter
Sign up to receive our NEOSI newsletter, and keep up to date with all the latest Cleveland sports news.