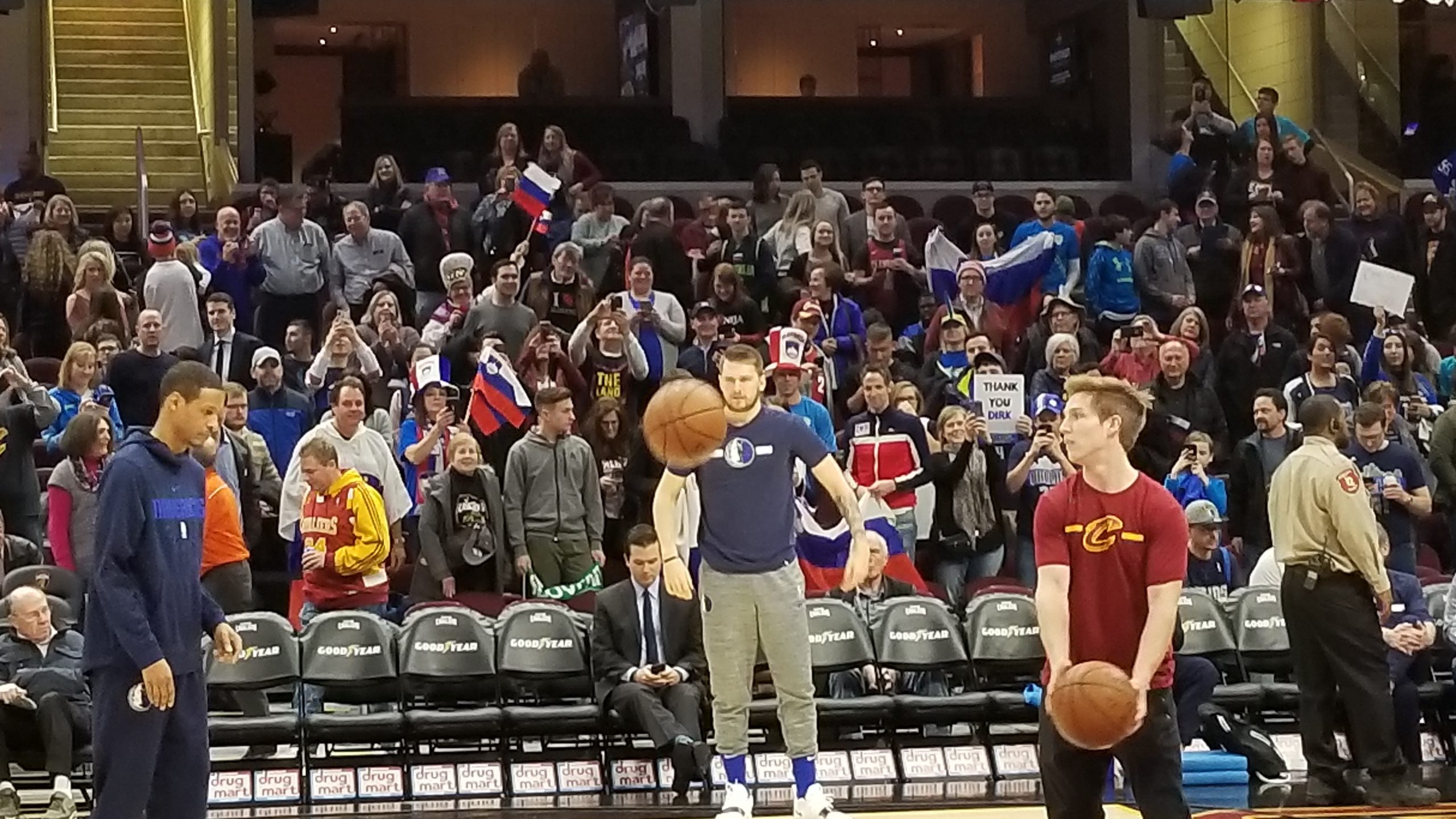 Cleveland- Even his teammates are surprised by the things Luka Doncic does on a nightly basis. The Dallas Mavericks used a career night from the budding superstar to defeat the Cleveland Cavaliers 111-98.  Fans in attendance Saturday, not only were able to witness Doncic also had the pleasure of watching Dirk Nowitzki in Cleveland one last time.
"For a 19-year-old, he's got as good an all-around game as I've ever seen," Nowitzki said. "He's got it."
Doncic was fortunate enough to play in front of a contingent of fans waving Slovenian flags, as Cleveland has the largest Slovenian population besides the country of Slovenia. The 19-year-old rookie showed Cleveland why the Mavericks are so excited about their future. The number three pick scored a career-high 35 points, adding 11 rebounds and six assists to his memorable night.
As Cavaliers fans sat back and watched Doncic bring the crowd to oohs and ahhs, they were reminded of what once was. This season has been a tough one for a fan base that has been spoiled for the last four seasons. After four straight trips to the NBA Finals, the Cavaliers sit at just 11 wins after 53 games this season. As bad as things have been, there's always been an underlying hope.
A hope that this season is the Cavaliers rock bottom, after yet another departure from LeBron James. If everything stays according to "plan" Cleveland will continue to struggle this season until they finish with a bottom three record in the league. With a bottom three record, the Cavaliers will be tied with the best odds for the number one pick. That pick, of course, would most likely lead to Duke freshman Zion Williamson.
While Williamson is the prized prospect of the June draft, the belief is the Cavaliers could find their "franchise guy" as long as they are able to score a top-3 pick. Dallas pulled off a blockbuster trade last summer so they could guarantee the guy they wanted in Doncic. Cleveland, on the other hand, is still figuring out what pieces are worth building around as the rebuild progresses into the off-season.
One of the pieces that is expected to be a building block, is Cedi Osman. Days after being named to the NBA's Rising Star game, Osman was poised to continue his recent surge until he suffered an ankle injury in the second quarter. In his 15 minutes of action, Osman scored 10 points on (5-9) shooting, while dishing out three assists. Prior to his injury Osman had been averaging 24.5 points over his last four games.
After the game Cavaliers, head coach Larry Drew did not have an update on his starting forward. "I have not spoken to our medial yet. I know he did turn it in the first half. They told me that he would not be back for the rest of the game. I don't know the severity of the ankle, I'll find out as soon as I leave you guys."
Another piece that Cleveland hopes to build around going forward is Larry Nance Jr. The Cavaliers big man played in his fifth game since returning to the court and was able to secure his 11th double-double on the season. Nance Jr scored 11 points and grabbed 12 rebounds for the Cavs in almost 28 minutes off the bench.
Cavaliers guard David Nwaba returned from injury on Saturday night and immediately showed exactly why Cleveland missed him. Coming off the bench Nwaba made an impact on both ends of the floor, including scoring 12 points on (5-6) shooting. While any offensive production from Nwaba is good, it was his effort on defense that proved to help the most.
Luka Doncic scored 18 of his 35 points in the first quarter, forcing Cleveland to adjust on the fly. One of those adjustments made was Nwaba being tasked with guarding the Slovenian rookie. Coach Drew stressed defensive improvement at halftime, "I thought the second half we did a much better job of making it just a little tougher for him. I thought David did a really good job at the beginning of the third (quarter) getting up in him and trying to force him into tough shots and force their team into tough possessions."
The Cavaliers home-stand continues on Tuesday night when the Cavs welcome Kyrie Irving and the Boston Celtics to Quicken Loans Arena.

NEO Sports Insiders Newsletter
Sign up to receive our NEOSI newsletter, and keep up to date with all the latest Cleveland sports news.