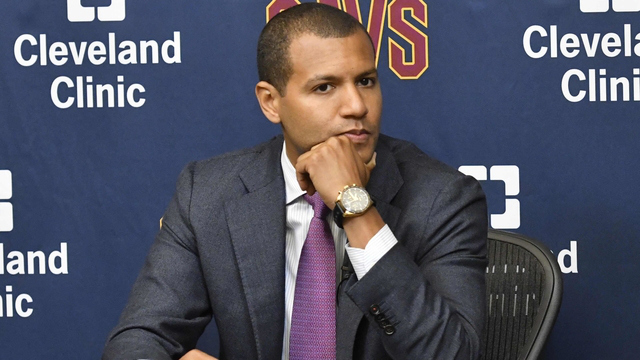 CLEVELAND – The Cavaliers got better on Thursday. A lot better. And don't let anyone tell you differently.
By gutting the roster with three sweeping trades, Koby Altman – to use his own word – rejuvenated the franchise. He rejuvenated LeBron James. He rejuvenated the fan base.
Face it, thrilling as Wednesday's overtime win over the Minnesota Timberwolves was, you like most Cavs fans were losing interest in the 2017-18 season, and it was warranted, considering Cleveland is an atrocious 7-13 since Christmas Day. One win over a good Timberwolves team wasn't gonna make it all better. A roster and culture overhaul on the other hand would. And that's exactly what Altman pulled off on at the trade deadline.
Gone are locker room cancer Isaiah Thomas, locker room unifier Channing Frye, the oft-injured Iman Shumpert and Derrick Rose, the inconsistent Jae Crowder and the jelly to LeBron James' peanut butter, Dwyane Wade. In, are Larry Nance Jr. – son of Cavs legend Larry Nance Sr. and Jordan Clarkson from the Lakers, Rodney Hood from the Jazz and George Hill from the Kings – and Altman did it all without giving up the coveted Brooklyn pick.
The return may not seem flashy and doesn't contain much star power, but understand that there was no singular move that was going "fix" the Cavs. There was no singular star that was going to put them on par with Golden State. Paul George wasn't available and if you think DeAndre Jordan was that guy, God bless you. But a series of trades like these to literally reshape the entire roster, now that's a fix. First and foremost the impact of these moves on the culture – a word Altman used six times during his post-deadline conference call – can't be overstated.
The simple subtraction of Thomas is maybe the most impactful change this team could make.  Thomas, in just 13 games of actual action, was a divisive voice in the locker room and the dynamic between himself and LeBron just simply wasn't working. Earlier this week he publicly criticized head coach Tyronn Lue and his coaches for failing to make in-game adjustments, something Lue vehemently denied ahead of Cleveland's win over Minnesota. The disconnect between Thomas and his teammates extended most notably to LeBron James as well. The dynamic just wasn't there and it was bringing down the entire team, on top of him being the Cavaliers worst defender on the floor. So while the loss of Frye hurts inside the locker room, it was the cost of doing business to get Thomas out of Cleveland.
Youth was the other big areas of importance to Altman and owner Dan Gilbert at the trade deadline. The Cavs biggest on the court issue was how old and unathletic they were. Cleveland was fielding the oldest roster in the NBA prior to Thursday, and it showed in their surrendering 110.2 points per game on average and posting the second-worst team defensive efficiency rating in the NBA (1.091). It's no surprise why three of the Cavs four acquisitions are 25 in Nance Jr., Jordan Clarkson, and Rodney Hood. The other, George Hill, is the only one over the age of 30 but is a year removed from being a top-50 defender in terms of defensive efficiency. This collection of players is youthful, athletic and long. On the other end of the floor they can all score a little bit as well.
Instantly, the entire culture and identity of this team have changed massively for the better. It's hard not to like any of the moves that were made yesterday, and for those who argue they were done with more of a focus on "life after LeBron James," they're right. If James leaves this summer, they'll be better suited to plug in X player that they select with the Brooklyn pick and have a young up-and-coming team without having to start all over from rock bottom like they did the first time James bounced in 2010. At the same time though, these moves were also done with the present in mind.
Now don't get me wrong, this new roster isn't ready to challenge Golden State in a seven-game NBA Finals series, but getting there is much more attainable than it was two days ago. So is the prospect of convincing James to stay. Remember that both times he chose to leave teams, it came when each franchise reached a dead end. The 2010 Cavs and 2014 Heat both featured aging rosters while lacking tradeable assets and high draft picks to acquire young talent. Following Thursday's ridiculousness, Altman took that out of the equation. Altman hit reset while the four-time league MVP is still with the team, showing him just how loyal they are to staying competitive and maximizing his remaining years of dominance, should he choose to stay. Genious. That's something Danny Ferry failed to do during James first stint with the franchise. It's something even the great Pat Riley didn't have the foresight to address down in Miami.
And for those who think Cleveland helping the Lakers free up enough cap space for two max players next summer is worrisome, don't buy the hype. Of course it's a story, because it's Los Angeles and when the Lakers are good the association is better off. But LeBron joining the Lakers, even if another star like Paul George tags along, is career suicide for a guy trying to "chase the ghost of Jordan." Going to the Lakers too early in their development phase would leave a 33-year-old James wasting the remaining prime years of his career with a team not quite ready to win championships. And in a gauntlet of a Western Conference, a squad with James and George or James and some other superstar would be what? Third or fourth best, depending on what happens between the Spurs and Kawhi Leonard. The road to the finals is much more challenging in the west, especially for a young team. LeBron would be better off waiting until 2019 to dart to LA.
Regardless, Altman and the Cavaliers couldn't worry about aiding the Lakers in their pursuit of James. They had to do what was best for their team both now and in the future. They did that and I'll say it again: the Cavs are better equipped to win the east this year and retain LeBron this summer than they were before the trade deadline. Plain and simple.
No, this youth movement probably won't end with the franchise's second Larry O'Brien Trophy come June, but it's not as if the Cavs were a championship caliber team prior to these moves. And instead of seeing their championship window slam shut this summer with LeBron's inevitable departure – because let's be real, with the way things were trending he was gone– there's a better chance he stays to keep chasing rings in the less daunting Eastern Conference with Cleveland.
Isaiah Thomas and Jae Crowder are gone, Dwyane Wade is in Miami, the Cavs are fun again and the future of the organization is bright, with or without LeBron. Everything is how it should be.

NEO Sports Insiders Newsletter
Sign up to receive our NEOSI newsletter, and keep up to date with all the latest Cleveland sports news.