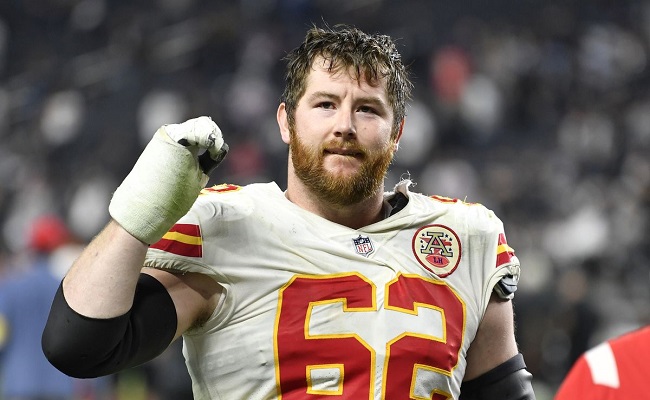 "I'm an offensive lineman, and I just love playing the game": Joe Thuney
Joe (Joseph) Thuney has had quite a journey from Dayton to Superbowl Champion. And the young man who played at Archbishop Alter HS and North Carolina State has another chance to be champion! And his career is trending to Canton. Don't believe me? Let's dive into the Kansas City Chiefs starting left guard!
Joe Thuney and Alter High School
I first saw Joseph as he battled my son in CYO basketball in the 8th grade. He was known as the kid with crazy red hair and not just as a basketballer, but an outstanding football player, too!
Joe Thuney was an All Cincinnati Greater Catholic League lineman for Archbishop Kettering Alter HS, and he was an outstanding student, taking honors classes like Calculus all the while spending time with football and basketball every year of his high school career. Here is an interesting reel of Joe's high school highlights.
Notice his versatility in playing every OL position on the video from YouTube. Two high school state football championships on a run oriented team all while playing on championship caliber basketball teams, too, helped Joe develop the strength, agility and speed that he possesses today. 
But with this success and so many schools waiting for his call, he needed guidance. And his brother, two sisters and mom and dad helped.
NC State and Joe Thuney
After his high school graduation, Joe found a home in Raleigh, North Carolina, as he landed on the campus of NC State in the summer of 2011.
His senior year at Alter he had visited the school the weekend of December 10-12th. Sitting with his family around the holidays they discussed where he would like to attend and play football. Georgia Tech was on the list as a run-oriented team and great academics. But after his family talk, he made the call that night to commit to the Wolfpack as his family stood around his phone! The following are from ncstate.rivals.com.
"We [the family] were having dinner and just talked about finally committing. We just agreed it was time to do it right there and I gave them a call. They all gathered around and were excited."
Joe was impressed with Don Horton, then the OL coach with NC State, and coach Tom O'Brien, also a southwest Ohio native.
"Coach O'Brien is a great guy and he visited my house…," Thuney said at the time. 
"[Coach O'Brien] was a Marine and coached at Boston College, so he really seems to know his stuff. He has been successful everywhere he has gone. He built that program at Boston College, and at North Carolina State, he's already doing a great job. I was impressed with his history. I just had a good feel for him."
Thuney Stats
According to the NC State Wolfpack football stats, Joseph became a starter his junior (RS sophomore) year. His versatility was one of the major reasons he was so valued on the line. Every year for the Wolfpack, Joe was either center, left tackle or his main position, left guard. He protected his fellow teammate and soon to be rookie with the New England Patriots, Jacoby Brissett!
His last year with NC State, Thuney was selected as a finalist for the William Campbell Trophy, often considered the NCAA College football's Academic Heisman award, an amazing accomplishment as he technically graduated in three years and stayed on as a graduate student.
As his college career came to a close, the NFL came calling. And who better to receive a call from than the greatest NFL coach ever, Bill Belichick.
#62 Joe Thuney and the NFL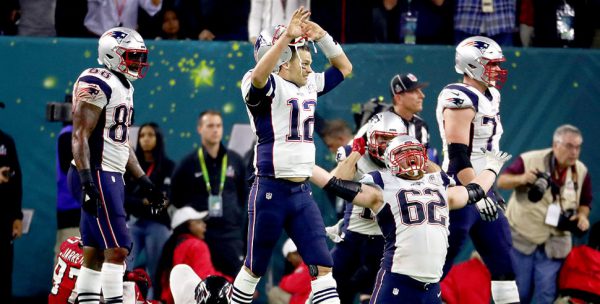 Tom Brady and Joe Thuney of the New England Patriots celebrate a 34-28 overtime win against the Atlanta Falcons in Super Bowl 51. (Photo by Al Bello/Getty Images)
Every NFL player has a crazy draft story. Here is Joe's.
The New Orleans Saints were in the market for a strong safety. As the draft unfolded, the second round saw Ohio State SS Vonn Bell still available. With New England at the 61st spot (due to their earlier trade of Chandler Jones to Arizona), the Saints traded their 3rd and 4th rounders (78th and 112th overall) to the Patriots for Bell. The Pats then decided to make Thuney their pick with that 78th choice.
How did that work out for NE? Joe Thuney is the answer to a trivia question: Who is the only NFL player, starting as a rookie, to make it to the Superbowl in his first three years?
Joe won the left guard spot as a rookie and proceeded to play in 110 straight regular season games, rarely missing an offensive snap including 15 straight playoff games with 2 SB titles. (He played in 2004 consecutive snaps from 2017 through 2019!) He had an ankle injury this year which caused him to miss his first games of his career.
Individually, Thuney has grabbed an All-Rookie team award in 2016, a Pro Bowl berth in 2019 and a consistent Pro Football Focus grade of the upper 70's every season after his rookie year with a 2021 81.2 rating, his highest.
He is one of the least penalized linemen in all of football. In 2019 not one yellow piece of laundry was thrown for him and he played every down! This year he tallied two, a false start and a holding call.
Joe to help keep Brady?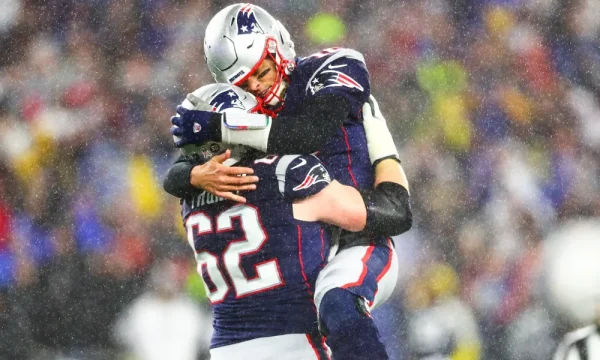 Photo via Isaiah Houde
Since he signed a four year rookie deal, when that deal was up, the Patriots hit Thuney with a franchise tag, trying to work out a deal. Rumor has it that the Pats wanted Brady to stay and the tag for Thuney was a sign of "good faith" for Brady. Unfortunately for New England, Brady left and Thuney stayed for one more year. But after 2020, Thuney decided to hit the free agent market and grabbed the deal with KC.
Joe and KC
Andy Reid has had trouble with the left guard spot on KC's OL since he moved to Arrowhead, according to Charles Goldman with Chiefswire. When the Chiefs grabbed Thuney, Mahomes must have been smiling somewhere:
— Patrick Mahomes II (@PatrickMahomes) March 15, 2021
And most KC Fans were like Spongbob!
"The Chiefs have signed G Joe Thuney"

Patrick Mahomes: pic.twitter.com/y4Bm97KQDK

— Jarrett Bailey (@JBaileyNFL) March 16, 2021
His two years with KC have been arguably his strongest, with his highest PFF grade coming last year. Had it not been for the Bengals last year, Joe could have made the Super Bowl in four of his first six seasons in the NFL. As it stands, he has now made it four in seven!
Here's why he chose KC.
Joe and his future?
You could make a case that he is beginning a career path that could lead him to Canton, Ohio. There are some things he needs to work on, and he has been doing just that. If he could get his rating upwards to the low 90's then his path is stronger. 
But say the Chiefs win the Super Bowl. How could 3 championships in seven years hurt his chances assuming he stays on this career trajectory?
The young man from Centerville, Ohio via Alter HS via Raleigh via Boston via KC has a chance to be the only NFLer to be in this many Super Bowl championship games in his career to date. But make no doubt, his success has been because of his family, dedication, versatility and having the best coaches at important times in his career.
#62, keep plugging along. When that contract is up, you and Travis Kelce want to finish in Cleveland? Just a thought! #62 hasn't been worn by an important Browns player since…Blake Hance! It would be available!
Thuney Tidbits
First NC State player to be named All American since 1979.
2 time high school football champion.
2019 played every snap for the SB champion Pats and not one penalty flag all year!
Member of the Patriots all decade team for 2010's at guard.
6' 5" and 308 pounds.
Thuney's draft profile:
Unfortunately, his lack of foot quickness and arm length make him an unlikely NFL tackle and his core strength and frame deficiencies will make a move to guard very difficult. Ultimately, center might be his only NFL shot.
Next article
Nick Sirianni, the pride of Mount Union!

NEO Sports Insiders Newsletter
Sign up to receive our NEOSI newsletter, and keep up to date with all the latest Cleveland sports news.