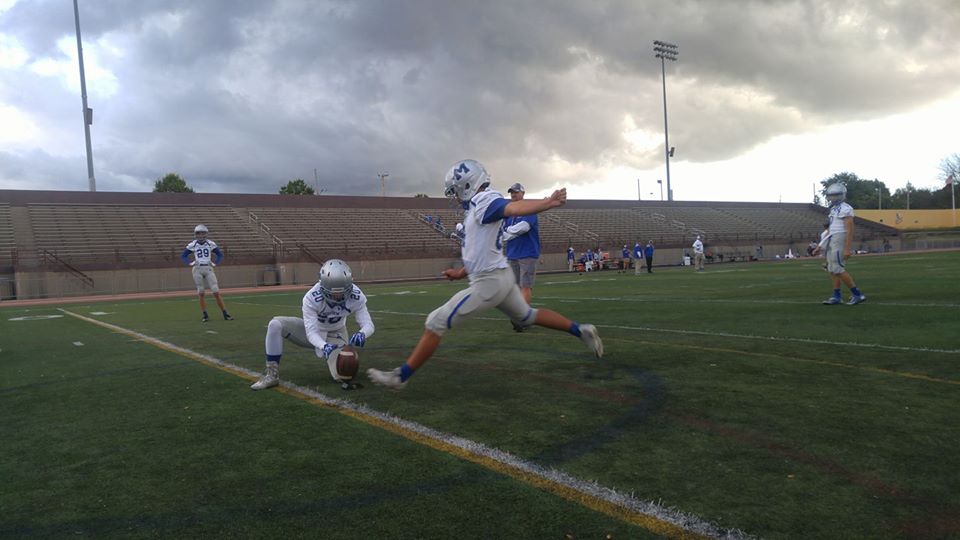 BEREA, OHIO– The Midview Middies bounced back from a tough loss last week against Avon to come into the land of the Titans and take down Berea-Midpark tonight from George Finnie Stadium on the campus of Baldwin Wallace. The final score was 38-17. But quite frankly, the score does not come close to showing just how tight this game actually was.
Midview was led by running back sensation Connor Wolfe, who compiled four touchdowns while racking up 188 yards on 22 carries. It was a well-balanced attack from Midview that left the Titan defense chasing after Middie rushers all night. Too many broken tackles and costly turnovers were too much for the Titan attack to overcome.
It may sound crazy, but had the referees not missed some questionable calls on both sides of the ball, this 21-point game could have been a lot closer. Calls and turnovers may have made a difference, but in the end, it simply didn't matter as Midview had the luck and timely plays that put them over the top.
Several times in this game the Titans were on the doorstep of taking over before a fumble, or a bad spot on a fourth down call would cost them big and give the ball back to Midview. A lot of teams would have laid down to a Midview team down 24-10 at the half but not the Jon Hunek led Titans. This Berea-Midpark team just kept coming.
Trevor Bycznski engineered a double-digit play, 89-yard drive to open the game and put the Midview defense on their heels. He completed six passes, four of which went to Luis Vega. The Titans would cap off the drive with a fourth down touchdown toss to Garrett Waite to draw first blood.
The Titan lead would last all of three plays as the Midview Middies wasted no time responding. Their opening play from scrimmage was a 62-yard end around from Isiah Johnson that put them at the Titan 12-yard line. Two plays later it was Connor Wolfe punching it in from six yards out to tie the game.
The first quarter was just getting started, however, as it would also see a 37-yard field goal by Nick Ruggiero for Berea-Midpark. Midview answered again, this time with another drive led by the running attack. It would be capped off by a six-yard touchdown pass from Higley to Alonzo Banks to close the first quarter up 14-10. The Middies would tack 10 more on in the second quarter to open the lead up to 14 at the half, 24-10, one of the scores being a three-yard Wolfe touchdown scamper.
Down 24-10, the Berea Midpark Titans showed the heart they are known for. The began the second half with a big defensive stop, picking off Higley to get the ball back deep in Middie territory. A few plays later, the Titans would make Higley pay for the turnover as Bycznski took it in himself from three yards out to make it 24-17 and put the Titans within striking distance.
The Titans defense would then step up again, converting a huge fourth down stop to get the ball back with a chance to tie the game. The rally would be snuffed out as quickly as it began, however, as Luis Vega fumbled the ball back to Midview. Vega had been having a great game until that point with eight catches and 100 plus yards, but there was a questionable call as Vega was clearly down before fumbling. The video replay proved as much, but it didn't matter, and the blown call allowed the ball to go to Midview.
The Middies used the momentum a few plays later as Connor Wolfe converted his third rushing touchdown of the night to expand the lead to 31-17 to close the third quarter. Down 31-17, the Titans were in a familiar spot, trying to come from behind.
Bycznski led the Titans down the field, looking again to make it a one-score game, but a fourth down and short was stopped, giving the ball back to Midview.
The Titan defense forced another stop, and it looked as though Berea-Midpark still had a chance, before yet another fourth down and short could not be converted after a very questionable spotting of the ball by the officials.
It looked like Bryce Agnew had gotten enough yards for the first down, but the referees saw it differently and that was all she wrote. A little while later, Midview put the game away for good on Wolfe's fourth rushing touchdown of the evening.
Berea-Midpark looks to stop a two-game losing skid as they dropped to 3-3 tonight. They travel to Olmsted Falls next week to take on one of the best rushing attacks in the state.
Meanwhile, Midview looks to keep on rolling on their 5-1 season as they return home to host winless Westlake in Week 7.
Box Score:
Midview                     14      10     7      7 – 38
Berea-Midpark         10       0      7      0 – 17
Scoring Summary:
1Q 15-yard TD pass from Bycznski to Waite @8:41
1Q 6-yard TD run by Wolfe. XP good. @7:31
1Q 37-yard FG Ruggiero.
1Q 6-yard TD pass from Higley to Banks
2Q 27-yard FG by Roig 6:51
2Q 3-yard TD run by Wolfe. XP good @4:05
3Q 3- yard TD run by Bycznski. XP good. @8:39
3Q 2-yard TD run by Wolfe. XP good @1:23
4Q 18-yard TD run by Wolfe.XP good @2:32

NEO Sports Insiders Newsletter
Sign up to receive our NEOSI newsletter, and keep up to date with all the latest Cleveland sports news.