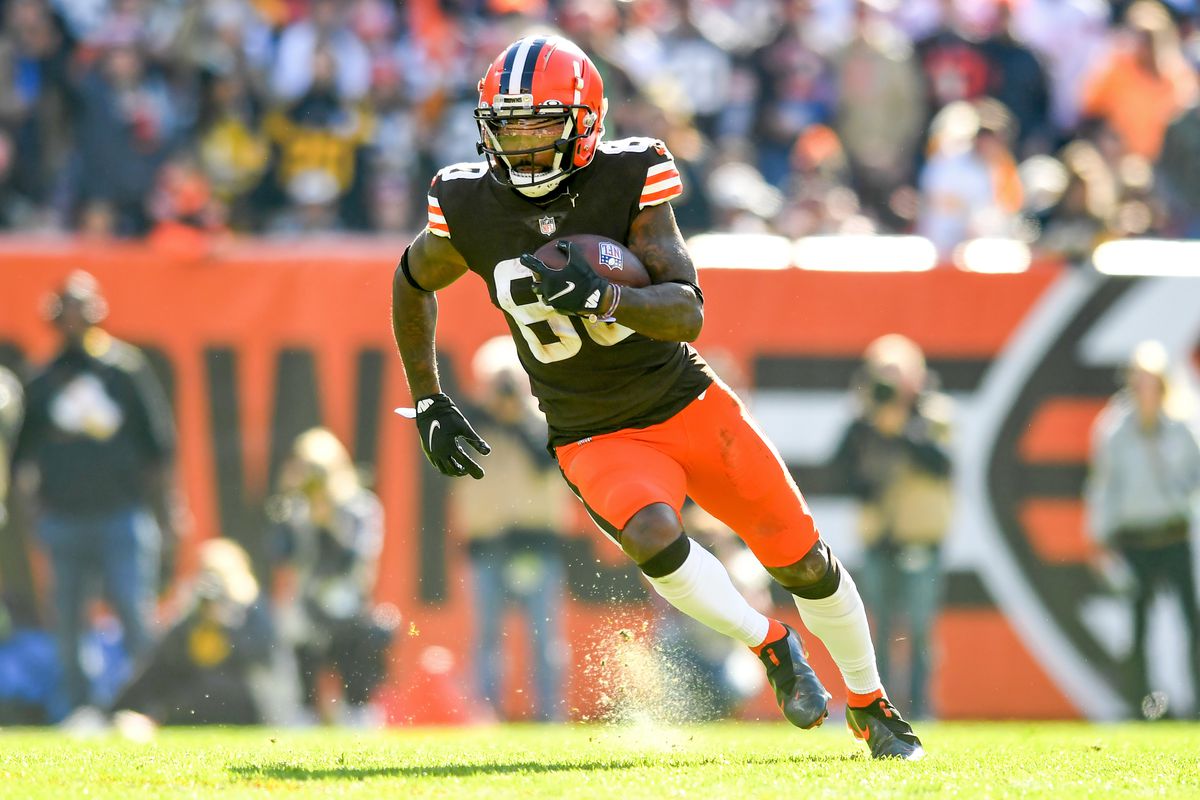 This weekend the Browns are gearing up to face the New Orleans Saints. Neither team is poised to make a deep playoff run this season. However, this game will be meaningful to Browns fans that have followed the team over the past few seasons. The game will feature a familiar face on the opposing sideline.
Cleveland sports fans know the challenges small market teams are up against. One of those challenges is landing free agents, as well as convincing trade acquisitions to buy-in on the landing spot. Unfortunately, Cleveland is often seen as a steppingstone for the next, bigger, opportunity.
Landry the leader
On March 9th, 2018, that narrative seemed to be flipped on its head when the Browns announced they would be trading for Pro-Bowl wide receiver, Jarvis Landry. Six days following the trade announcement Landry started his opening press conference by saying it's "so good to be here.'" That opinion was refreshing for Browns fans to hear. A proven NFL wide receiver excited to come to a team that just came off an embarrassing winless season; this felt too good to be true.
Landry followed up that press conference with many other unforgettable moments in Cleveland. The "contagious" speech on Hard Knocks, throwing the two-point conversion to Baker on Thursday Night Football, ninety-two yards and a touchdown in the Browns first playoff win in more than twenty-five years. Along with countless press conferences that truly showed he was the heart and soul of this team.
Feeling the loss
Professional sports are a business, and therefore decisions are often made by the numbers instead of emotion. When heartless decisions are made, fans hope the team has enough soul and identity to operate in the face of adversity. Personal opinions aside, the Browns made polarizing decisions this offseason; and when those decisions are made leadership is expected to keep the ship afloat. Failing to retain Jarvis Landry on this team has certainly contributed to some of the issues they have faced in the 2022 season.
Nick Chubb, the silent leader, and fan favorite of the team was asked yesterday if the guys miss Jarvis. To which Chubb responded "For sure, definitely. If we had Jarvis here it would be amazing. We all loved him." Later in the press conference he added "[Jarvis] had a big impact on the culture" and how he was a tone setter for Chubb as a rookie. Chubb's first season he knew a culture change needed to happen within the Browns organization, and according to the running back, ever since Jarvis Landry made his iconic "contagious" speech, things changed.
Landry's numbers the past few seasons have not been the same Pro Bowl caliber numbers they once were. However, his impact can only be measured by the lack of identity and loss of leadership the Cleveland Browns have experienced this season.
Browns' identity crisis
All of this speaks to a greater issue within the Cleveland Browns organization. Since returning in 1999 the team hasn't understood the importance of identity and culture. Some may surmise that the team leaving in 1995 sadly took the identity and culture with them.
Sure, this football team in Cleveland my still brand themselves as the Browns but this hasn't felt like the team, we read about in the history books; they are an expansion era addition after all. Cultivating leadership is so important for a team that has floundered in this department over the years. It's why losing a player like Jarvis Landry is a much bigger hit than what is reflected on the stat sheet.
The Browns are currently on the outside of the playoff picture, and will need to win out, as well as receive some help along the way, if they want a shot at a postseason this year. Some fans are left wondering "what could have been" had they kept Jarvis Landry on the payroll for the 2022 season. At the very least he could have brought much needed leadership and consistency to an organization that feels allergic to stability.
The Saints head to Cleveland with a record of 5-9 and coming off a win against the Atlanta Falcons, a team the Browns failed to put away in week four of this season. Both teams managed to get wins against division rivals last week and neither team is officially eliminated from playoff contention. Thus, the game is a must win for both teams.
The weather will certainly be a factor in this game as well. While there is a relatively low possibility of snowfall, wind gusts are expected between 20 and 40mph. Additionally temperatures are supposed to be frigid with highs in the single digits, and real feel temperatures as low as -20 degrees Fahrenheit.
As the bitter cold sets in off the shores of Lake Erie, Jarvis Landry deserves an extremely warm welcome from the brave Browns fans in attendance.

NEO Sports Insiders Newsletter
Sign up to receive our NEOSI newsletter, and keep up to date with all the latest Cleveland sports news.