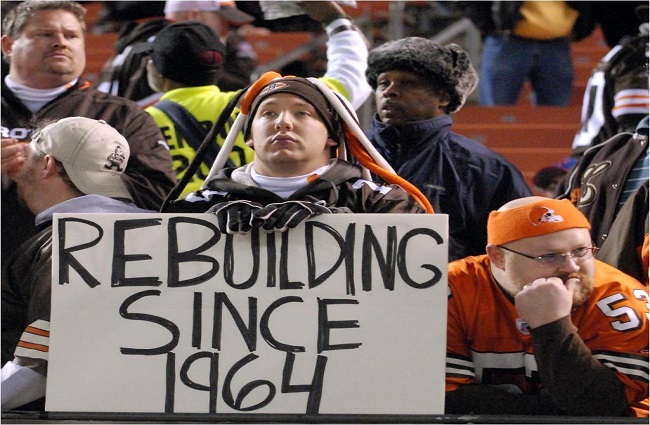 When parents that grew up in the eighties and nineties talk about their memories of the Cleveland Browns, it's filled with awe-inspiring players and tales. Names like Bernie Kosar, Eric Metcalf, Earnest Byner, Ozzie Newsome, Brian Sipe, and Greg and Mike Pruitt flow from their mouths as they talk about multiple winning seasons and a jam-packed Municipal Stadium.
Fans that have grown up in the 2000's do not have that luxury.
Instead, the 2000's will be remembered for a daunting quarterback list of many failed experiments, blown draft selections, and dozens of coaching changes.
Today cemented the misery that this generation will forever be remembered by, as the Browns became only the second team in the history of the NFL to go 0-16 in the regular season. As the ball slid through the grasps of Corey Coleman on a pivotal fourth-and-two, Cleveland players and fans hung their heads in unison as the most embarrassing thing to happen in a stretch of embarrassing moments had finally happened. The Browns joined the 2008 Detroit Lions as the only teams to lose sixteen straight games.
That's history to talk about, for sure. But who's going to gather their grandchildren around and tell them all about the good ole' days of DeShone Kizer and Hue Jackson? How about Isaiah Crowell and Kenny Britt? The answer to that question is absolutely nobody.
Browns fans have been the laughing stock of the league since their return in 1999 but now will be known as a historical laughing stock forever. Meanwhile, Jimmy Haslam just ensured that Hue Jackson will be the head coach of the Cleveland Browns in 2018.
By not firing Hue, fans should expect more of the same next season. As long as general manager John Dorsey does not get his preferred selection for the head coach of the Cleveland Browns, the chain of command will always be missing a link. Haslam has consistently done the hiring process backwards and he did it again this time. By not owning his mistake and giving Dorsey the chance to fire Jackson and bring in a guy he wants to be at the helm, Haslam has verbally slapped fans in the face while smiling that villainous smile.
This season will hurt for the rest of existence, Cleveland. There will never be a chance to remove this sour taste and it will constantly be brought up. If things are drastically altered, history will repeat itself immediately.

NEO Sports Insiders Newsletter
Sign up to receive our NEOSI newsletter, and keep up to date with all the latest Cleveland sports news.