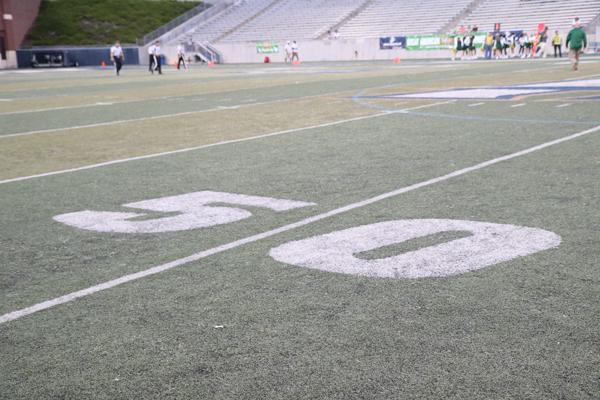 By Asa Haslage
LORAIN, OHIO – As many alumni returned to Tom Hoch Field Friday night, the Clearview Clippers took on the visiting Wellington Dukes, falling short in a hard fought contest 26-24.
There was high emotion in the air, as there's nothing like returning home.
As the game started, Clearview's offense came out early, scoring on a Chase Christensen to Jordan Reed touchdown pass making the lead 6-0.
Christensen then threw another scoring pass later on in the quarter, this time to Sam Clark making Clearview's lead swell to 12-0.
Through the first quarter, it was Clearview dominating, with Wellington not being able to produce much offense.
As we entered the second quarter, CJ Flemimg got in on the action scoring a 30-yard touchdown pass, making the score 18-0.
Wellington wasn't going down easy, as they scored on a 36-yard touchdown from Jon Brasee to make the score 18-7.
As we neared halftime, Wellington continued to cut into the Clipper lead, with Kaleb Taylor scoring for the Dukes making the score 18-13 with 3:43 left in the half.
As we opened the second half, it was like two different teams came out on the field.
Wellington came out with fire, with Tyler Moore scoring a 35-yard touchdown, and the Dukes taking the 19-18 lead.
With 10:45 left in the 3rd quarter, Robert Davis gave the Clippers the lead right back, as he went in from 10 yards out to make it 24-19 Clearview.
As the second half carried on, it was a lot of back and forth action, with again Brasse scoring for the dukes on a deep scoring pass to once again take over the lead 26-24.
On a 4th-and-27, with the game on the line Christensen attempted to scramble for a first after not finding an open receiver, but came up just literally inches short, with the Dukes taking the game 26-24.
Clearview drops to 4-2 on the season, 1-2 in conference play. Wellington improves to 4-2, 2-1 in the conference.

NEO Sports Insiders Newsletter
Sign up to receive our NEOSI newsletter, and keep up to date with all the latest Cleveland sports news.