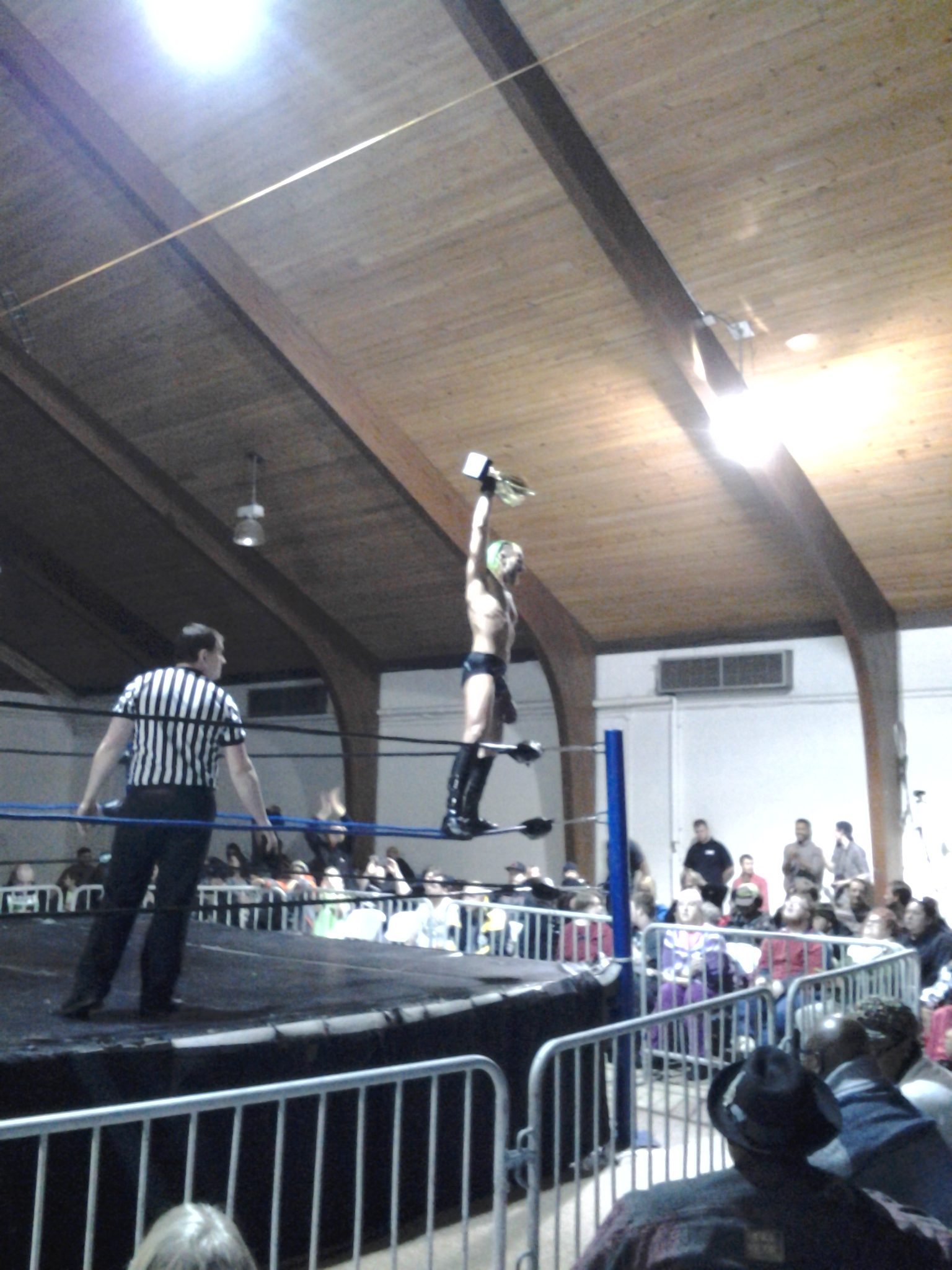 Chaos-a-plenty at MCW "Night of the Champions 19"
I took in my first Mega Championship Wrestling show on Saturday at their 19th annual "Night of Champions" event in front of 350+ rabid fans at St.John  Gym in Elyria . And, my eyes took in some of the great indy wrestling talent in our area. So, in this article I will rundown the results. As well as recap my four choice matches of this card.
The Bearded Bastards defeated Dazed and Confused
Aaron Sheppard won the Young Lion Battle Royal
Dominic Garrini defeated Weird Body
Kalam/ Beastman/ Papa Dingo Defeated Big Moe/ Big Twain/ Joshua Singh
Brandon Xavier defeated Luis Diamante in Xavier's final match in MCW
A.J. Grey defeated Derek Direction with a running discus lariat
My first choice match of the night
The Cougar Brothers (Otis and Atticus) challenged The Philly Marino Experience for the Mega Tag Team Championships in a fans bring the weapons street fight. The Cougar Brothers started of the match by making immediate use of some trash can lids, which led to a top rope planche by Atticus to the outside of the ring on the champs. Both teams made great use of all of the weapons at their disposal, including a Christmas gift wrapped box. The fight spilled into the crowd, all the way to the merch tables. Eventually leading Otis to put one half of the tag champs through one of the merch tables. The champs fought back with a nice double team move of a backbreaker, followed by a 2nd rope elbow drop for a two count. Marino was back bodydropped on a rack of upright plastic forks. Atticus took the two most vicious bumps of the match. First, he got ax hammered from the top rope into a DDT an a pile of thumb tacks for a two count. Next, he was tossed off of the top rope on to a lawn chair wrapped in barbed wire brought to the match by a sadistic fan ringside. The Cougar brothers ended the match with a combination powerbomb/neckbreaker on Philly for the three count and the titles.
My second choice match of the night
T.J. Dynamite vs Shawn Blaze vs Graham Wellington vs Andrew Palace
for the Mega Gold Cup
A great fatal four-way match which saw a lot of back and forth action through out. Each man got a few spots to shine, with a few standout moments. A stunner on to Wellington by Blaze, who was then taken down with a spear by Dynamite. A superkick by Blaze on Dynamite sent him into the ropes and back at Blaze with a spear. A crossarm neckbreaker on Palace by Wellington into a tilt a whirl slam on Palace for a two count. A pump handle driver by Wellington on Palace for a two count. The match finally ended with Dynamite hitting Blaze with a modified hammerlock DDT for the win and the cup victory.
My third choice match of the night
Bryan Convel vs Shawn Phoenix vs Curt Stallion in a three way dance
In what I personally felt was the most technically sound match of the card, this was a spot fest from the opening bell. Running v-trigger knee strikes, hurricanranas, even a back flipping yuranagi by Phoenix on Convel. But after missing a top rope 450 splash on Stallion, Phoenix              receives a fisherman's suplex for his trouble. Then Convel got back in and tossed Stallion from the ring and pinned Phoenix for the win.
Mega World Heavyweight Champion The Suplex Shogun Jackson Stone successfully defended his belt against a member of the world's hottest wrestling faction "BULLET CLUB" Chase Owen in a hard fought matchup.
My fourth and final choice match of the night
Super Oprah vs Samantha Heights vs Zoey Skye vs Champion Joseline Navarro (w/manager) in a TLC match (Tables, Ladders,and Chairs) for the Fighting Spirit Championship
This may have been my favorite match of the night for three reasons
It was two matches in one (I'll get back to that in a bit)
Super Oprah. She may have been my MVP of the card for the vicious bumps she took through out the match. Which leads me to reason
These ladies brought it. This match was as hard hitting as any other on the show, and this card included a hardcore tag team weapons match. Some choice spots – after chasing Heights for taking for wig while riding her back, Super Oprah turned Heights hurricanrana attempt into a tilt a whirl slam. Super Oprah took multiple chair shots from Navarro, including being irish whipped into a chair wedge between the turnbuckles in one of the corners head first.
Super Oprah, after being down all three of her opponents and leaving them prone on a table setup in the center of the ring, she went to take them out with a top rope splash. But, instead they all cleared house and super Oprah went through the table alone.
Heights received a hangman's DDT through the ladder rungs. Navarro's manager hit Skye with a chair shot to the back as she climbed the ladder for the belt, then leading Navarro to climb up instead to claim and retain fer title. Then things got interesting. After the match, Skye go to the ref to cash in her Crossing Barriers contract for an impromtu title match versus Navarro.
This match started with Navarro swinging and missing a chair shot at Skye. Skye catches her with a codebreaker, but the pin attempt was broken up by Navarro's manager pulling the ref's leg. Skye then setup climbed a ladder after putting both Navarro and her manager a table. After a flying splash put both Navarro and manager through the table, 1.2.3. and we have a new Fighting Spirit Champion, Zoey Skye.
This was my first MCW show, and after "Night of Champions 19" I definitely will be back for more. If you want to check out the action also, their next event is "Open The Gates" January 27th, 2018. Visit Mega Championship Wrestling on Facebook for more info.
recap by Robert Huff