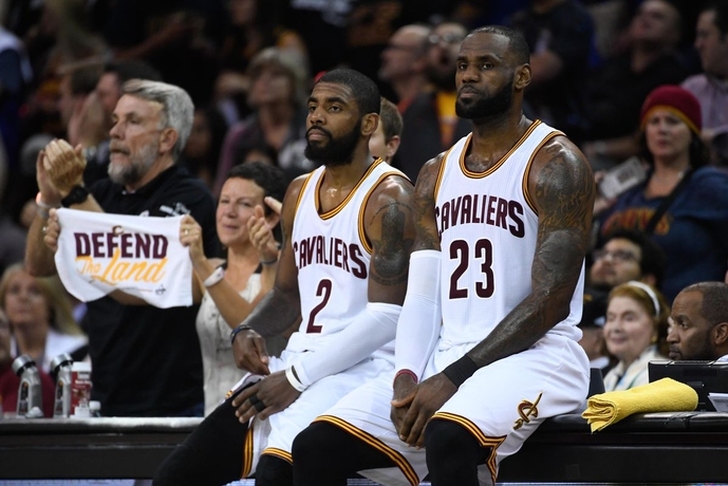 CLEVELAND– As of Tuesday afternoon, the trade that sent Kyrie Irving to the Boston Celtics in exchange for Isaiah Thomas, Jae Crowder, Ante Zizic and a 2018 first-round draft pick remains in flux.
Thomas, who injured his hip last year, has not passed or failed his physical that he took last week at the Cleveland Clinic. Through reports, it appears as though his timetable for return has remained a sensitive subject for both Cleveland and Boston.
The deadline for Thomas to pass his physical is this Thursday, but if both teams agree, that deadline can be extended.
If Thomas were to fail, the Cavaliers have the opportunity to request another asset from Boston instead of voiding the deal all together. That request would most likely come in the form of Jaylen Brown, Jayson Tatum, or another first-round pick.
As the Celtics are unlikely to want to part with either of those young players or another high pick, speculation has been brewing that both sides are headed towards a stalemate.
As a result, there has been some debate about who exactly has the upper hand when it comes to the deal, and who has more to lose.
While the Cavs would have to figure out a way for Irving to play with LeBron James again if the deal is voided, it seems as if the Celitcs have a lot more to lose if Thomas were to come back to Boston.
The Celtics are intent on dealing Thomas no matter what due to their concerns about his hip. As the finalization of this deal drags on, Thomas' trade value drops. As the Cavs (and even the Celtics for that matter) continue to raise concerns about his hip, it makes Thomas less valuable to the other 28 teams in the NBA.
Yes, the Celtics can take the gamble that the Cavs may not get a better deal for Irving, and that may be the case. But even if Irving came back to the Cavs, they would still be the favorites to return to the Finals if the Cavs can't find another suitable offer.
If Thomas cannot play, the Celtics will be stuck trying to find another point guard who not only can score, but can successfully dish the ball to Gordon Hayward. And if his trade value continues to drop, it will be even more difficult for them to get a point guard from another team who can contribute to the offense on that level.
If the trade is vetoed, Cleveland would have locker room tension to overcome, while Boston would have to overcome not having their leading scorer from a season ago and having no one to replace his output.
If the deal is not pushed through, the Celtics essentially have zero chance of signing another Kyrie Irving. For this reason, it is in the Celtics' best interest to try and finalize the deal as quickly as possible. They are the party with more to lose.

NEO Sports Insiders Newsletter
Sign up to receive our NEOSI newsletter, and keep up to date with all the latest Cleveland sports news.