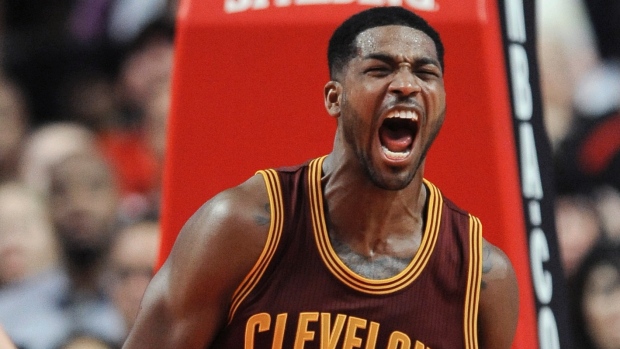 The Cavs looked to recover from an ugly loss to the Wizards on Sunday by returning home to face the Indiana Pacers Monday night.
It was a hard-fought contest, just like the previous two meetings between Indiana and Cleveland, but the Cavs grinded out a 100-96 win.
After losing three of their last four, Head Coach Tyronn Lue opted to insert Timofey Mozgov back in the starting lineup at center and bring Tristan Thompson off the bench.
LeBron James rested on Sunday, which was just the second game he has sat this season, and he looked refreshed at the start of Monday's game, scoring 12 points on 6-of-8 shooting in the first quarter.
Aside from LeBron, there was little offense and the Pacers led Cleveland 19-18 at the end of the first quarter.
Other than LeBron, the Cavs shot 2-for-14 as a team in the quarter.
The Cavs' interior defense was porous in the second quarter, allowing 24 points in the paint in the first half, including this ridiculous putback slam by Chase Budinger.
Budinger, not widely regarded for his athleticism and ferocious jams may never have another dunk like that the rest of his career.
The Cavs would trail by as many as six before ending the half on an 11-4 run. LeBron accounted for nine of those points and would enter halftime with 21 points. The Cavs would lead at halftime 44-43.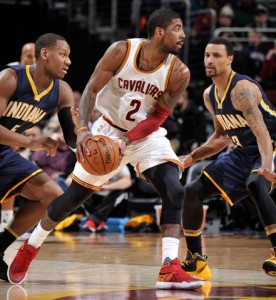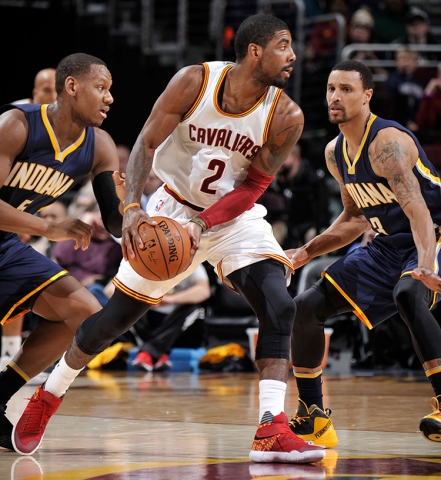 It was a back and forth third quarter, as Paul George and Kyrie Irving started to heat up after each of them only scored five points in the first half.
George and Monta Ellis each scored 14 points in the quarter, while Irving scored 11 and LeBron added ten to his total. The Cavs would enter the fourth quarter on top 74-73.
Indiana opened up the fourth quarter on a 6-0 run, but the Cavs would re-claim the lead with 6:23 to go after J.R. Smith knocked down a clutch three to give put Cleveland in front 87-86.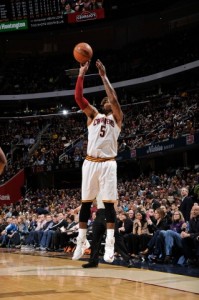 The Cavs got the lead up to three with 5:52 to play, but George tied it up with a three-pointer a minute later, beginning a 7-0 run to put the Pacers up 93-89 with 3:55 to play.
However, that three-pointer was reviewed and taken off the board during a timeout, as it was determined George did not get the shot off before the shot clock expired, making it a one-point game.
Both sides went back and forth, as LeBron and George traded baskets, Ellis gave Indiana a three-point lead, and Matthew Dellavedova tied it up with a huge three-pointer with 1:13 to go.
George missed a layup on the other end and LeBron found Thompson, who made a contested layup with 39 seconds to go to make it 96-94 in favor of Cleveland.
Hitting the go-ahead shot wasn't enough for Tristan, who made a game-saving rejection when Rodney Stuckey tried to tie the game.
The Pacers would foul Irving with 8.9 seconds left and Kyrie knocked down both free throws to make it a four-point game.
Ellis made a quick layup with 5.7 seconds to play to make it a two-point game, the Cavs would get it to Irving, who was intentionally fouled again with four seconds to go. Irving hit two more clutch free throws to seal the 100-96 victory.
George ended up with 23 points.
Ellis scored 28 points.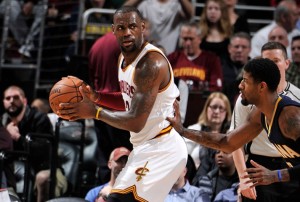 LeBron finished with a game-high 33 points.
Irving finished with 22 points, 17 of which came in the second half.
Thompson contributed 14 points and 11 rebounds off the bench, making the biggest plays of the night in the final minute.
The Cavs improve to 42-17 with the win and are now off until Friday night when they host the Washington Wizards at 8 PM.

NEO Sports Insiders Newsletter
Sign up to receive our NEOSI newsletter, and keep up to date with all the latest Cleveland sports news.