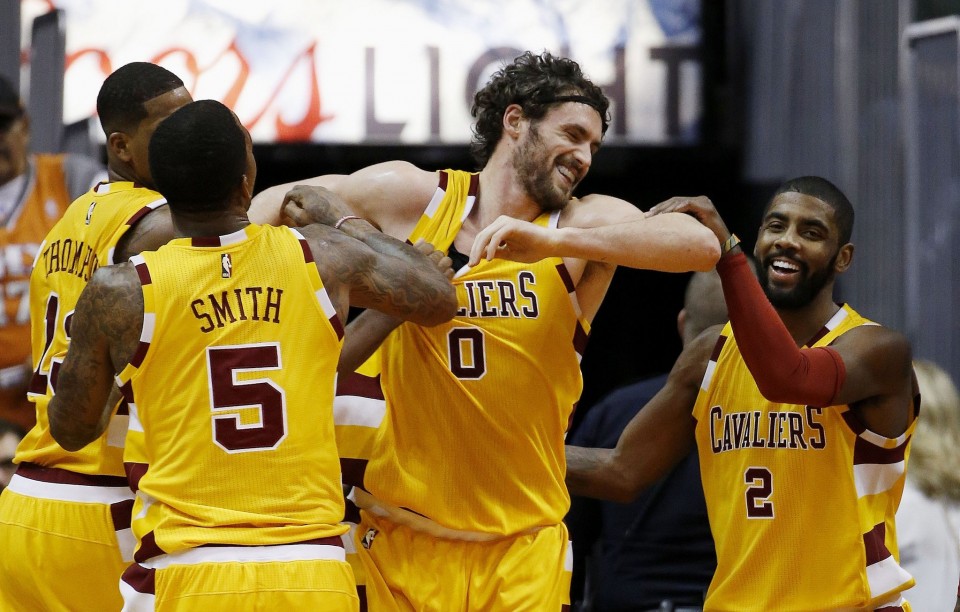 This NBA off-season is being dubbed "The Summer of KD," as the most important free-agent decision in basketball is that of Kevin Durant.
Half a dozen teams will meet with Durant and a few more are hoping for a shot to sign him.
From the Warriors' perspective, it's clear their roster is going to look a bit different compared to 2015-2016.
Harrison Barnes is expected to sign elsewhere. The Warriors are targeting Durant, Dirk Nowitzki, and Nicolas Batum among others.
Whatever team signs Durant, whether he stays with Oklahoma City or goes elsewhere, will instantly be viewed as a championship contender.
As for some of the second-tier free-agents, guys like DeMar DeRozan, Hassan Whiteside, Al Horford, Nowitzki, Batum, and Chandler Parsons will be highly sought after by multiple teams.
With regards to the Cavaliers, it's hard to argue that they need to do much in terms of upgrade. They just won the championship. LeBron James is without a doubt the best player in the league after proving it in his epic NBA Finals performance.
Kyrie Irving showed the world he's a true superstar during the Finals, too.
There is still a large segment of basketball fans, writers, etc. who believe the Cavs should deal Kevin Love, and that topic will be dealt with in-depth at a later date, but generally speaking, what is there to upgrade?
If the Cavs simply re-up, and re-sign the guys who won the championship with them in 2016, they will still be the top team in the East and have to be viewed as one of a short list of teams to win it all in 2017.
Two names that have frequently been mentioned as candidates to leave Cleveland are Timofey Mozgov and Matthew Dellavedova.
The Cavs' draft selection of Kay Felder, who they spent $2.5 million to acquire from Atlanta, is an indication that Cleveland is prepared for Delly's departure.
Mozgov did not get much playing time late in the season or during the Playoffs and would not be a top priority for Cleveland to re-sign.
The rest of the roster is where it gets somewhat interesting.
The Cavs reportedly are going to exercise their team option on Jordan McRae. Perhaps he sees more playing time if Delly signs with another team.
Richard Jefferson plans to play at least one more year if not two or three. He would be a no-brainer to re-sign to serve as LeBron's backup small forward.
Unless James Jones (35) were to announce an unexpected retirement, Cavs fans can assume the team will re-sign him for an inexpensive contract.
Mo Williams is still under contract. Channing Frye still has one year left on his contract.
Dahntay Jones also is under contract for 2016-2017.
Iman Shumpert is entering the second year of a four-year deal.
Sasha Kaun is still under contract, but his future in Cleveland may not be as concrete as other players on the team.
One of the biggest question marks is whether or not the Cavs re-sign J.R. Smith .
Smith was one of the best scorers on the team, was praised by coaches and teammates for his defense, and has become a fan favorite over the last year and a half.
He is going to command a hefty contract, but the Cavs know how valuable he is to the team. It might be a similar situation to what the Cavs went through with Tristan Thompson in the summer of 2015, but hopefully doesn't drag out as long.
Assuming the Cavs' roster stays the same as 2015-2016, aside from Dellavedova, Mozgov, and Kaun (who barely played in 2015-2016) here is what the roster will look like.
1. LeBron James
2. Kyrie Irving
3. Kevin Love
4. Tristan Thompson
5. J.R. Smith
6. Richard Jefferson
7. Channing Frye
8. Iman Shumpert
9. Mo Williams
10. James Jones
11. Jordan McRae
12. Dahntay Jones
13. Kay Felder
NBA teams carry a minimum of 13 players, with at least one inactive player. The league average is 14 players per team.
Assuming the 13 players above are on the Cavs roster, they could add one or two players via free-agency and then have a decision to make on who would be inactive.
Felder will be entering his rookie season and it wouldn't be a surprise if he starts the year with Canton in the D-League, but his Summer League performance could change that.
So the questions facing the Cavs' front office this off-season… Do they keep the 12 guys above and go for a repeat with the same pieces?
Do they re-sign Delly and/or Mozgov? What do they do with Kaun?
Would they consider a trade involving role players, like Shumpert or Jones?
Of course the Love topic will be an issue and we'll address that in a future column, but for now, it's really difficult to say that the Cavs need any significant upgrades.
But then again, what has made David Griffin's last two seasons so successful is making trades and roster moves that were questioned by the public, but turned out to be beneficial in the long-run.
The trades for J.R., Shumpert, and Mozgov were vital in 2014-2015.
The free-agent addition of Jefferson turned out to be one of the keys to winning the Finals.
The trade for Frye, as much as it upset some of the fan base, ultimately helped the Cavs tremendously in the Eastern Conference Playoff rounds.
What will be Griffin's next move? He and the Cavs' organization have had the foresight to make the right decisions for the last two seasons.
Perhaps it's simply turning over more trust to McRae and expecting big things out of Felder in the future.
Time will tell, but even in a year where the Cavs aren't expected to do much in free-agency, it will be interesting to see how this off-season unfolds.

NEO Sports Insiders Newsletter
Sign up to receive our NEOSI newsletter, and keep up to date with all the latest Cleveland sports news.