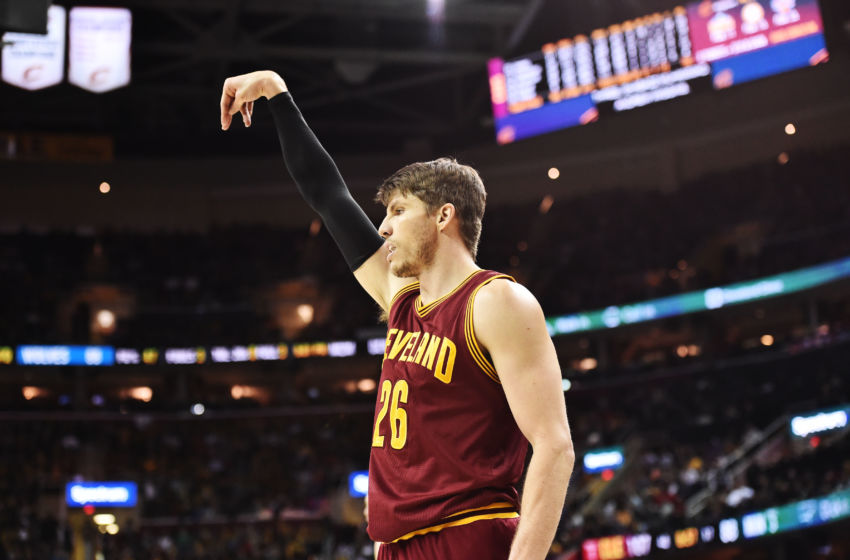 According to Joe Vardon of Cleveland.com, the Cleveland Cavaliers are going to extend a qualifying offer to veteran shooting guard Kyle Korver when free-agency opens up at 12 am Saturday, July 1.
As Vardon notes, "Korver made $5.2 million last season and is the only free agent Cleveland can pay without restriction."
The Cavs still hope to acquire Carmelo Anthony if he is bought out by the New York Knicks and would likely have to use their one and only mid-level exception on him if that scenario arises.
If Anthony doesn't agree to a buyout with the Knicks, Cleveland will have that $5.1 Mil. to use on one free-agent and can only sign other free-agents to the veteran's minimum.
Players like Dahntay Jones, James Jones, Deron Williams and Derrick Williams could re-sign with the Cavs on veteran's minimum deals, but it's unlikely all of them return.
Meanwhile, Cleveland has been in discussions with Turkish prospect Cedi Osman, whose rights are owned by the Cavs from when they traded for him in the 2015 Draft.
As Vardon writes, the Cavs would be somewhat handcuffed in how much they can pay Osman because of salary cap restrictions. For what it's worth, the Cavs are interested in adding him to the roster, which would at least give the team a younger guy off the bench and could fill a spot vacated by one of the potential outgoing veterans.
We'll continue to update the Cavs roster moves in the coming days.
It's not a guarantee that Korver ends up signing with the Cavs, since other teams can pay him more, but the sharpshooter is reportedly interested in staying in Cleveland.
Teams expected to compete with the Cavs to sign Korver include the Milwaukee Bucks, San Antonio Spurs, Los Angeles Clippers, Los Angeles Lakers  and New Orleans Pelicans.