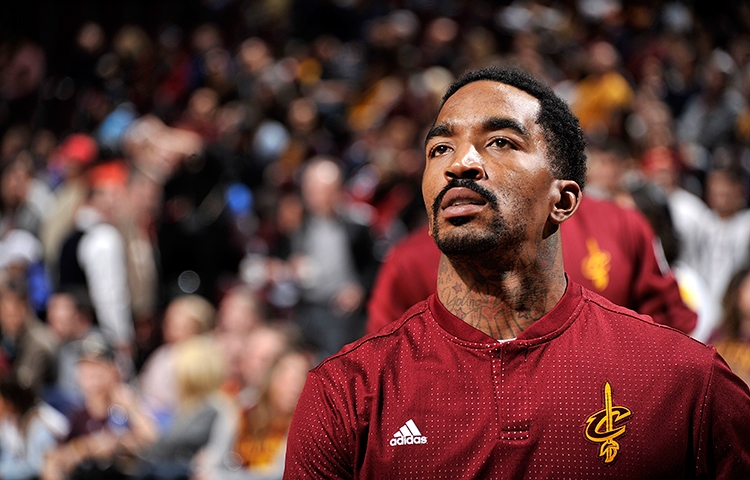 BOSTON – When the Eastern Conference Finals started, the Cleveland Cavaliers were actually favored to win over what many believed was an undermanned Boston Celtics team. Instead, after two games, the Cavs find themselves coming home down 2-0 in the series and facing a must-win situation on Saturday night.
Early on LeBron set the tone for what looked like a rejuvenated Cavaliers team, scoring 22 of the team's 27 first-quarter points. Cleveland pushed what was a three-point lead through one out to 11 late in the second quarter and despite James leaving the floor for several minutes after experiencing concussion-like symptoms, at halftime they still held a seven-point lead, 55-48.
It was all downhill from there as the Cavs scored a meager 39 points in the second half. Even a 45-point, triple-double performance from James wasn't enough to lift Cleveland to victory. Kevin Love also played well, posting a double-double with 22 points and 15 boards, but contributions from elsewhere were scarce.
Meanwhile, the Celtics were paced once again by Jaylon Brown with 23 points, as Terry Rozier added 18 and Al Horford another 15. In total, six Celtics scored in double figures on the night including Marcus Smart off the bench.
There are plenty of things to react to after this one. Here are three takeaways:
1) Backcourt
In Game One, it was the Celtics frontcourt that gave the Cavaliers fits, as Boston racked up 60 points in the paint, 20 of which came from Horford. In Game Two though, it was the Celtics backcourt that couldn't be stopped.
Cleveland's starting backcourt was outscored by the Celtics starting backcourt 41-3 on Tuesday night. No, that is not a typo and there is even a graphic to prove it…
Celtics backcourt vs. Cavs backcourt in Game 2 ? pic.twitter.com/koOpzFjFRL

— SportsCenter (@SportsCenter) May 16, 2018
That large of a discrepancy is laughable and a recipe for a disaster, as everyone witnessed in Game Two. It starts first-and-foremost with J.R. Smith, who went scoreless for the night, including 0-for-4 from three. That just can't happen. Smith is on the floor and in the starting lineup mostly for his, supposed, ability to knock down threes. To get nothing from him other than a fourth-quarter flagrant foul and a shoving match with Marcus Smart in 27 minutes of play is devastating for the Cavs.  To a lesser extent, the same goes for Hill. He played 33 minutes and contributed just three points to the cause. Suddenly what was a strength for the Cavs throughout most of the season has become a weakness and they better find a way to resolve it, fast.
2) The Third Quarter Strikes Again
It's no secret that the Cavaliers have struggled throughout the regular season and postseason in the third quarter. And even though the third quarter was actually Cleveland's best quarter in Game One, the bad habit reared it's ugly head once again in Game Two. The Cavs were outscored 36-22 by Boston in the third stanza as they went from being up seven at the start of the half to down seven entering the fourth. By then it as too late. Boston had seized momentum and Cleveland never stole it back.
Truthfully, those never-ending third quarter woes can be chalked up to one thing: coaching. At halftime, each coach has the same amount of time to make adjustments or plan for the adjustments their opponent will make. It's not just happenstance that Cleveland continues to make a habit out of coming out sluggish and discombobulated in the third quarter. They're either not prepared for the adjustments they see from opponents or just have a hard time countering it. Either way, that's an indictment on Tyronn Lue and the coaches.
3) Can't Coach Motivation
This series has shown how wide of a chasm there is between what motivates each of these teams. In each of the first two games, you can probably look back and recall 10-plus instances where the Celtics simply outhustled the Cavaliers. Whether it be diving for a rebound or loose ball. Closing out on a three-point shooter or rotating on defense. Boston is constantly outhustling Cleveland in every facet of the game. On a deeper level, it speaks to the motivations of the two teams.
On one hand, you have a Celtics team that is essentially playing with house money. They're down their two best players, and have been counted out of almost every round of this postseason because of it. They're young and probably shouldn't be here. Yet here they are, up 2-0 in the Eastern Conference Finals. This young team may lack talented in their current construct, but they do the little things and it pays dividends. This group clearly plays with a chip on their shoulder and it's obvious how hungry they are for a championship.
With the Cavs, it's hard to find that same hunger from anyone outside of LeBron. For any holdovers from that 2016 Championship team, it may just simply be that they're content with the fact that they've been to the promise land and experiencing it once was enough. For some of the younger guys such as Rodney Hood, Jordan Clarkson and Larry Nance – all of whom were acquired at the trade deadline – it's unclear if they're motivated by the pursuit of a championship the same way James is. It's not as if any of that trio's play has shown that. So what the Cavs have is a melting pot of talents playing with different motives and the disconnect is obvious when a guy is late closing out on a perimeter shot or fails to box out on a missed shot.

NEO Sports Insiders Newsletter
Sign up to receive our NEOSI newsletter, and keep up to date with all the latest Cleveland sports news.