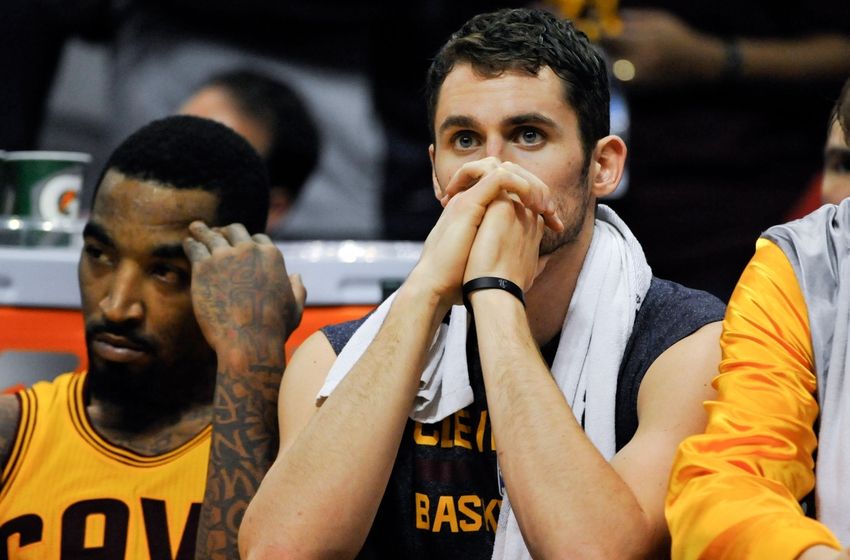 In recent months, the NBA has seen an abundance of injuries to some of its biggest stars.
In the past three weeks, Kevin Love, Kevin Durant and Kyle Lowry have all suffered injuries that will keep them out for most of the rest of the regular season. On top of the Love injury for Cleveland, J.R. Smith has been out with a fractured right thumb since Dec. 20
All of those players should return in time for the playoffs. But as the old saying goes, being healthy doesn't always mean being "back."
For that reason, the Cavaliers are in by far the best position to overcome the period where their starters return, but aren't their usual selves yet.
The main reason is continuity.
The Cavaliers added Deron Williams and Andrew Bogut in the past week, but neither of them will play a large role in the playoffs (aside from finally giving LeBron some damn regular season rest). Cleveland's playoff core from the past two seasons remains in tact. And while Love and Smith might have laggy starts, they know exactly where they fit in the framework of the team.
The reason the Cavs will be fine is the same reason Toronto and Golden State should be worried.
Raps get unlucky after thinking they got lucky
When the Raptors traded for Serge Ibaka on Valentine's day, they believed they had found their inflection point. The Cavs were down two starters, and they were adding a significant two-way piece.
There was blood (albeit not much) in the water.
One week later, Kyle Lowry began missing games with his wrist injury. Now Lowry is out for the rest of the regular season. His injury is on his shooting wrist, so it's especially questionable that he'll be back to form immediately come April.
Oh, and then there's that small issue where Lowry has played 0 MINUTES with the team's biggest acquisition. Ibaka is a pretty seamless fit with Toronto overall, but developing pick and roll/pop chemistry takes time. Time that Toronto won't have.
With Lowry out, the Raptors will likely drop to the fifth seed in the East. Assuming they beat the Atlanta Hawks (not a safe assumption), they will play Cleveland about a week-and-a-half at the latest after Lowry comes back.
They were still significant underdogs in that series before Lowry got hurt. Now, it looks like they went all in for nothing.
Re-catering to KD
Remember when the Warriors were Kevin Durant's team? Remember when Stephen Curry looked awkward on the court?
That could happen again. Early in the season, Curry was making a conscious effort to make Durant as comfortable as possible in the Golden State offense.
So much so, that his own numbers took a hit.
After Christmas, Curry went from 16.8 shots per game to 19.8. Went from 39.7% on 3s before XMas to 46.2% after it

— Ethan Strauss (@SherwoodStrauss) February 2, 2017
With Durant out, Curry will again be liberated to explore the ridiculous heights of his game without worrying about getting another top-5 player his due. That kind of freedom is addictive. After firing at will for four-plus weeks again, there could be another re-adjustment period.
Curry might feel that early-season nag to get Durant involved.
And if the Warriors take too long to re-discover their happy medium, there are plenty of teams in the Western Conference waiting to capitalize on a glitch in their seemingly foolproof system.
It's possible the Warriors and Raptors will find that happy-medium with plenty of time before they meet Clevland. It's possible they could advance far enough to match up with Cleveland without doing so.
But either way, there are no uncertainties about fit or chemistry when Cleveland gets healthy. In the playoffs, continuity is highlighted.
And with two of their biggest challengers dealing with more complexities behind recent injuries, Cleveland can breath much easier about their own nicks.

NEO Sports Insiders Newsletter
Sign up to receive our NEOSI newsletter, and keep up to date with all the latest Cleveland sports news.