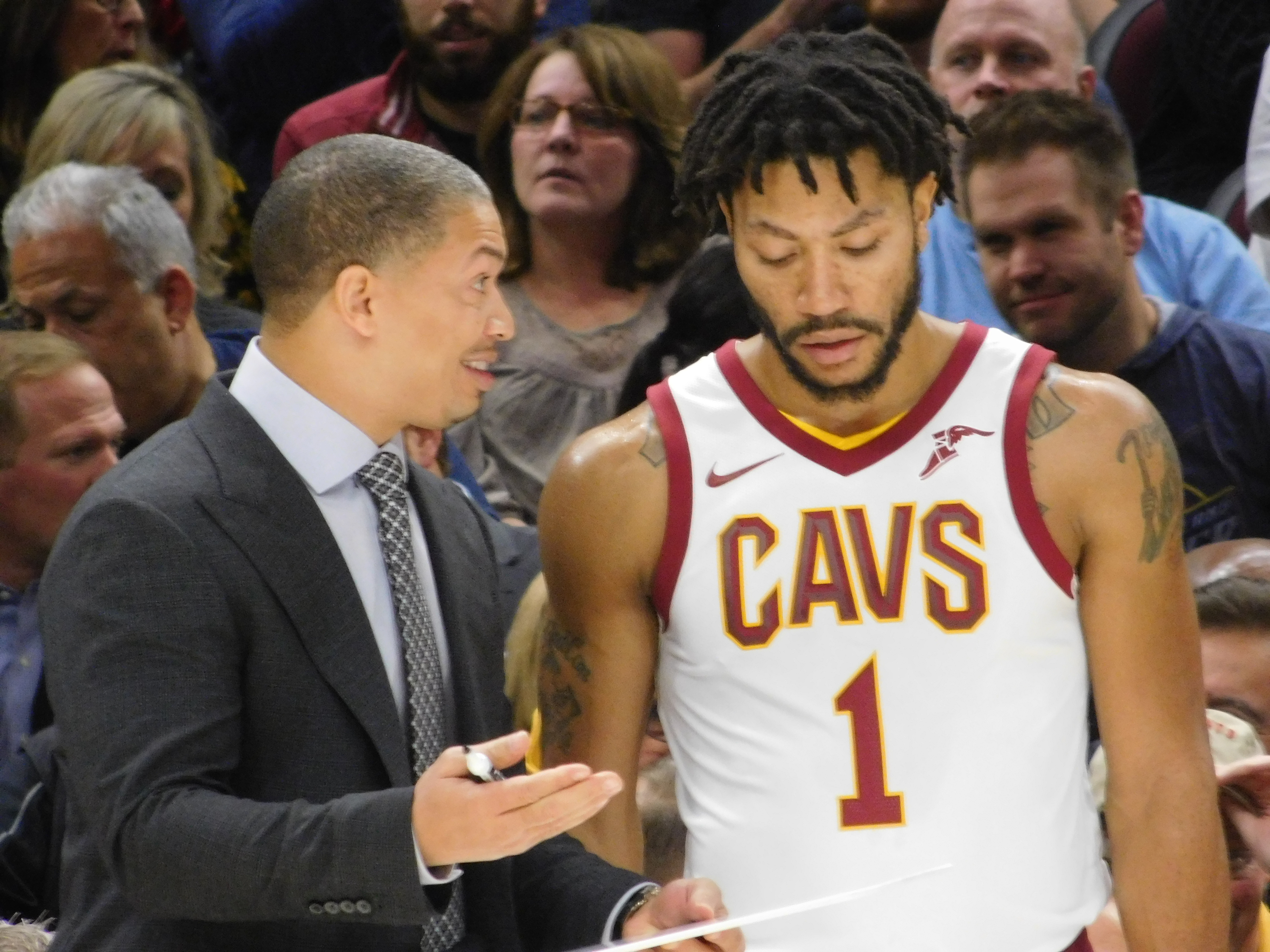 CLEVELAND– As Derrick Rose's absence from the Cavaliers continues due to a "personal matter," don't expect his teammates to judge him for it.
According to reports, Rose left the team on Wednesday as he deals with the frustrations of rehabbing from a sprained ankle. ESPN broke the news of Rose's absence, saying that he is also considering stepping away from the NBA for good.
Head coach Tyronn Lue said on Friday that he had been in contact with Rose, encouraging him and making sure he knows the team and organization support him. LeBron James and Dwyane Wade said that they had not spoken to Rose since he left.
While James empathizes with Rose and shared a sentiment similar to Lue's, he was clear that he cannot understand the tough questions that Rose must now contemplate concerning his future.
"It's easy to criticize somebody," James said after the Cavs' 100-99 win over the Charlotte Hornets on Friday. "At the end of the day, my favorite quote of all-time is Theodore Roosevelt's the man in the arena. … Anybody can sit on the outside of the arena and criticize the man in the arena that's giving his blood, sweat and tears. But until you walk in the line of battle, or adversity, or whatever the case may be, then you don't understand.
"So, I understand as a professional athlete, but I can never understand what he's going through. It's his life. I've been with him two months, and I can never understand that. But what I do understand is I want him to be happy."
LeBron invokes one of his favorite quotes, Teddy Roosevelt's "The Man in the Arena" when talking about Derrick Rose. pic.twitter.com/2AoX0xKW67

— Ashley Bastock (@AshleyBastock42) November 25, 2017
This season has been a exasperating one for Rose, who has missed 12 of the Cavs' 19 games after spraining his ankle in the second game of the year against the Milwaukee Bucks on Oct. 20. But this is just the latest injury for Rose, who has also suffered an ACL tear and meniscus tears in both knees. The former league MVP last played in 81 games during the 2010-11 season, the year he won the award. Since then, he has not played more than 66 games in a single season.
Over the last couple of years, however, Rose seemed to find an equilibrium. Last season he had a quietly good year for the New York Knicks, averaging 18 points, 4.4 assists and 3.8 rebounds in 64 games. Coming into the season, he was named starting point guard for the Cavs after signing a one-year, veterans minimum deal, and seemed confident despite the fact that when compared to other points in his career, he was flying well under the radar.
"My job is not to listen to what everybody says," Rose said at media day back in September. "I'm the player, I know how good I am. And, I'm 28. People act like I'm 38 years old. I'm 28. But my job is not to brag or boast about it. It's to let them see me on the court and they judge and they make their opinions after that."
Wade, unlike James, has found himself in a similar situation to Rose. After the Miami Heat's fourth straight NBA Finals appearance in 2014, James announced he was returning to Cleveland and Wade found himself contemplating his future.
"Obviously, I can't say I understand what he's going through, but I understand what he's going through," Wade said on Friday. "I definitely had a moment in my career a few years back where I was thinking about retiring myself. It's hard when you're dealing with injuries after injuries after injuries— it takes a toll on you mentally.
"This game brings so much joy to guys and it brings the opposite as well. It will take you to the highest of highs and the lowest of lows. If you're not mentally where you need to be, it affects you with your family, it affects you in your day to day. You're just hurting. When you're hurting, you're frustrated and sometimes you think about walking away from the game."
Wade said he combated those feelings by changing his diet and training differently, and found that overall he started to feel better and enjoy basketball again. Rose has talked about making some of the same changes, and even modeling his own training after James' when it comes to losing weight and things like cryotherapy.
But as Rose deals with just the latest in a string of injuries since the 2012 season, his teammates say they just want him to be happy. According to a report from ESPN, Rose has been staying in touch with the franchise's front office, but continues to deliberate whether or not he wants to rehab his ankle to return to the Cavs this season, or even continue his career.
"Basketball is what we do," Wade said. "Someone else will step in when a guy is out, but outside of that we just want Derrick to be happy, to feel confident with whatever decision he decides to make, but we're there for him and just want him to know that."
"We hope this ain't the end but, if it is, I was happy I got an opportunity to spend a couple months with him and watch him be the great point guard that he once was," James said. "But at the end of the day, a clearer head, there's no substitute for that. We want the best for Derrick at the end of the day. No matter if he comes back, no matter if he doesn't, we want him as an individual, as a man, as a father to be just happy with whatever decision he makes."
LeBron on Derrick Rose: "Whatever he decides, we want the best for him… we hope this ain't the end but if it is, I'm happy for the opportunity I got to spend a few months with him." pic.twitter.com/G3I8XPLbNi

— Ashley Bastock (@AshleyBastock42) November 25, 2017

NEO Sports Insiders Newsletter
Sign up to receive our NEOSI newsletter, and keep up to date with all the latest Cleveland sports news.