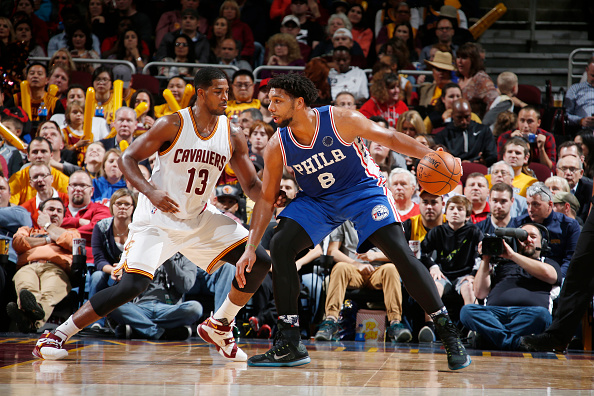 CLEVELAND – The Cavaliers won their fifth game in a row Friday night at the Q to improve to 5-1, defeating the Philadelphia 76ers 108-102.
After starting out slow the previous two games, the Cavs got out to a hot start, jumping out to a 17-9 lead in the first five minutes.
The Cavs shot 52 percent from the field in the first quarter, leading the Sixers 28-25 after one, a pleasant change compared to the last two games, in which Cleveland trailed by 14 at the end of the first quarter both nights.
Cleveland maintained the lead through the second quarter until Nerlens Noel slammed home an alley-oop to put Philadelphia on top 50-49 with 17 seconds remaining in the half and the Cavs would enter halftime trailing by one.
Cleveland responded by going on a 7-0 run to start the third quarter and regain the lead.
LeBron James exploded for 18 of his season-high 31 total points in the third quarter as the Cavaliers outscored Philadelphia 32-23 in the period and entered the fourth quarter leading 81-73.
LeBron also dished out 13 assists on the night.
Kevin Love posted his fourth double-double in six games to start the season, with 12 points and 14 rebounds on the night.
The Cavaliers bench picked up the slack with J.R. Smith missing his second game in a row, as small forward Richard Jefferson contributed 17 points on 7 of 11 shooting, including a perfect night from beyond the arc, shooting three for three from long distance.
The young frontcourt duo of Jahlil Okafor and Noel led the Sixers in scoring as each scored 18 points. Noel also hauled in 12 rebounds with five steals.
Mo Williams continued his hot start to the season with 16 points and 8 assists.
Early in the fourth quarter, LeBron appeared to took a knee to the thigh on a play that silenced the Q temporarily, but he was back on the floor immediately after the timeout and the Cavs coasted through the fourth quarter to win the game by six, handing the Sixers their fifth straight loss to start the season.
LeBron expressed hope that he could play in their next game Sunday.
The Cavaliers strong second half performance may be partially attributed to veteran James Jones firing up his teammates during halftime.
After the game, LeBron was asked if his great third quarter was in response to Jones' speech to his teammates, and said, "I respect JJ more than anybody in this area because of our time together, so it's my job to respond."
The Cavs have Saturday night off and host the Indiana Pacers Sunday afternoon at 3:30 PM.

NEO Sports Insiders Newsletter
Sign up to receive our NEOSI newsletter, and keep up to date with all the latest Cleveland sports news.