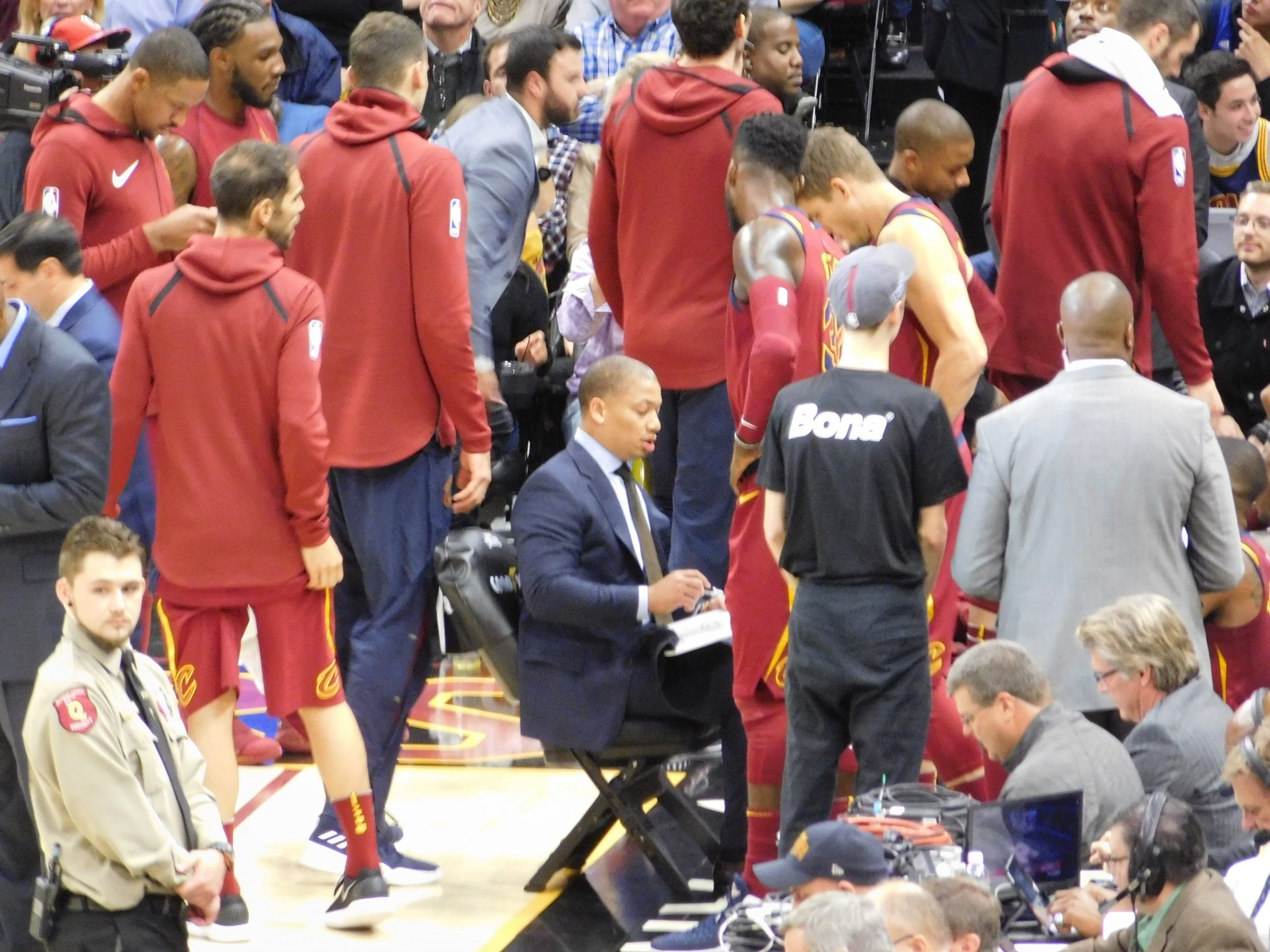 TORONTO– The Cavaliers suffered their worst loss of the season on Monday, a 127-99 routing by the Minnesota Timberwolves.
Monday's installment was just the latest in a series of setbacks for the Cavs, who are in the middle of their roughest stretch of the season. Going back to their Christmas Day game against the Warriors, the Cavs are 2-5. They also have two more games on the road before they return home, and have played just one game at Quicken Loans Arena during that stretch (a 127-110 win over Portland on Jan. 2).
According to numerous reports, the team started off their Wednesday practice with a film session in which Tyronn Lue showed the entire first quarter of Monday night's game.
Lue's message was clear, according to Isaiah Thomas.
"We watched film and you could just see it, (Lue) doesn't even have to say anything," he said. "Film doesn't lie and we just gotta be more physical, we gotta be the aggressor at both ends of the floor, and when we do that we're a tough team to beat, no matter who we're playing. When we don't and we let teams do what they want offensively, it's tough, especially when you're not hitting on the offensive end. You're in a lose-lose situation when you let things happen like that."
The ironic thing is the Cavs faced a similar lull like this last season, right before they took on the Toronto Raptors, their opponent on Thursday night. Then, Lue also conducted an intense film session as the team was on a three-game skid and getting beat up defensively.
The message then was the same as it is now. More than anything, the Cavs need to pick up their effort on the defensive end of the floor, especially in one-on-one situations. It's an area they picked up during their 13-game win streak, but have since fallen back to the league's basement with the 29th ranked defense in the NBA (only the Sacramento Kings are worse).
"I think it's an effort thing," Thomas said. "I mean when guys seen it on film today, it was like, it was obvious. It's definitely more of an effort thing. We've done it this season, we've shown that we can be a pretty good defensive team especially like you said when we went on that stretch of winning games we were playing pretty good defensive. We've just got to get back to that. And I think once you see it on film you can kind of look at yourself in the mirror like I can give a little more. And once everyone does that, we'll be fine."
"From top to bottom just play harder," Jae Crowder added. "The things we can control we have to control and do better."
But while midseason lulls have been characteristic of the Cavs over recent years, Lue says with so many new faces on a team trying to make its fourth straight Finals appearance, that isn't an excuse.
"We got a lot of new guys so hopefully they don't know the old Cavs," Lue said. "But it's been a tough stretch for us."
Lue said despite the defensive issues, he is not considering any lineup changes.
While these lulls have been characteristic for the oldest team in the league, their struggles have come as both Tristan Thompson and Isaiah Thomas have been getting reintegrated into the lineup. As Iman Shumpert and Derrick Rose get closer to their return, there will only be more kinks to be worked out.
Thomas, for what it's worth, has said he doesn't think that he or the team is getting lulled into a sense of complacency considering their history of making it to the Finals despite any regular season rough patches.
"I've only played three games. I can't say I've slipped into that. I'm not the type of player or person to do that," Thomas said. "I'm still trying to get back in the thick of things, getting my rhythm, get everything back for me individually. But at the same time as a leader, we can't have lulls. I know everybody says, 'Well, this happens to this team and they've been to three straight Finals.' But that's not acceptable," Thomas said. "I'm going to do my part to show these guys it's not acceptable and we'll go from there."

NEO Sports Insiders Newsletter
Sign up to receive our NEOSI newsletter, and keep up to date with all the latest Cleveland sports news.