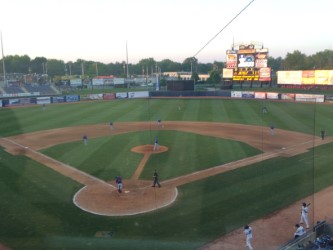 EASTLAKE, OHIO – The Lake County Captains bullpen faltered once again tonight, as they dropped the series finale against the South Bend Cubs 6-3. South Bend swept the Captains in the 4-game series and took Lake County's place on top of the Midwest League Eastern Division in the process.
The Cubs got to Lake County early against Captains starter Casey Shane. He allowed a leadoff double from Andrew Ely to come around and score on a 1-out balk in the top of the first.  Shane struggled with his command, but got some help from his defense. Ka'ai Tom prevented another run from tagging and scoring on a fly ball when he cut down Donnie Dewees at the plate for an inning ending double play in the top of the first.
The Captains got on the board in the fourth against Cubs starter Carson Sands.  Tyler Krieger doubled, advanced to third on a single from Francisco Mejia, and scored on a Nathan Lukes double play ball to second that tied the game at 1.
Shane walked a tight rope in the 5 innings he pitched, but left the game with a chance to win. He gave up 1 run on 4 hits with 4 walks and a strikeout.
Lake County got to Carson Sands for two more runs in the 5th. Ka'ai Tom singled home Sam Haggerty, who led off the inning by getting hit by a pitch. Willi Castro then singled home Nate Winfrey, who walked.  After 5, the Captains led the Cubs 3-1.
Cortland Cox came in to relieve Shane in the sixth in after being activated from the DL earlier today, but he did not have a good outing. Jesse Hodges hit an RBI double and Tyler Alamo hit a 2-run homerun, the first of his professional career, to give South Bend a 4-3 lead in the 6th. Eloy Jimenez added an RBI double in the 7th to give the Cubs a 5-3 lead.
Cubs pitcher Carson Sands was outstanding in his career-high 7 innings tonight, giving up 3 runs on 5 hits with 2 walks and 3 punchouts.  He earned the win for the Cubs to push his record to 5-0.
A balk from Captains reliever Kieran Lovegrove in the 9th gave the Cubs an insurance run, but they wouldn't need it.  Reliever Casey Bloomquist slammed the door shut on the Captains in his two innings of work and earned his fourth save.
The Cubs took the series finale by a final score of 6-3.  The Captains' losing streak now sits at 5. Tonight also marked the 12th straight game they have allowed a homerun; Lake County pitchers gave up 9 homeruns to South Bend in the 4-game series.
After a miserable 1-6 homestand, the Captains travel to Dayton for a 3-game set with the Dragons this week before coming home for a weekend series against the Fort Wayne Tin Caps.