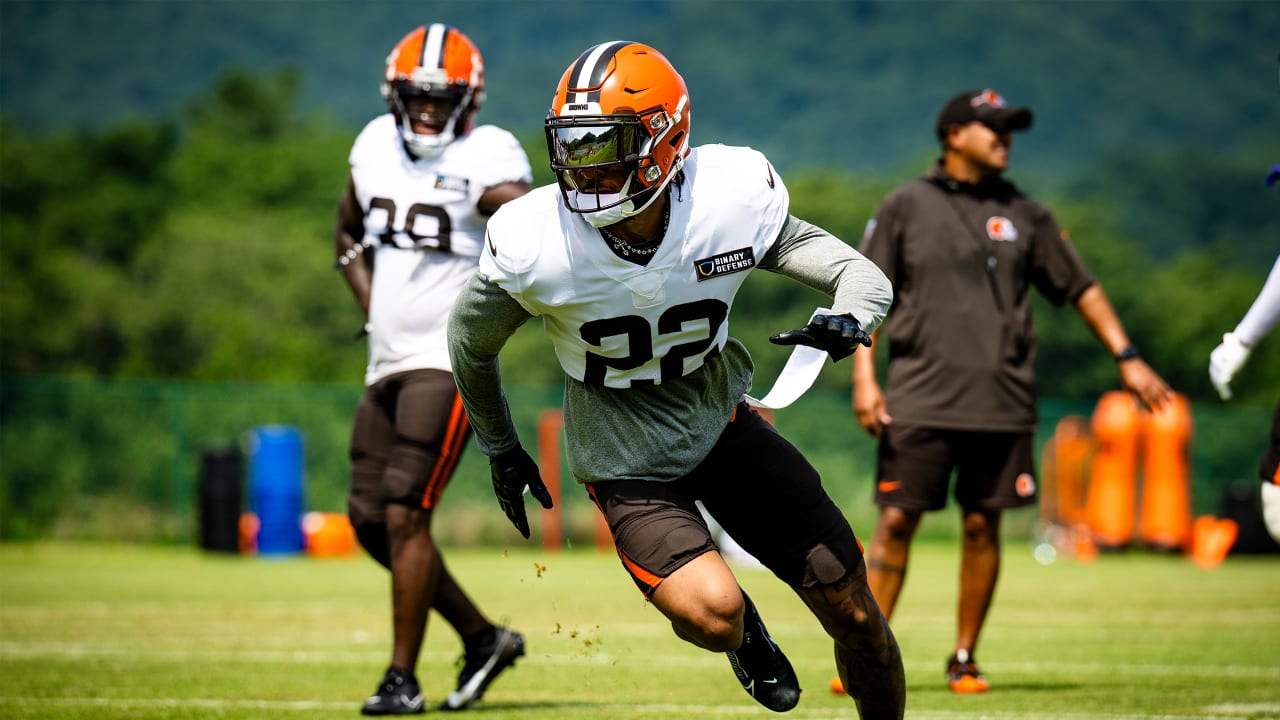 During the past few days at Browns Training Camp, offensive and defensive success in the red zone has been discussed.
On Saturday, after the seventh day of Browns training camp at the Greenbrier Resort in West Virginia, the Turnover Ratio became a topic of discussion.
At the Browns post-practice press conference, safety Grant Delpit met with the media and was asked his opinion on getting takeaways.  Specifically he was asked the following:
"When you look at big plays and impact plays that you would like to make this year, how important are the takeaways to you? Forced fumbles, recoveries, interceptions. And do you have a number on any of those things that you'd like to get?"
Delpit responded that he believed that winning the turnover ratio was very important.
"The Cleveland Browns are 23 and six in the past four or five years that we are even or better in the turnover ratio," said Delpit. "So that number needs to be higher. We need to set ourselves up right. Defense, we need to go get the ball – Ball in the air is ours. Offense, don't give it away. That's like one of the most important stats in football is that turnover ratio and we need to be top, leading the league."
After Delpit talked about trying to improve on getting more turnovers and winning the turnover ratio he was asked about things the Browns could do to improve the turnover ratio.
One important thing that Delpit noted was to make things much more difficult for opposing quarterbacks.
"Like I said, make it hard on the quarterback," said Delpit. "You don't want to make stuff easy. Stuff like bust coverages, stuff like misalignments and stuff like that. That's going to make it easy on them. Takeaways have a lot to do with the quarterback as well. We want to make it hard on them. Quarterbacks are too good, man, it's the NFL. They'll tear you up if you allow them to."
Coach Stefanski's Thoughts on the Turnover Ratio
Of course it should not be surprising that Browns Head Coach Kevin Stefanski believes getting takeaways are very important.
In the October 19, 2022 press conference as the Browns were preparing to take on the Ravens, Stefanski emphasized the importance of the takeaway.
"Every game, you are trying to take it away. I don't think you want to go into a game just trying to let them give it to you," said Stefanski. "That just doesn't happen. Mentality wise for the defense is they have to go take it away, whether it is a strip on a sack, a strip on a tackle, punching it out, tipping a ball, breaking on a ball and those type of things. I think you have to have that mentality that you are going to go take it away."
More recently, after the Cleveland Browns 27-14 victory over the Houston Texans last December, Stefanski at the December 5th press conference talked about how important having four takeaways were in helping the Browns get the victory.
"To go get four takeaways, to score twice on defense and obviously to score on special teams and to take the ball away on special teams, those are the type of things that you are always looking to do," Stefanski said. "Those help you win ball games. As you know, they seem to come in bunches so we are always looking for multiple games where we can get multiple takeaways because it does really change the complexion of these games."
So a question to ponder as we move in to August and get ready for the start of the season on September 10th, is how important do you think the turnover ratio is especially in very close games?
Last year, the Browns finished the 2022 season at 7-10.  However, they lost five games last season by 7 points or less. In fact, four out of those five games they lost by 3 points or less.  
If they can better their turnover ratio this year, do you think the Browns may be able to improve their record significantly, particularly in those close games?
How Did the Browns Turnover Ratio Compare to Other NFL Teams in 2022 
For comparison purposes, the Cincinnati Bengals won the AFC North with a 12-4 record (they did not play the last regular season game against Buffalo) and the Browns finished last with a 7-10 record.
So did the Bengals have a better turnover ratio than the Browns?
According to statistics from NFL.com the Bengals had a +6 turnover ratio while the Cleveland Browns had a -1 turnover ratio for the 2022 season.  
Also, the Philadelphia Eagles who made the Super Bowl had a +8 turnover ratio. The top two teams with the best turnover ratios in the NFL in 2022 were San Francisco who had a +13 turnover ratio and the Dallas Cowboys who had a +10 turnover ratio.
We here at NEOSI would love to hear your opinion on the turnover ratio and whether you think improving this ratio will help the Cleveland Browns win more games this season.

NEO Sports Insiders Newsletter
Sign up to receive our NEOSI newsletter, and keep up to date with all the latest Cleveland sports news.