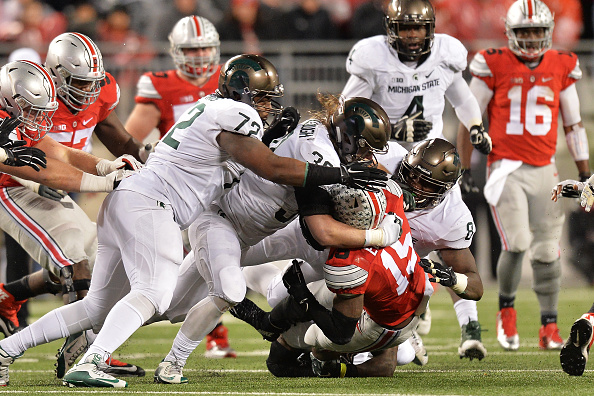 In a wave of frustration Saturday following the Buckeyes 17-14 loss to Michigan State, two big name Buckeyes went out of their way that Saturday's game was their last at the Horseshoe in Columbus.
The first was junior running back Ezekiel Elliott, who was so mad following the loss that he said he's not returning to the team next season.
"Honestly, this is my last game in The Shoe," a ticked off Elliott said.
"There's no chance of me coming back next year, so I've got to make the most of my time left, and I just want to thank Buckeye Nation for just making this place so special. I'm sorry about tonight, and we're going to come out a different team next week."
It was rather an odd week for Elliott, who spent the early part of the week in the hospital, much to the surprise of many who didn't know anything about it till post game on Saturday.
"It's been a real rough week for me," Elliott said. "No one knows this. We kind of kept this under wraps, but earlier this week, Monday, Tuesday, Wednesday, I was hospitalized. I had an infection in my leg, and honestly, I didn't think I was going to play during those days.
"It really took a toll on my body, but I was able to get back at practice Thursday and played in the game. But what happened today is kind of like a bad dream. The offense had a rough day. I'm disappointed. I'm disappointed in the play-calling. I'm disappointed in the situations we were put in, and I wish it all played out differently.
"I had a scratch on my leg, and it just was a skin infection that turned really bad. I had a 103-degree fever. I couldn't walk. It was so painful on my leg. It really was swollen this big on my leg. Honestly, at that point early this week, Monday, Tuesday, I didn't think I was going to play. I was depressed in the hospital, crying like a baby, didn't think I was going to play, but things turned around."
The running back wasn't the only one who says Saturday was his last game at Ohio Stadium, the other was quarterback Cardale Jones, who took to social media to tell fans that he's also not going to come back next season.
"Last time walking down them steps and into the 'Shoe," the junior QB posted on Twitter. "Wish the results were different tho."
The Buckeyes will play at Michigan next week in a huge game with a lot on the line. Elliott said Saturday that despite the loss to Michigan State, he will make sure he and his teammates are ready for next week.
"Honestly, I'm personally not going to let anyone slack off, back off," Elliott said.
"This game means the world to us and everyone in Ohio. We represent everyone in Ohio. We're going to come out and play a hell of a ball game. I'm telling you, it's going to look like a different team, a new team, and I'm actually pretty excited to see how this team really rebounds from this loss, forget about this and get moving."

NEO Sports Insiders Newsletter
Sign up to receive our NEOSI newsletter, and keep up to date with all the latest Cleveland sports news.