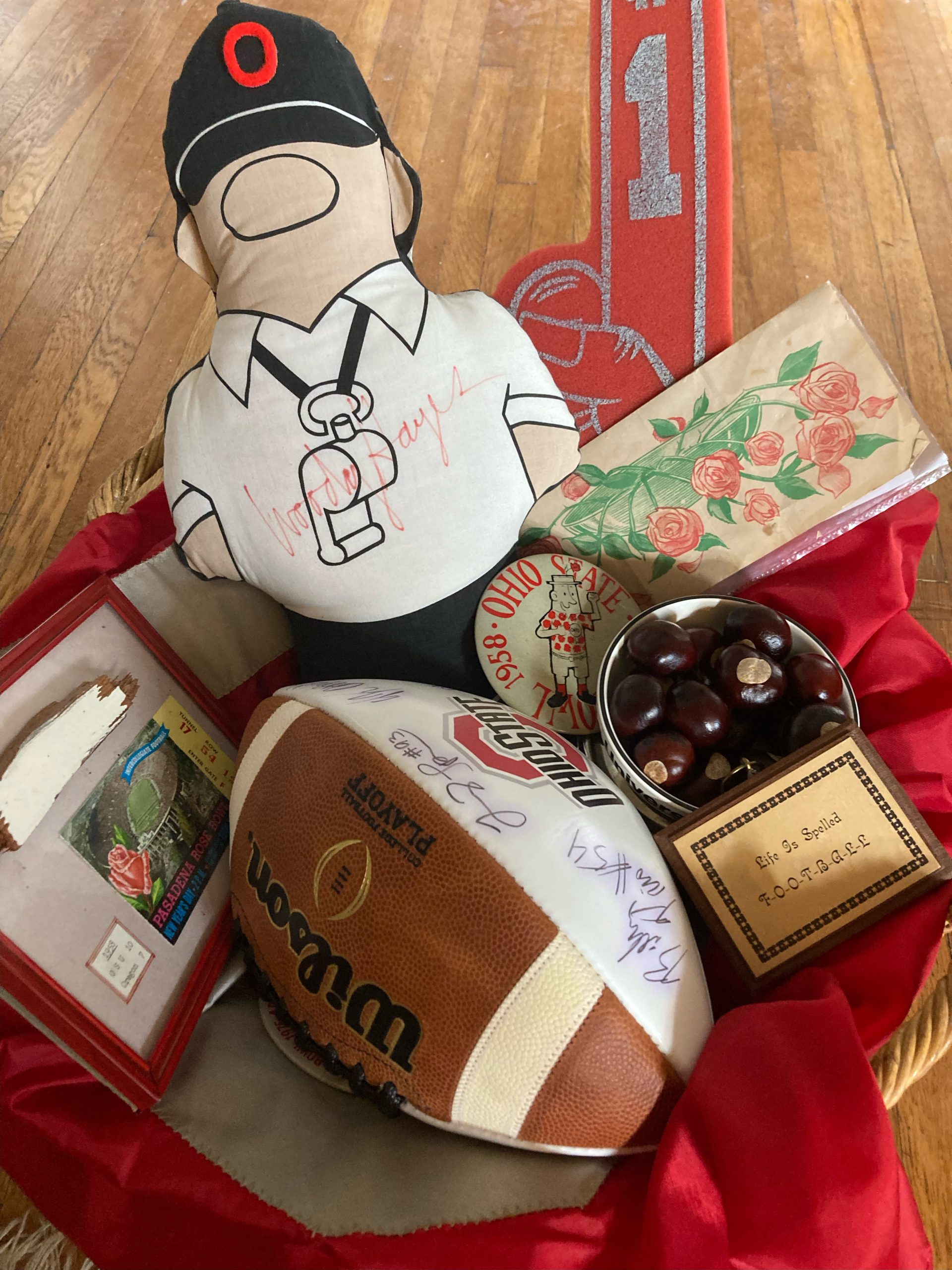 The third-ranked Ohio State Buckeyes enter the home stretch of the regular season this weekend, starting with a matchup against the Michigan State Spartans under the lights in Ohio Stadium. The Buckeyes wrap up the home schedule next week with Senior Day against Minnesota, leading up to the regular season finale. 'The Game' between Ohio State and Michigan will be played on November 25th in Ann Arbor.
Ohio State is undefeated at 9-0 this season, one of five undefeated teams from major football conferences. This group includes Georgia from the SEC, Florida State from the ACC, Washington from the PAC-12, and Michigan from the Big Ten. With only four spots in the 2023 College Football Playoff, the game between Ohio State and Michigan could very well determine who makes the playoffs and who's left out.
The Playoff Picture
Ohio State is first in the CFP rankings, followed by Georgia, Michigan, Florida State, and Washington. In addition to these five undefeated teams, there are six one-loss teams lined up behind them in the standings. Oregon, Texas, and Alabama are poised to move into the top 4 if teams above them should falter down the stretch.
Last season, Ohio State lost to Michigan and still made the College Football Playoff. This season, with so many teams in the mix, it'll be difficult to make it with a loss at the end of the season. Things will thin out at the top over the next few weeks, as they always do, but it looks to be a crowded field.
But forget about the ranking and put the records aside. Ryan Day needs a victory over Michigan this year in the worst way. Three losses to Michigan in a row is unacceptable for an Ohio State coach. After the second consecutive loss last year, Day was being compared to former head John Cooper. Cooper struggled mightily in the rivalry game, going 2-10-1 with devastating losses in 1993, 1995, and 1996.
Day would rather be grouped with more successful Buckeye coaches like Jim Tressel and Urban Meyer. If Day loses a third straight to the Wolverines, fans will be calling for his replacement. Wisconsin head coach Luke Fickell will be receiving phone calls asking if he's ready to return to Ohio State. It's already a foregone conclusion that Fickell will be the next Buckeye head coach anyhow, let's just get on with it.
Quick Look-Back to Rutgers
There's still room for improvement on the offensive side of the ball, that was evident in the Rutgers game. The offense was sluggish in the first half. The Buckeyes scored a touchdown on their second drive of the game, a 6-play 54-yard drive capped by a touchdown pass from QB Kyle McCord to TE Gee Scott.
Other than the one touchdown drive, Ohio State didn't do much else in their other first half possessions: 3 punts, a botched punt, and an interception by McCord. The Scarlet Knights were leading the Buckeyes 9-7 at halftime. Did Rutgers head coach Greg Schiano remember to ask someone to get a picture of the scoreboard?
Lee Corso did this in 1976 while head coach of Indiana. The Hoosiers took a 7-6 lead early in the second quarter against Ohio State in Bloomington Corso called a timeout so a picture of the scoreboard could be taken. Per a 1977 Sports Illustrated article by John Underwood, after Indiana took the lead, Indiana's first lead against Ohio State in 25 years, Corso called a timeout so a photographer could snap a photo of his team in front of the scoreboard.
Ohio State eventually blew out Indiana 47-7 back in 1976. Corso knew what he was doing when he took a timeout to snap the photo!
Rutgers started the third quarter with a drive to the Ohio State 20. However, on second-and-seven from the 20-yard line, Ohio State DB Jordan Hancock came down with a deflected pass and returned the interception 93 yards for a touchdown. Ohio State scored on its next possession to take a 21-9 lead and responded again with a touchdown drive after Rutgers cut the lead to 21-16. Rutgers had cut the lead to five, but Marvin Harrison, Jr. came through for the Buckeyes, catching two touchdown passes in the fourth quarter resulting in the final score. Ohio State possessed the ball four times in the second half, scoring three touchdowns.
Marvin Harrison, Jr.
The Ohio State offense has been struggling to find balance in a Marvin-first scheme, but for this game the recipe was different. Harrison, Jr. was targeted eight times but only had 4 receptions for 25 yards, a product of the Cover 2 defensive scheme employed by Rutgers. The low receiving yards aren't what fans have grown accustomed to from The Terminator of college football, and some will say the limited production hurt his Heisman Trophy chances.
I disagree with that statement. Before his touchdowns, the Buckeyes were clinging to a 21-16 lead and his two touchdown receptions put the game away. Say what you want about Rutgers, but they're a six-win team that's .500 in the conference and playing at home. Having a playmaker like Marvin Harrison, Jr. is a luxury, and he didn't lose a step in the Heisman race. Marvin has 914 receiving yards and 10 touchdowns in nine games.
Time for Tre!
Other than Harrison, Jr.'s two late touchdowns, the day belonged to TreVeyon Henderson. Henderson missed three consecutive games earlier in the season, but TreVeyon is back and in rare form! Against Rutgers, Henderson gained 128 yards on 22 carries and a 9-yard touchdown run. He was also the Buckeyes' leading receiver with 5 catches for 80 yards. It was Henderson's second consecutive game with 200+ yards from scrimmage after putting up 162 yards rushing and 45 yards receiving against Wisconsin.
When I first saw Henderson run the ball as a freshman, he reminded me of Archie Griffin. It was his vision, his approach to the line of scrimmage, and his ability to bounce a run to the outside. I didn't see this from Tre during his sophomore year, it was obvious something was off well before the coaches disclosed that he had a stress fracture in his foot. Why didn't the coaches shut him down earlier in the season? He might have been ready for the Peach Bowl against Georgia in the CFP semifinal, won by the Bulldogs 42-41 thanks to a last-second missed field goal by Noah Ruggles. Ohio State limped to the end of that game without Marvin, and they couldn't hold on. A healthy TreVeyon Henderson would have helped the Bucks ice the game.
TreVeyon Henderson '23 is once again looking great, and the team can ride him to easy victories over Michigan State and Minnesota the next two games. And they should. These two games provide the offensive line an opportunity to build on the success they've had with Henderson running the ball, go into the Michigan game a confident group. This is what it's going to take to bring down the Wolverines.
Emeka Egbuka
Emeka Egbuka made his return to the starting lineup against Rutgers after missing three games with a sprained ankle suffered on October 7th vs. Maryland. Egbuka only had 4 catches for 29 yards, kept in check like Harrison by the defense's Cover 2, but it's great to have him back and healthy for the home stretch.
Egbuka is excited to be back. When asked about his health, he told Eleven Warriors "If I'm out there, in my mind, I'm 100%. So I'm going as hard as I can play, and I'm doing what my team needs me to do and expects me to do." Lined up alongside Marvin Harrison, Jr. and Cade Stover, the Buckeye receiving corps has the potential to be scary-good.
Military Appreciation Day
Saturday is Military Appreciation Day, which is always a great day to watch the marching band pregame and halftime show. It's a good weekend to catch the band's 'Skull Session' in St. John Arena before then band enters the stadium for pregame. The Skull Session will start around 5:30pm ahead of the night game.
Rutgers celebrated Military Appreciation Day this past weekend when Ohio State was in town. The Rutgers Boardwalk, where one can find a statue commemorating the first college football game, was lined with military vehicles for fan photo opportunities. Service personnel were on hand to interact with the fans and play games (apparently maxing out on chin-ups is a game).
The Rutgers helmet had a white "Block R" logo with the American flag inside. As the Scarlet Knights took the field before the game, members of the military community lined the field to welcome the team out of the tunnel. There was a flyover after the National Anthem, and the marching band played the armed forces hymns at halftime. Another special halftime treat for Rutgers fans was looking at the scoreboard showing a 9-7 lead over Ohio State.
Michigan State Spartans
There isn't much to say about Michigan State except they are a team and a program in turmoil. The Spartans snapped a six-game losing street last week when they defeated Nebraska. It may be Michigan State's only conference win this season.
Michigan State has been a worthy opponent in the past, and the Spartans have a history of playing the spoiler against Ohio State. The Spartans defeated top-ranked Ohio State teams in 1974 and 1998. Michigan State beat Ohio State in the 2013 Big Ten Championship to keep Ohio State out of the College Football Playoff.
It might be interesting to dive in and rehash these games if Michigan State presented a threat, but they don't. The Michigan State program has fallen on hard times and the team is bad. Unfortunately, no other Big Ten team stepped into the void left by the Spartans.
Maybe this is why the Big Ten seems weak this year, no programs have taken a step forward from last year. There is little quality in the conference Ohio State, Michigan, and Penn State. I'm finally giving Penn State some respect. It may be short-lived, depending on how they fare this weekend against Michigan.
Prediction
Last week I predicted that Ohio State would shut out Rutgers, and I was wrong. I was also wrong to think Maryland could upset Penn State, that game wasn't even close. Anyhow, I'm still a firm believer in Ohio State's defense against a poorly coached team, and I will predict a shutout again this week, 34-0 sounds good.

NEO Sports Insiders Newsletter
Sign up to receive our NEOSI newsletter, and keep up to date with all the latest Cleveland sports news.