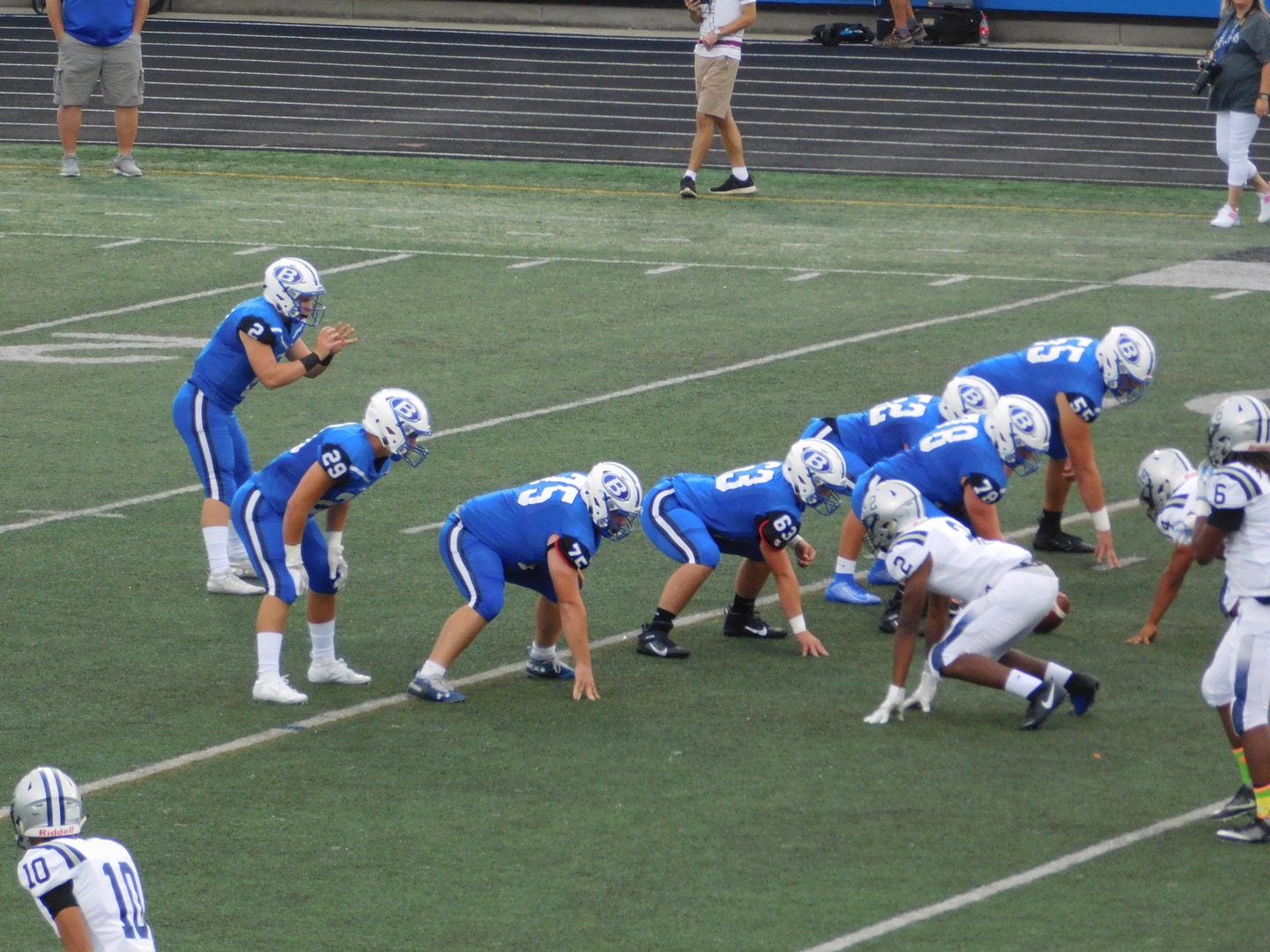 BRUNSWICK, OHIO – Last season the Brunswick Blue Devils football team won just one game, and struggled all season on offense, averaging just eight points per game.
When the 2019 schedule came out and they saw the Lorain Titans as their first game, a team that won 6-4 and were ranked by many coming into the season, it looked like it could be a challenging start for Mark Pinzone's Blue Devils.
Instead Friday night at Brunswick Auto Mart Stadium it was a coming out party for Brunswick, as they dominated both the offensive and defensive lines of scrimmage, putting a stunning beating on the Titans taking home a 31-7 win.
To put in perspective how big of a win it was for the Blue Devils, they scored 31 points just once last season, that coming in week seven, their only win, when they shutout the Elyria Pioneers 31-0.
This night could not have gone better for the Blue Devils, as they recorded five Titans turnovers, three interceptions and two fumbles, and they rushed for 232 yards in the winning effort.
Quarterback Jacob Scherette led an offensive attack that was both effective and careful, as they turned the ball over just once, and Scherette went 10-for-19 passing for 83 yards.
He also rushed for 69 yards on 13 carries and three Blue Devils touchdowns. Running back Nicholas Vadini led the Brunswick rushing attack with 84 yards on 13 carries.
Lorain quarterback Jordan Jackson had a frustrating night, throwing for 162 yards on 9-of-19 passing, but he threw two picks including one to Kyle Scherette that extended a 10-0 Brunswick lead to 17-0 late in the first half.
The Titans appeared to get back in the game as they went on their best drive of the night, an 80-yard drive that covered 10 plays in 3:26 that saw Savon Chavis score from two yards out to make it 17-7 early in the third quarter.
Brunswick put the game away later in the quarter, as their defense held the Titans to a three-and-out deep in their own territory, and then got the ball at the Lorain 44 after a punt.
They smartly went on an effective drive highlighted by a Nick Hoover 17-yard catch and run to put them at the Titans 15-yard line.
Two plays later Scherette rushed in from seven yards out to make it 24-7 and basically end any hopes of a Lorain comeback.
With the result already decided, the Blue Devils went on 59-yard drive in eight plays in the fourth quarter in 1:33 that ended again with Scherette scoring for the third time to wrap up the scoring at 31-7.
Lorain senior playmaker receiver Tyshawn Lighty had a good night rushing for 72 yards on just four carries, and he also hauled in a 42-yard pass on the second Titans offensive play of the game, and overall had three grabs for 74 yards.
For Lorain it was a shocking start to what is expected to be a very good season with a number of senior players. It won't get any easier for the Titans in week two as they take on the Avon Eagles, who pulled off a late win over Avon Lake to start the year.
Brunswick will look to get to 2-0 Friday, September 6th as they will travel to North Royalton to take on the Bears, who were a week one winner over North Ridgeville.
Check Out Photos from Brunswick's Week One Win Over Lorain.
Check out tonight's Video Recap of the Medina County Matchup presented by Dr. Karen Kramer. @MattLoede and I break down tonight's huge victory by Brunswick over Lorain as heard on @AM930WEOL Stream 3! pic.twitter.com/vfOm0JZGK7

— Michael Keefe (@TheMichaelKeefe) August 31, 2019
All over in Brunswick – @BHSGoBigBlue stuns @lorainathletics 31-7 – Blue Devils 232 yards rushing, Lorain 5 turnovers @AM930WEOL @NEOhsAthletics @NEOSportsInside @FOX8FNTD pic.twitter.com/SSrxV9eU4g

— Matt Loede (@MattLoede) August 31, 2019
Jacob Scherette 2 yard TD run and @BHSGoBigBlue leads @lorainathletics 24-7 with 2:27 left 3rd Q in Brunswick @AM930WEOL @NEOhsAthletics @NEOSportsInside @FOX8FNTD pic.twitter.com/c4ON8bKxwS

— Matt Loede (@MattLoede) August 31, 2019
Tyshawn Lighty takes it to the @BHSGoBigBlue one on a nifty run for @lorainathletics in their first drive of the 3rd quarter @AM930WEOL @NEOhsAthletics @NEOSportsInside @FOX8FNTD pic.twitter.com/VTwWPXdPqw

— Matt Loede (@MattLoede) August 31, 2019
Jacob Scherette 1 yard TD run on 4th & goal and @BHSGoBigBlue leads @lorainathletics w/ 4:29 left 2nd Q here in Brunswick @NEOSportsInside @NEOhsAthletics @AM930WEOL @FOX8FNTD pic.twitter.com/8W23Vb25rn

— Matt Loede (@MattLoede) August 30, 2019

NEO Sports Insiders Newsletter
Sign up to receive our NEOSI newsletter, and keep up to date with all the latest Cleveland sports news.