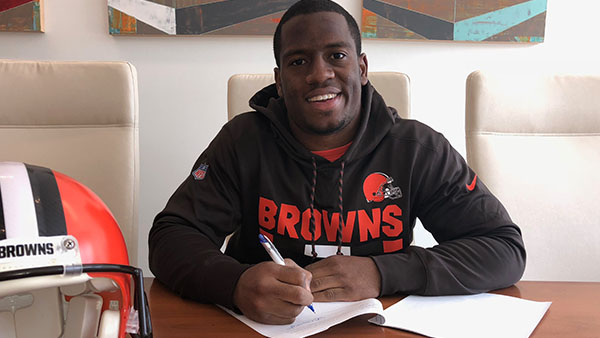 By: Tim Whelan
CLEVELAND, Ohio– The Cleveland Browns have signed rookie running back Nick Chubb to his rookie deal, the team reported on Monday. The deal is four years and is worth up to $7.4 million. Chubb will be joining an already talented backfield with veteran running backs Duke Johnson Jr. and Carlos Hyde.
Like Duke Johnson Jr., Nick Chubb was a second-round pick by the Browns. He was selected 35th overall in the 2018 NFL Draft. Chubb attended the University of Georgia where he helped lead the Bulldogs to the National Championship game versus Alabama. As a senior, Chubb played in 15 games in 2017. He rushed for 1345 yards and 15 touchdowns on 223 attempts.
With training camp around the corner, the only remaining draft picks not signed by the Browns are first overall pick Baker Mayfield and fourth overall pick Denzel Ward.