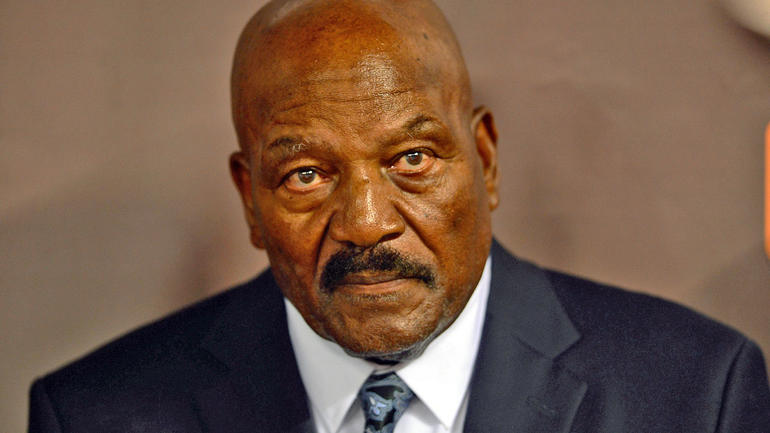 While the country may be divided like never before when it comes to politics, count former Browns all-time great Jim Brown as one who SUPPORTS current President Donald Trump.
It's not a popular opinion among many athletes to support Trump, but Brown (via TMZ Sports) said on on "The JT The Brick Show" on Fox Sports Radio that he's behind Trump, despite what stigma will come to him from the black community.
"I should be criticizing Trump on every level because he does certain things that call for criticism but when I look at television I see all these announcers become experts and they're pointing the fingers and they're not doing a doggone thing but pointing their fingers, I find myself really pulling for the president."

"Now, that would make me very unpopular in the black community, very unpopular with a lot of Americans … but I think that there are certain good things that are coming out of this Presidency because we've never seen anything like it."

He added, "I mean there's confusion. A lot of people are retiring. A lot of people are giving their opinions and we have to really dig deep down inside to come with the right kind of an answer."

Brown — who also doubled down on his stance against NFL kneelers — also had this to say to people who believe he's not a good American.

"I believe that I have to work on myself first to be as good a person as I could be to back up my country as best as I know how."

"And the second situation I should be helpful to those people who need help that don't have life as good as I have it and if I do those two things, I think I'm making my contribution."

Brown famously went to Trump Tower right after Trump won the election to talk about how he can make a positive impact in the black community.

Floyd Mayweather also famously met with Trump during the transition but he has since distanced himself from the president. Brown clearly feels differently.

Speaking of Brown's stance against taking a knee … Trump opened his rally in West Virginia Tuesday night by slamming the NFL for its policy, and took an extra shot at ESPN for announcing it will not air the National Anthem on "Monday Night Football" this season.
It will be interesting to see what comes to Brown's comments, and if any other athlete joins him in support of Trump, or if he takes heat from those that do not see eye to eye with the current President.

NEO Sports Insiders Newsletter
Sign up to receive our NEOSI newsletter, and keep up to date with all the latest Cleveland sports news.