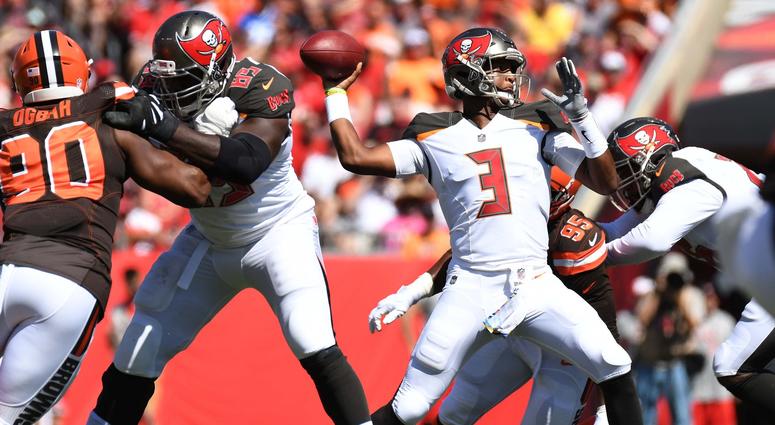 TAMPA, FLA – Four quarters never seems to be enough for the Cleveland Browns. It took overtime for a fourth time this season to decide the Browns fate. And for the third time this season the extra period ended without a win.
This time, it was a 59-yard field goal from Tampa Bay Buccaneers placekicker Chandler Catanzaro that did the Browns in. The heartbreaking 26-23 loss to the Buccaneers dropped Cleveland to 2-3-1 on the season. They're 1-2-1 in overtime.
Like most of their losses this season the Browns had several opportunities of their own to win the game but couldn't finish. After Cleveland registered only a safety in the first half, quarterback Baker Mayfield led a valiant 14-point comeback on way to completing 67-percent of his passes and throwing two touchdowns. It didn't matter and the Browns came up short yet again for their 24th straight road loss.
Here are five takeaways from yet another disappointing Browns loss.
1) Baker Doesn't Blink
Let's start with something positive. With each game that Baker Mayfield starts, he looks more and more like the real deal. No, his numbers weren't anything outrageous against the Buccaneers. He completed 23 of his 34 passes for a modest 215 yards and two touchdowns. He added another 43 yards on the ground. But it's the way he accumulated that statline that was impressive.
Mayfield has that it factor. It didn't matter that the offense had a miserable first half that featured four three-and-outs and a turnover on downs in the red zone. When the Browns needed a spark, the rookie QB provided it. Poised as ever, Mayfield led three second-half touchdown drives, two of which came in the fourth quarter and tied this game late in regulation.
Mayfield is unflappable, and no play signified that more than his highlight reel scramble on second-and-26 in the fourth quarter for a first down. At the tail end of the run, Mayfield gave himself up, took a direct hit to the head from safety Jordan Whitehead and got right up in Whitehead's face afterward. The Browns haven't had a quarterback with this much poise and swagger in a long time.
.@bakermayfield turns on the jets!#CLEvsTB pic.twitter.com/cRkV0LKl08

— Cleveland Browns (@Browns) October 21, 2018
2) Costly Decisions
While the Browns had numerous opportunities to win this game in spite of Hue Jackson, Cleveland's head man made two fourth-down decisions that cost his team a win. The first one came right before the half with 26 seconds left. A Buccaneers fumble had the Browns set up at Tampa Bay's 19. On fourth-and-two from the 10 yard line Jackson kept the offense on the field and in fairness Mayfield came awfully close to picking it up but fumbled out of bounds and came up a yard short. At that point the Browns only managed to score on a safety. Putting any additional points on the board before the half would serve as a nice lift going into the break. Jackson overthought that one.
He did it again with five minutes left the fourth quarter, this time from the Tampa Bay one. Mayfield kept it again this time on a straight quarterback sneak and got stuffed. Now, in fairness, this one is far less egregious than the earlier fourth-down attempt. Down seven, late in the game, why not go for the touchdown? A lot of coaches would. But mishandling that first, fourth-down attempt left him in a position where he had to go for the touchdown later. It was also just a bad look to make that decision twice and fail both times.
Sure the Browns still managed to tie the game and force overtime, but the difference in that game was ultimately three points and if you kick a field goal in one of those situations there is no overtime. You in win regulation. Those two decisions cost the Browns at least three points, if not six. Jackson is already on a scorching hot seat. After today it's ready to erupt. The clock is ticking louder than ever on Jackson and his 3-35-1 record.
3) Jamie Collins Sighting 
No one would blame you if you forgot or simply chose to ignore the fact that Jamie Collins still plays for the Browns. There was chatter that the 29-year-old linebacker wouldn't make the roster back in training camp and to no one's surprise, he was practically invisible through the team's first six games. Sunday's loss featured a very different Jamie Collins though: the one Cleveland thought they were paying when they signed him to a four-year extension in 2017. The one that can single-handedly disrupt an opponents gameplan.
On top of making seven tackles, including one for a loss, Collins hauled in a huge interception in overtime, setting the Browns up at the Tampa Bay 38 with a chance to win the game. It could have been a game-changing play, except the Browns offense proceeded to go three-and-out immediately after. Talk about an opportunity wasted. Then again, Cleveland wasted numerous opportunities as only one of the four turnovers created by the defense resulted in points.
4) Dirty Laundry

Penalties and turnovers will lose you games. Fortunately, the Browns had only one of the latter but it came at the worst possible time and set up Tampa Bay's game-winning field goal. The penalties were the bigger issue in this one though. Cleveland has a whopping 14 penalties accepted against them, gifting the Buccaneers 114 yards. On five separate occasions, a Browns' defensive penalty on third down gave the Buccaneers an automatic first down to keep drives alive. Those are the biggest back-breaking penalties there are and they cost the Browns today. While this young squad is still learning how to finish games, they also have to learn how to be more disciplined.
5) The Good and Bad of Special Team
For once the Browns saw the value of good special teams, only to have the special teams woes that have plagued them all season contribute to their demise. First came a beautifully executed punt and punt coverage execution after the Browns opening drive of the game ended at their own 45. Britton Colquitt dropped a beautiful punt in the Buccaneers end of the field and Tavierre Thomas tracked it down at the one. Two plays later the Browns defense stuffed a Peyton Barber run for a loss and a safety to give the Browns their only lead of the game 2-0.
Later on it was Jabrill Peppers providing a spark for the Browns. Peppers has faced a ton of criticism for his lackluster effort as a kick returner this year but his 32-yard punt return with just under three minutes left in the game set Cleveland up at the Tampa Bay 16 with a chance to tie the game. It took just one play for Mayfield to do just that, tie the game at 23 on a dart to Jarvis Landry over the middle. See what good special teams plays can do?
But alas, it wasn't all good. And Peppers found his way right back in the doghouse with fans for fumbling the ball on his lone overtime punt return attempt, which gave the ball right back to Tampa Bay and set up the eventual game-winning 59-yard field goal.
Follow: @Spencito_

NEO Sports Insiders Newsletter
Sign up to receive our NEOSI newsletter, and keep up to date with all the latest Cleveland sports news.