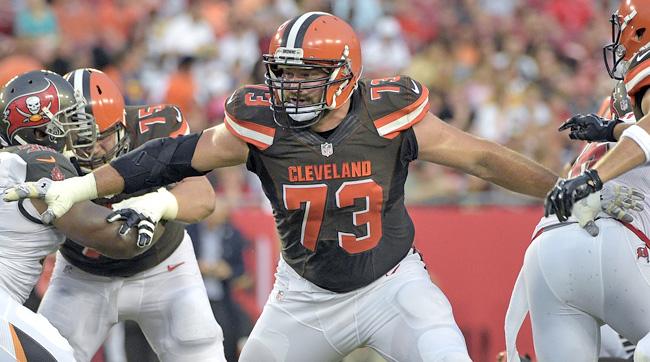 On Sunday the Cleveland Browns Defensive Line Coach Clyde Simmons and Offensive Line Coach Bob Wylie spoke to the media for the first time during training camp.
Defensive Line Coach Clyde Simmons had this to say on the ensuing topics:
On DL Myles Garrett:
"Myles is coming on just like we expected. Coming from whatever was bothering him in the spring, he is showing up. He is doing the same things that I ask of him and everything I ask of him. He is showing flashes every day. He is showing something special every day. I have nothing but good things to think about Myles."
On if the Browns are eager to get DL Myles Garrett more reps in practice:
"Those things will take care of themselves. He has come here and He is working hard. He is doing everything we ask of him. He is doing some rookie things – mental errors and all of that stuff – but that is to be expected. Other than that, he is doing everything asked of him."
On DL Danny Shelton:
"Danny has proven that he is becoming a leader for our group. He is becoming a leader for us. He has a lot of fire in him, and I love that about him. He is getting a grasp on what we want in our system. He has been in a system where he was asked to be on a two-gap [assignment] and all of that stuff. We are more of an attacking-style defense. It is an adjustment for him, but he is getting better at it every day."
On Garrett running 100-yard sprints after practice the past two days:
"That lets me know that he feels like he is not in good enough shape to play our defense. I know he wants to be on the field as much as possible and all of that stuff, but he has to be in great shape to play our defense. If he wants to play as many plays as he is trying to play, he has to be in great shape."
On if he told DL Myles Garrett to run sprints after practice:
"No, I didn't tell him to do that. That is one thing I admired about the young man. He does a lot of things on his own. He is not one of those complacent rookies where he is sitting back and just going through the motions of practice. He works at what he is doing, he asks the right questions and he does the right things all of the time."
On initial impression of the first full-pads practice:
"We have to get better. Up front, we have to get better. We were up and down in our technique. We were up and down in our effort. We were up and down in our mental errors, making mistakes and things like that. We have to get better. That is the simple thing for us."
On DL Larry Ogunjobi:
"Larry is coming on. He gives great effort. He is smart. He does not make a lot of mistakes. He just has to be more technically sound. There are some things he knows he has to work on. If you remember, Larry has only been playing football for six years. There are a lot of things that come naturally to guys who have been playing since they were eight-years old and they understand that about the game. Those are some of the things that he has been learning."
On DL Emmanuel Ogbah:
"Emmanuel is a good player. He has a lot of physical tools. He is getting to understand that being a left end he has to be a little bit more physical than he has been playing. Those things have been showing up every day."
On if Ogbah has that type of ability in him:
"I think he has it in him. A guy who is that quiet, there is a lot of fire in there."
Offensive Line Coach Bob Wylie had this to say about the offensive line:
On members of the OL returning for training camp:
"It always feels good when the guys come back. You look forward to see them coming back, getting back into the swing of things, getting back into the groove of what we are trying to accomplish. That is always a good feeling for the coaches at any position."
On members of the OL returning from injury, specifically OL Joel Bitonio, John Greco and Austin Reiter:
"We are bringing them back slowly. We are not bringing them back where they are going to practice 100 plays a day. We are bringing them back slowly. We will slowly fit them in. They are enjoying it."
On relying on the Browns training staff for how much OL returning from injury should practice:
"That is what they do. As a coach, whatever the trainer says to do, we do. I don't say, 'Hey, don't listen to him, get in there.' I was on staffs where a couple of coaches did that, and the next thing you know, you have a million lawyers and you have the media and you have everybody else saying, 'Hey, they shouldn't have done that.' (The trainer) says he is not playing, he is not playing."
On how an OL gels:
"It comes in the chemistry in the meeting room. The chemistry you create in the meeting room between the coaches and the players is more important than any X and O that I can draw on the board. That is the most important thing. The Xs and Os fall into place, but the chemistry that is created in that room is what really comes."
On the key to being a successful run blocker:
"Being physical. Good feet. Your center, your core, OK, your core and your footwork. You need to be able to recover and have good feet. It is the first thing, right? You look at somebody, when I am looking at the film and I say, 'Hey, draft this guy,' the first thing I look at is 'can he recover?' If he can't recover, I kind of stop right there because what is the sense in taking the guy if he can't recover and block somebody, right? Now, how are his feet moving? Can he recover and his feet are moving, he can stay on the guy. Now, if we can get those two parts together, then we just keep progressing from there. I like the tough guys, the physical guys and the smart guys, that all fits into it. Do you always get all those guys? No, you get guys that can block the guy. Like I had some guys at Tampa (Bay Buccaneers) that could block their guy and they weren't really physical guys, but they blocked their guys. Their guys don't make the play. I like the physical guys that put you to the ground and you get nasty with them and they love to get dirty and that stuff like that. Those are the kind of guys that my lines kind of resemble those guys. At the end of the day guys, it is did your guy make the play or not?"
On Bitonio's rehab and desire to return from injury and it showing his personality:
"He is a true professional. He has the passion and the heart for the game. I said that the last time I talked to you guys. He has that, and he worked himself into coming back and doing that. Joel Bitonio is a guy that I would go into the foxhole with. I would take him to war. I would go with him because I can trust him. I can trust him."
On how much practice time OL Joe Thomas needs to get ready for the season:
"Joe Thomas has played every play for 10 years. His amount of practice time you can count on one hand so what I am saying is, he will get himself ready. He will get himself ready the way he needs to get ready, and he has played next to Joel (Bitonio) before so the communication between them two is really good. He knows how to play the game. I am not worried about how many (practice) snaps he gets or if he doesn't have enough, no. He is fine in what we are doing."
On if it is mindboggling to think Thomas has played every snap for 10-consecutive seasons:
"That is mindboggling, yes. They should give him the yellow jacket now (laughter)."
On the competition at RT:
"It is going well. It is a good competition. It is fun to watch them (OLs Shon Coleman and Cam Erving). It is fun to watch them compete, especially in the room. They are competing in the room, as well as they compete on the field. That is a fun thing as a coach to watch those guys compete for that spot. Who is going to be the guy? I don't know. I have no idea."

NEO Sports Insiders Newsletter
Sign up to receive our NEOSI newsletter, and keep up to date with all the latest Cleveland sports news.