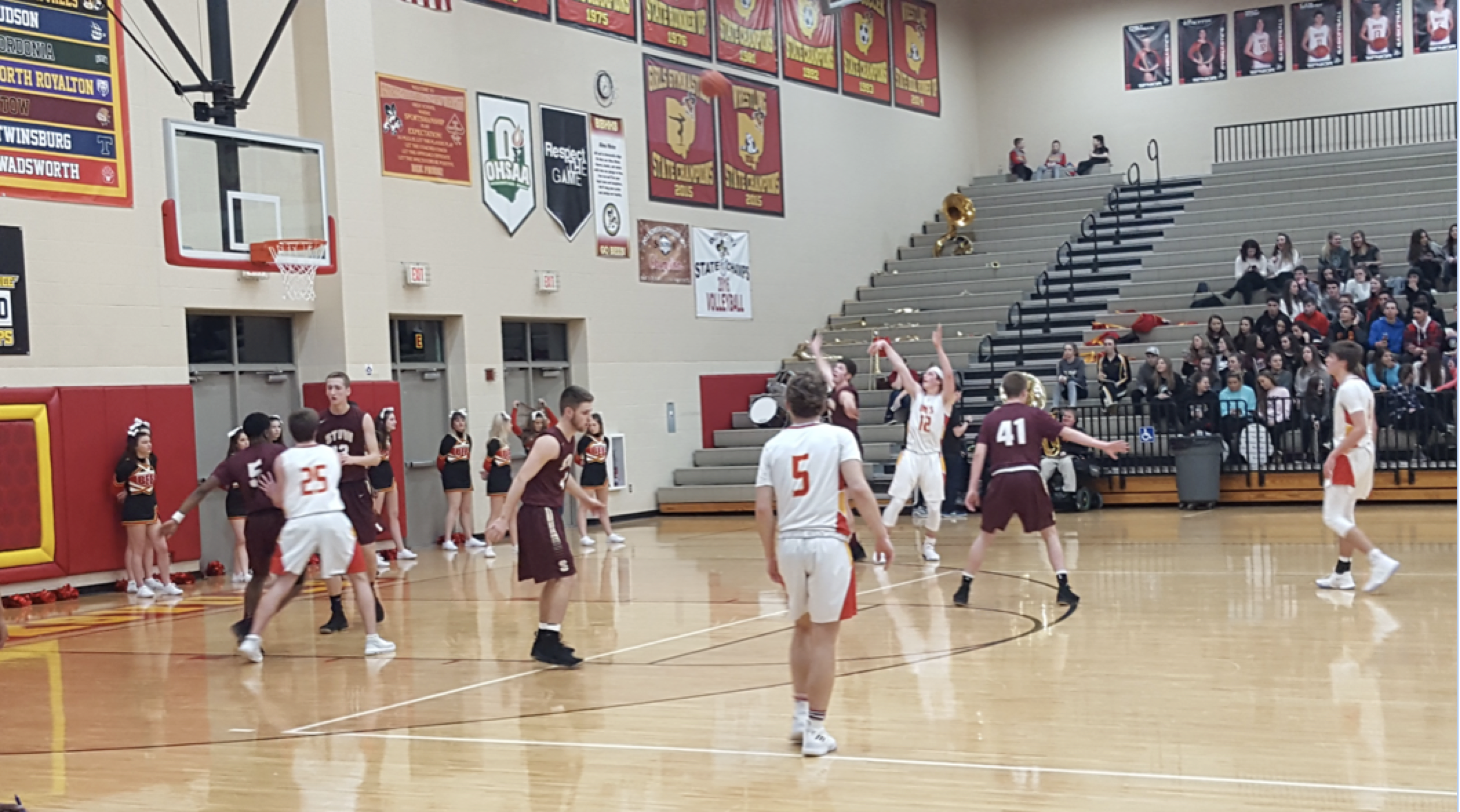 by Gabby Ortiz
BROADVIEW HEIGHTS, OHIO– The Brecksville-Broadview Heights Bees defeated the Stow-Munroe Falls Bulldogs 65-53. Stow-Munroe Falls suffered its first loss after a 12-0 start to the season. Brecksville-Broadview Heights extends its winning streak to three games.
Both teams got off to a slow start in the first quarter and struggled to find their offense. By the end of the first quarter the Bees would only score 11 points, while Stow-Munroe Falls scored 10 points.
The offensive slump would not last long for the Bees, as they began to hit a barrage of 3-point shots in the second quarter. The Bulldogs would allow the Bees to score 15 points off five three pointers in one quarter. The Bulldogs switched a lot on defense, creating different matchups but failed to defend the perimeter all game long.
The Bees entered halftime with a 6-point lead, 29-23 over the Bulldogs. The Bees went on a 7-0 run to extend their lead to 44-35, while the Bulldogs would only score 12 points in the third quarter. The Bees slowed down the Bulldogs offense by eliminating the 3-point shot and playing tight defense down the stretch.
The Bulldogs seemed flustered in the second half, and that led to countless mistakes on both ends of the floor, causing them to go on a scoring drought entering the fourth quarter. The Bulldogs let their frustration get the best of them, and had no answer for Bees Senior, Mike Rose who scored a game high 24 points.
Bees Head Coach Steve Mehalik, gave high praise for the Senior, calling him "an absolute animal."
"People don't realize, he's got a motor that never stops, and he can shoot the basketball and is skilled," Mehalik said.
"I told our guys, I've been here 11 years and we have had some pretty big wins, went to the Elite 8, I've never been around a better team effort than what we did today," he continued. "In fact, you cannot even believe what these guys been through, through injuries, and everything else, and I'm just floured by how well they played as a team."
Mike Rose was not the only player in double figures, Freshman Joe Labas added 16 points, while junior Kenny Ganley added 22 points. The Bulldogs leading scorer was guard Coryon Rice who tallied 15 points, while guard Bryce Harvey added 13 points, and gorward Mason McMurray finished with 10 points.
Brecksville-Broadview Heights take on James Ford Rhodes at home Saturday, Jan. 20 at 7:30 p.m. Stow-Munroe Falls will face the North Royalton Bears Tuesday, Jan. 23 at 7:30 p.m. in North Royalton, Ohio.

NEO Sports Insiders Newsletter
Sign up to receive our NEOSI newsletter, and keep up to date with all the latest Cleveland sports news.