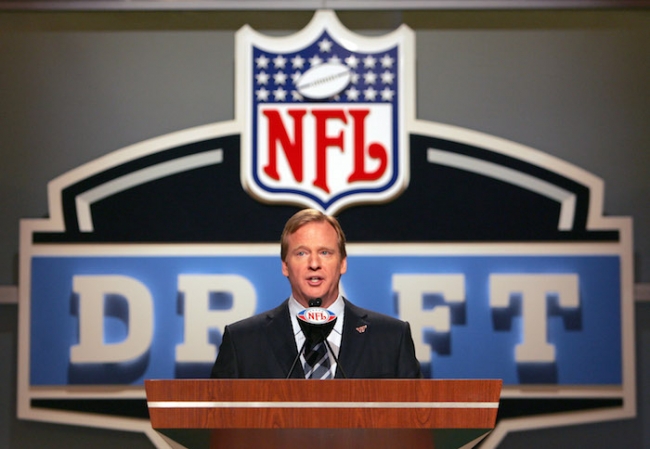 With the 2015 NFL season now over, the Cleveland Browns are almost on the clock.
Like most years, the Browns find themselves drafting towards the top. Unfortunately for them, they picked a year with no standout QB at the top. The Browns even failed at tanking correctly. In the constant stream of Cleveland mistakes, let's analyze the options they possibly can do with their first pick.
The second pick in the draft is typically reserved for special positions. Those are QB, WR, OT, pass rushers, and elite shutdown corners. There is also the option to trade down. Let's break down these options.
Shutdown Corner
This is the least likely pick to occur at number two, but there are top notch shut down corners or ball hawking safeties that make their way into the top five and are worth the pick. Some guys that come to mind are S Eric Berry (fifth) and CB Patrick Peterson (fifth). As you can tell they were taken fifth, not second. It's so hard to justify that high of a pick for a person at this position. Vernon Hargreaves of Florida seems to be one of the top cover corners in this draft. The weakness on him is his size. At 5'11" 192 pounds, he does not have the ideal size for a corner, but he does have the cover skills that he will most likely land in the top 15. Mackensie Alexander of Clemson is a fast riser at the position. Like Hargreaves, he has size concerns at 5'10" 195 pounds but plays very similar to him. Both of these guys should go in the top fifteen and possibly top ten. The other guy that will be up there is S/CB hybrid Jalen Ramsey of Florida State. He played corner at FSU, but some project he will switch to safety in the NFL but he has the ability to do both. He's got more of the size you look for at 6'1" 202 pounds. He's also a jack of all traits being able to cover, blitz, or be a run stopper. He is regarded as one of the top prospects of the draft and could crack the top five.
Browns Analysis:
The Browns could really use a number two corner to pair with Joe Haden. The team struggled down the stretch when he went out. The thing working against the Browns is a plethora of young guys and bad contracts. The Browns gave a three year 21 million dollar contract to Truman Williams last year and CB Justin Gilbert is still making his eighth overall money, with 7.5 million fully guaranteed to him over the next two seasons. Cleveland also has K'Wuan Williams, Charles Gaines, Pierre Desir, and hopefully Ipo Ekpre-Olomu. The terrible contracts make it hard to get rid of Williams or Gilbert and I'm not sure the Browns want to pass on some of the younger guys who have outplayed them. Typically a team only carries five or six corners so there isn't much room for growth. Overall while the Browns need another CB, they may be stuck with what they have and hope a healthy Haden makes the difference for this season before going after one the following year.
Pass Rusher
Some of the most dominant players in the NFL are pass rushers. AKA JJ Watt. Justin Houston comes in a little after him. They can make all the difference for a defense, drawing double teams on a consistent basis and the offense scheming around them. The ability to get to the QB cuts down on the time the secondary is forced to cover their men and avoid breakdowns in coverage. This year, there are two guys that seem to be top ten pass rushers. One is DeForest Buckner from Oregon. He is a huge dude at 6'7" 290 pounds and would be a great fit in a 3-4 at DE. His game is based on power and while he can rush the passer, his strong run stopping ability would be appreciated up front. However he the prize of the draft on defense is Joey Bosa of Ohio State. Bosa would be a popular pick among Browns because of his Ohio State roots and big play ability. He is likely the biggest difference maker in the draft this season. There are a lot of comparisons to JJ Watt because of his ability to play all over the front seven and his ability to do it all.
Browns Analysis:
The Browns finished with 29 sacks on the year ranking 28th in the NFL. Nine of them came from the 49ers game alone so if you exclude that game, they would only have one more sack than last place Atlanta. Desmond Bryant led the team with six sacks. The Browns OLB's have combined to get 5.5 sacks total on the year. Bosa would be a cornerstone player to build the desperate pass rush they need around and would be a player that gets the fan base excited. Working against picking him is the need versus what they have. The Browns have Paul Kruger who had 11 sacks last season, former sixth overall pick Barkevious Mingo, Scott Solomon who is set to return from injury, and this year's second round pick Nate Orchard. The Browns do have more talent there than other positions in defense, but they have underwhelmed. Kruger's contract makes him a cut option and Bosa could prove to be a franchise changing player the Browns have only seen with Joe Haden since 1999.

NEO Sports Insiders Newsletter
Sign up to receive our NEOSI newsletter, and keep up to date with all the latest Cleveland sports news.