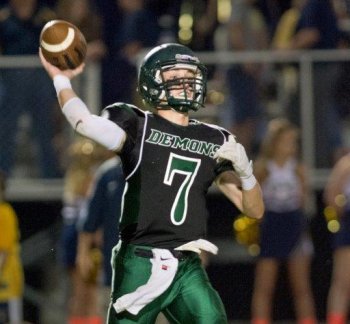 WESTLAKE, OH – Westlake quarterback Trey Bialowas has the Demons off to a red hot 2-0 start. Through 2 games, the senior has 406 yards passing with six TD's and 129 yards rushing with two TD's.
Football has been in his blood since a young age, as Bialowas started playing tackle football at the age of seven, in second grade. He started off right away at QB and idolized Peyton Manning.
His father, Tim Bialowas, told NEO Sports Insiders that Trey is "extremely intelligent and very poised when he competes. He has an amazing ability to "read" a field in both sports and be able to react immediately to a situation."
His father also confirmed that Trey has around 15 Colleges looking at him for lacrosse between D1, D2 and D3. He has communicated with Robert Morris and Jacksonville recently on the D1 Level.
As for football, he has had some traction, but not as much, due to the fact that he has been waiting his turn behind a good upperclassman. He is hoping to attract some programs with his performance this fall.
Tim explained his son's current preference when it comes to playing at the collegiate level. "At the present time, he really likes BW. He visited and was very impressed with everything.
They offer a great criminology program with a minor in international studies, which would afford him some great opportunities with Homeland Security.
They also have quite a few multi-sport athletes that play both lacrosse and football, so that appeals to him as well.
He just doesn't want to commit any place until he is positive.
He has seen too many athletes change their commitments and it's not the type of person he is. He's extremely loyal when he commits to something."

When I asked Trey what he felt it takes to be a great leader, the quarterback replied, "To be a great leader you need to know everyone on your team and be in the right state of mind.
Whether it is to relax and take it easy for a bit or to buckle down and get work done.
You need to know what to do to get everyone working well together in the most difficult times."
Through the first two weeks of the season, Westlake has won two tight battles, including a thrilling finish over Olmsted Falls, in which Bialowas completed a game-winning touchdown pass with only two seconds left on the clock.
The Demons were down by four with 36 seconds to go, before Bialowas marched his offense more than 50 yards down the field.
Trey explained what it has been like during these moments, and what has kept him focused in those dramatic times, "after last year, all of my teammates and I heard negative comments about how this year would be the same as last year.
I think I speak for my team when I say that is what really drives us.
We love proving people wrong and it seems like we are finally starting to show what we can do. It's been great proving people wrong so far."
Trey went on to explain what he expects to see out of the Avon Lake defense in Westlake's Week 3 matchup on Friday.
"I expect them to try and stop the passing game first and foremost, but after our running performance last week I feel that they will have to come up with something to stop that too.
Like every team we face I expect to see a variety of blitz packages thrown at me early on. But with our great offensive line, backs and coaching staff I feel like we will be able to adjust on the fly."
It can be tough for some parents to not be able to help on the field, and have to root from the stands, but Trey's dad has enjoyed the experience and talked about how he has been able to adjust.
"I thought it would be really hard for me, but it's actually so much fun!
I coached him since he was 5 years old up until middle school and I realize I was pretty hard on him, because I knew how talented he was.
He is very happy I'm not coaching him anymore, for sure…
The level of intensity is still there for me in the stands, but now it is filled with pride and a nervous feeling like an expectant parent before every play! I love every minute of it."
With Trey Bialowas at the helm this season, continue to look for big things out of the Demons.

NEO Sports Insiders Newsletter
Sign up to receive our NEOSI newsletter, and keep up to date with all the latest Cleveland sports news.