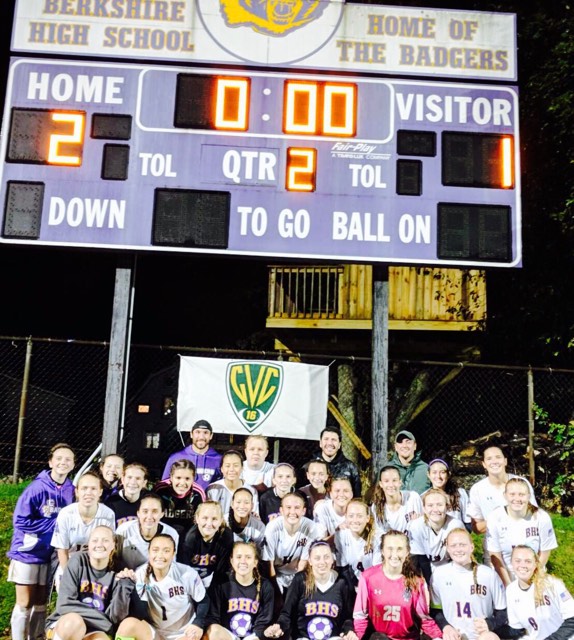 Last night the Berkshire Badgers kept the dream season alive with a 2-1 win in the district semi-finals versus Independence. The cold rainy night wasn't ideal for soccer. Those conditions are tough to play soccer in.
It was once again the tale of two halves for the Lady Badgers. "Our team the first half, once again, looked like a team who could compete for a state title. The first half was absolutely amazing." Said head coach Ricky Nerone.
The Badgers had a scare 2 minutes into the game when Asya Martin, Senior Captain and the first ever Badger to be named All State, committed a foul right outside of the box to give Independence their best look of the first half.
"That was so out of character for Asya, I expect that from certain girls on the team, but not her. I literally just told her an hour earlier in front of the whole team that she was named All State and our first ever person in the soccer program history. I know her juices where going. But that's a bad foul. She is very lucky she didn't get a red card; it was a borderline dirty foul." Expressed Nerone.
The coach was quick to explain his strategy following the yellow card, "But to the team's credit, once again we proved that we are more than just one person. Asya had to sit out 60 minutes since I didn't want to risk her getting a second yellow and us going down to 10 players. But we showed a lot of heart without her on the pitch.  Once again, we struggled in the second half. But good teams find ways to win ugly games, especially when we aren't at our best."
The Badgers struck first with a Lexi Boyk rebound from 12 yards away 13 minutes into the game. "We knew the goal was going to come. We had many chances but couldn't score. That's been an issue for us all year, scoring the easy chances. But to the girls credit they kept at it and we finally broke through."
In the 24th minute, the Badgers where awarded a free kick from 35 yards out that set the stage for Junior Julia Frank. "Julia has one of the strongest and nicest shots around. She just has been barely missing them on free kicks. I knew it was just a matter of time before she connected."
Julia stepped up and hit a bomb that dropped right before the crossbar and into the back of the net to make it 2-0. But the Badgers weren't content with that: they kept the pressure up for the last 16 minutes of the half but were unable to score another goal.
Senior Captain Jo Miller hit a 30-yard shot that just missed with 90 seconds left in the half. "That was vintage Jo, that's what she does. It's good to see she's back! If we want to have any shot verses Kirtland, we need her to step up like she did last night! That was a great shot that missed by literally inches."
Once again, Coach Nerone predicted correctly what would happen in the second half. "I told the girls that we needed the next goal bad, and to learn from our mistakes during the CCA game. And if Independence scores the next goal, it's game on.
I don't mean this in a bad way. But that goes back to these girls not having any postseason success during their careers in soccer, or their winter and spring sports. We are in uncharted waters here with making a deep postseason run. "
Nerone would continue, "I think once the reality of the situation hit the girls, they started to panic and went away from our game. And once again, we saw that lead shrink, which allowed the other team to get back into the game.  I was up all night last night. Sure, it will be the same the next two nights. I have 10 pages of notes without even watching the tape. It's on me as a Coach to try and fix this. We will need two solid halves to beat Kirtland. We just can't play one half, or else we will be going home. My mind has been racing a million miles per hour on how I can try and fix this!"
The second half started the same as the CCA match, with the Badgers dominating the first 10-15 minutes, unable to score. Then with 23 minutes to go, Independence broke through. "Once Independence scored, I saw our girls' heads go down. That's when I became very vocal the last 23 minutes. I was absolutely not letting this ship go down tonight. We worked way too hard, all of us coaches and players alike. It was an ugly last 20 minutes but we lived to see another game."
Senior Cat Lillibridge received 6 saves, 5 of them in the last 10 minutes to preserve the win. "The D and Mids didn't play well at all the last 20 minutes. Unfortunately it was their worst performance of the season. I think the moment got too many of them. But that goes back to a lot of them never being on a team like this. Luckily, Cat had her best 20 minutes of her soccer career life. That goes back to next man up. Every game it's someone new stepping up for us! You don't go 18-0 with 1/2/3 players only stepping up. For us all 27 girls have played a vital role this season."
The Badgers where able to withstand the Independence barrage of shots to hold on to a 2-1 win. "I told the girls after the game: the coach in me is livid and not happy with that second half, and we have tons and tons to fix. But the person in me is so happy for all of them that we have accomplished this year!" The Badgers will play the 9th ranked team in the state, Kirtland, this Thursday at 7 pm for the district finals and the rare chance to advance to the Sweet 16.