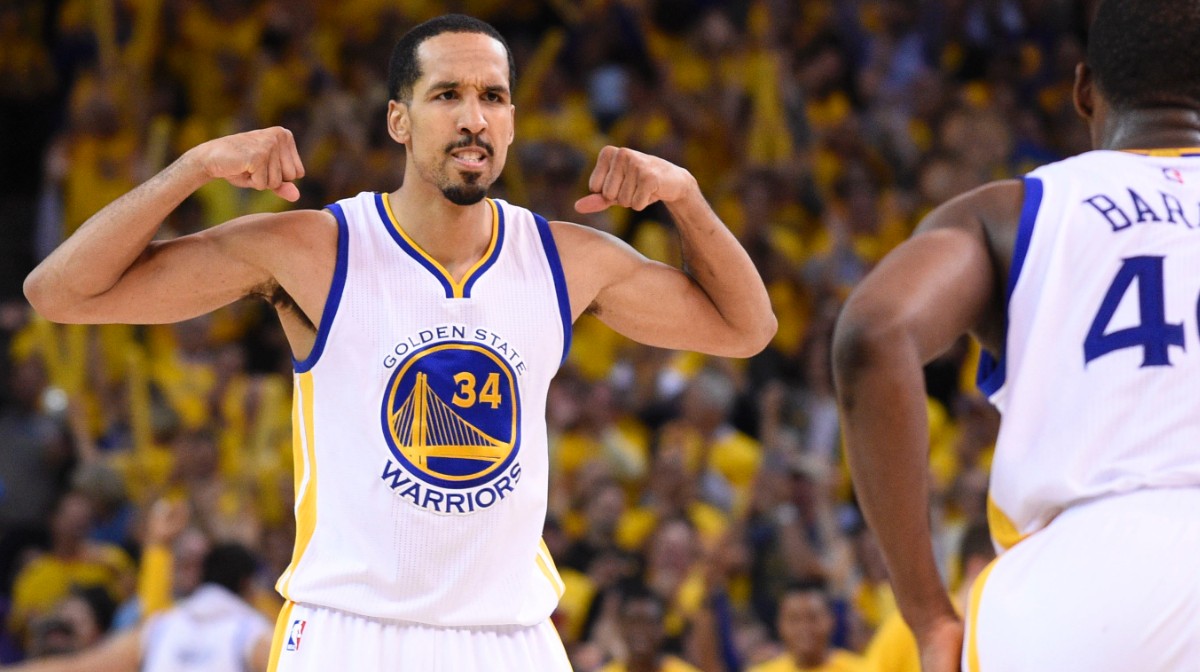 OAKLAND, California
Tonights best player was Golden State Warriors back up point guard Shaun Livingston. He scored a playoff high 20 points on a red hot 8 of 10 shooting. He also had 4 rebounds and 3 assists. His contribution was key in the Warriors 104 – 89 victory. His effort made up for the poor shooting nights by Curry (11pts) and Thompson (9pts)
If it wasn't for playing behind the 2 times league MVP, Shaun Livingston would have been the starting point guard for the Golden State Warriors and a lot of other teams had he been on their rosters as well, he was just that damn good! A little salt in the wound for Cleveland was that they had Livingston under their own roof in 2012 – 2103.
Who exactly is this basketball journeyman who has suddenly become the most talked about player in the NBA Finals?
Livingston entered the league directly out of high school after he was selected in the first round of the 2004 NBA draft by the Los Angeles Clippers with the 4th overall pick. Considered a five-star recruit by Rivals.com, Livingston was listed as the No. 1 point guard and the No. 2 player in the nation in 2004. Livingston committed to play college hoops at Duke, but opted instead to make the jump to the NBA straight out of high school.
His career got off to a good start as in his first two NBA seasons, playing in a total of 91 games, Livingston averaged 6.3 points per game. In his third season, he averaged a career high 9.3 points per game. Things were looking up when a horrible knee injury almost ended his career.
In a game against the Charlotte Bobcats on February 26, 2007, Livingston suffered a debilitating knee injury, dislocating his left kneecap after landing awkwardly following a missed layup, resulting in the left leg snapping laterally. Livingston injured almost every part of his knee, tearing the anterior cruciate ligament (ACL), the posterior cruciate ligament (PCL), and the lateral meniscus, badly spraining his medial collateral ligament (MCL), and dislocating his patella and his tibio-fibular joint. Livingston was told by a medical professional at the hospital that there was a chance that his leg would have to be amputated. He required months of rehabilitation to be able to walk again. A promising career was about to end in tragic fashion.
It wasn't until June 16, 2008, that doctors allowed Livingston to resume basketball activities. He eventually signed a reported two-year deal with the Miami Heat on October 3, 2008. The Heat tenure was brief as he only appeared in 4 games with the Heat, averaging 2.3 points in 10.3 minutes. It wasn't much longer until he was traded to the Memphis Grizzlies along with cash considerations for a conditional 2012 second-round pick. The Grizzlies never had any actual intent on keeping him as he was waived later that same day.
The career of the once promising fourth overall pick seemed all but lost as he signed with the Tulsa 66ers of the NBA D-League, owned by the Oklahoma City Thunder of the NBA. After three weeks with the 66ers, Livingston signed a multi-year deal with the Thunder on March 31, 2009. It appeared this may be the chance the young Livingston needed to get back in the league, but once again it was short lived as on December 22, 2009, Livingston was waived by the Thunder.
From there, he became an NBA nomad as On February 26, 2010, he signed the first of two 10-day contracts with the Washington Wizards. He was then signed by the Wizards for the remainder of the season. It didn't last and on July 20, 2010, Livingston signed a two-year contract worth $7 million with the Charlotte Bobcats. That stay was also short as on June 23, 2011, he was traded to the Milwaukee Bucks as part of a three-way deal among the Sacramento Kings and Charlotte Bobcats. The non stop traveling continued on June 26, 2012 as Livingston was traded to the Houston Rockets along with teammates Jon Leuer and Jon Brockman. On November 15, 2012, Livingston signed with the Washington Wizards. He was waived by the Wizards on December 23, 2012. That is when Cleveland took a stab at him as on December 25, 2012, the Cleveland Cavaliers claimed Livingston off waivers after releasing Donald Sloan. He would leave there in the offseason and spend two seasons with the Brooklyn Nets.
Just when it seemed like a long career, cut short by injury and constantly moving was about to end once and for all, the Warriors took one more chance on Livingston when in August of 2014 they signed him to a reported three-year, $16 million contract. Golden State had faith in him despite being ruled out for six to eight weeks after having arthroscopic surgery on the big toe of his right foot.
Livingston finally hit his long awaited potential with Golden State and managed to stay healthy as he played in 78 games in both of his seasons with them heading into the 2016 NBA Finals. He was an excellent spark of the bench and allowed coach Steve Kerr to rest Steph Curry when needed. Another major positive for Livingston was his quality play as Curry missed stretches of time during each of the first two rounds of the playoffs with a sore knee and ankle.
He made his biggest impact tonight! Can the Cavaliers rebound?

NEO Sports Insiders Newsletter
Sign up to receive our NEOSI newsletter, and keep up to date with all the latest Cleveland sports news.