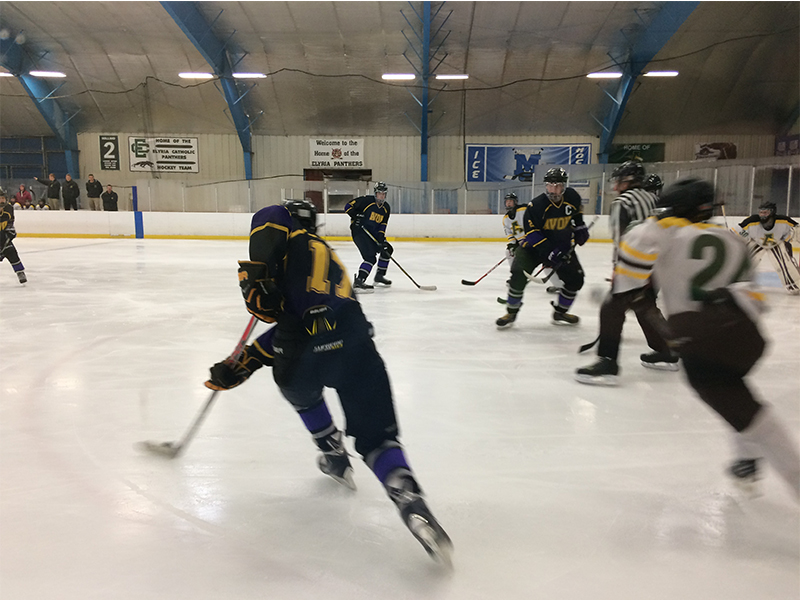 By Jacob Black
ELYRIA, Ohio – The Avon Eagles bring their undefeated (4-0-0) record in to the Elyria North Rec to take on the Amherst Comets (2-3-0) in this white division matchup in the GCHSHL.
In the Eagles last game they were taken to overtime by Olmsted Falls, but ended up winning 2-1 on 12/18; Amherst beat Bay 5-0 on 12/22.
In the first period Amherst's Jacob Ketke was able to score the only goal of the period at the 13:04 mark. On the goal, Jacob Kramer and Jaret Mead assisted him on the play.
The Comets have a 1-0 lead heading into the second period. However, Avon was able to outshoot Amherst 11-6 in the first period.
In the second period Avon was able to shake off the rest they had in the first period by scoring three goals. Avon's first goal was scored on a power play. Shane Docherty assisted him on the play at the 9:46 mark.
Zack Ziewerecki also scored Avon' second goal at the 6:16 mark, he was unassisted on. Ian Dargai scored Avon's third and final goal of the period at the 5:28 mark. Gabe Intagliata and Tyler Zajankala assisted him on the play.
In the second period there were two penalties committed, one by both teams. The first penalty was committed by Amherst's Tyler Waldecki for hooking at the 10:01 mark, which led to a goal by Avon. Avon's Leo Goetz committed tripping penalty at the 1:57 mark.
Avon outshot Amherst 13-4 in the second period and takes a 3-1 lead going into the third period.
In the third period Avon continued where they left off in the second period by dominating Amherst. Amherst was only able to get three shots on goal during the final period, whereas Avon got off 6 shots on goal scoring their fourth and final goal of the game.
Avon's Gabe Intagliata scored at the 11:50 mark of the third period, making the score 4-1. Zack Ziewerecki assisted him on the play.
Avon committed two penalties in the period, both by Gabe Intagliata for interference and crosschecking.
Amherst wasn't able to score on their man advantages in the period and Avon went on to a 4-1 victory to remain undefeated on the season.
Amherst's goalie, Zac Boesel made 21 saves and Avon's goalie, Danny Felding made 17 saves.

NEO Sports Insiders Newsletter
Sign up to receive our NEOSI newsletter, and keep up to date with all the latest Cleveland sports news.