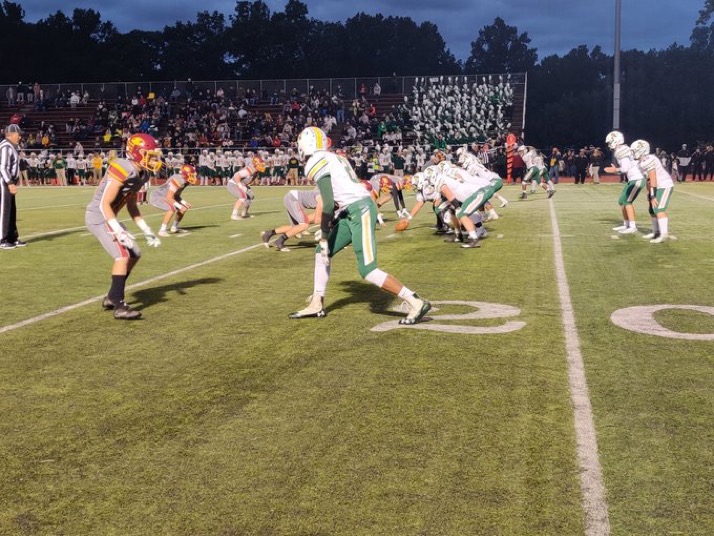 By Mark Perez
The Avon Lake Shoremen fired on all cylinders on their homecoming night as they dominated the Amherst Steele Comets 35-0 in a Southwestern Conference win.
"This win was special," Shoremen wide receiver Nathan Sidloski said after the win.
"We knew they were good coming in and coach got us ready this week saying, 'you guys can take care of this team if you practice hard and you do what you do in the previous games."
Avon Lake (6-1, 4-1) played like they have been in the previous four weeks against the Comets (5-2, 3-2).
The Shoremen shutout three of their last four opponents before this week. Now, they have done it to four of their last five and outscored them 199-7.
"We knew that we were going to be good up front, good on defense and play fast," Shoremen's head coach Matt Kostelnik said.
"(Assistant) Coach (Bob) Brickley and the staff have done a great job. They allow those guys to tee off and play fast and they put us in a great position to play on offense."
The defense forced four three-and-out Amherst drives. The second drive for Amherst resulted in a fumble as their quarterback Tyler Brezina attempted to scramble and even gained some yards before the ball was pried loose and was recovered by Russell Tanner for Avon Lake.
"It's been a breath of fresh air," Kostelnik added.
"When we play defense like that, it's allowed our young offense to mature a little bit. Tonight really showed that we can execute [on offense]… Michael (Corba) had a great night throwing to his receivers and we had great protection against a good Amherst defense."
Corba, the Shoremen's Junior quarterback, passed for 183 yards and three touchdowns on the night.
Two of those touchdowns were to Sidloski and the other was to Junior Mitchell Fedders. All of them took place in the first half.
"(Sidloski) is great," Corba said.
"He knows what he was doing, he knows what the defense is doing. He knows where to put himself to make plays and it's awesome to have him on the field for me."
Sidloski finished with seven catches for 97 yards and two touchdowns.
The second quarter had Corbo's and Sidloski's fingerprints all over the game as his two touchdown catches happened in that quarter.
Sidloski was relied on more than just the scoring plays. He was used to drive down the field in their last series in the half that went 89 yards in eight plays. Four of those plays were catches by Sidloski for 64 yards and the 24-yard jump-ball touchdown catch over a defensive back.
Running back Mason Wheeler also scored a four-yard touchdown late in the first quarter to make the score 14-0.
Wheeler finished the game with 40 rushing yards and a touchdown.
At the half, Avon Lake led 28-0, but they didn't let up as their backup running back Gage Duesler received the ball on a quarterback option from the right side to score on a 21-yard touchdown run with 5:23 in the third quarter to make the score 35-0 and start the running clock.
"I think this is so far," Cordo said.
"But I think we can do better. We played great on defense. We played great on offense. We can take another step next week."
Next week, the Shoremen visits Lakewood and Amherst will host Berea-Midpark.

NEO Sports Insiders Newsletter
Sign up to receive our NEOSI newsletter, and keep up to date with all the latest Cleveland sports news.