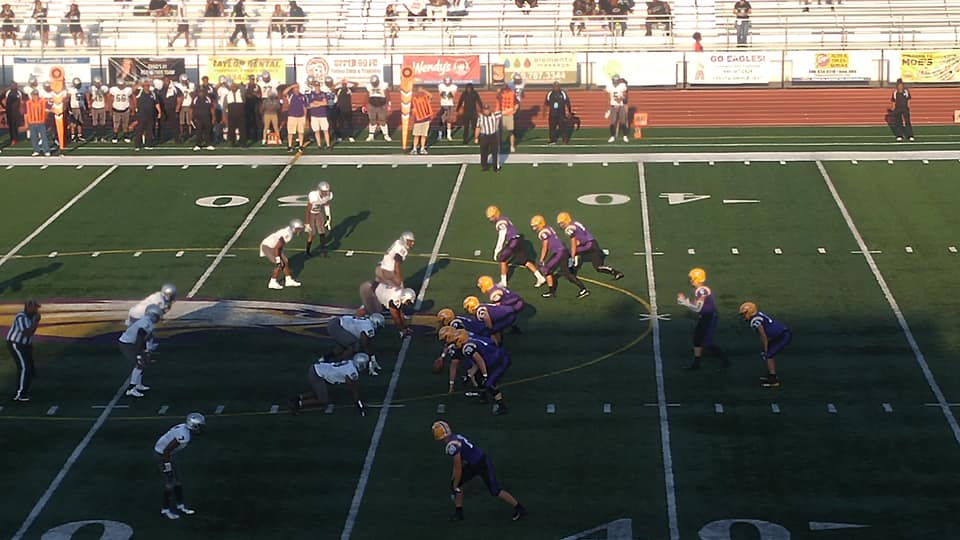 AVON, OHIO– Akron Buchtel invaded Avon Thursday to take their shot at knocking off the two-time defending Southwestern Conference champions.  It was a highly-anticipated Week 1 matchup between two playoff contenders.  On the strength of a dominant defensive effort, the Eagles came away with the 19-11 victory.
It was a big win for the Eagles as they came into this season with several offseason departures after graduating quite a few starters last year.  No one was quite sure how the new starters would mesh with the returning seniors, but in the end, it was the defense carrying them through despite a late 9-point rally by Buchtel to make it interesting.
With so many new starters on both sides of the ball,  Avon head coach Mike Elder talked about the importance of getting everyone up to speed and meshing as the season begins.
"The kids have been working really hard for months," he said. "They did the work in the weight room and then August was a grind.  When you get a senior who has his first opportunity to play, how do you not get excited?  They have waited their turn and now get their opportunity to play."
All eyes were on senior quarterback Ryan Maloy of Avon, who begins his second season at the helm of the Eagles offense.  Maloy lost several key weapons, but still has high hopes for this season.  He finished with 84 yards on 9 of 22 passing with two touchdowns and an interception.  He also used his legs to run for 30 yards on six carries.
Elder spoke about what makes Maloy a great leader.
"Ryan Maloy is such a competitor and it gives us an advantage at a position so crucial," he said. "He can run and throw it well and were excited about that.  Anyone can lead when things are going well, but a true leader can lead all the time even when things aren't going well, and Ryan does that."
After a mostly quiet first quarter, the Eagles drew first blood on an 8-yard touchdown pass from Ryan Maloy to Nick Perusek with just 33 seconds remaining.  For Perusek, it was part of a solid first game that saw him rush for 84 yards on 16 carries.  The Eagles would miss the extra point, but still take a 6-0 lead into the second quarter.
Buchtel had a promising drive snuffed out as they fumbled it at the Avon 9-yard line to open the second quarter.  They would turn that negative into a positive a few moments later however as Avon committed a holding penalty in their own end zone, resulting in a safety.
From there, Avon began to ramp it up starting with another touchdown pass from Maloy to Perusek, this time from 28 yards out.  It was a 1-yard dump off that Perusek took to the house.  After Buchtel fumbled the ensuing kickoff, Avon took over at the 21 and began to march again.  A few plays later it was Mark Steinmetz making it 19-2 with a 2-yard touchdown rumble.  The first half would end by that same score.
Following the second interception of the game thrown by Mychael Leno, the Eagles took over deep in Buchtel territory to start the third quarter.  It was part of a rough night for Leno who tossed two interceptions and coughed up two fumbles.  Avon was unable to capitalize however, as they fumbled the ball back to Buchtel a few plays later.  There would be no scoring in the quarter as it remained 19-2 heading into the fourth.
Buchtel would finally break the seal of the end zone in the opening moments of the fourth quarter as quarterback Mychael Leno plowed it in from 2 yards out.  The Griffins would miss the extra point, but closed the gap to 19-8.
Leno did a nice amount of damage tonight with his legs, despite the fumbles.  Leno finished with 114 yards on 14 carries with the two fumbles and the touchdown.  The Griffins would add a field goal before it was over, but couldn't make it any closer.
Tonight's player of the game is Nick Perusek
84 yards on 16 carries, 36 yards receiving on two catches with two TDs
Click through below for a photo gallery of the game.

NEO Sports Insiders Newsletter
Sign up to receive our NEOSI newsletter, and keep up to date with all the latest Cleveland sports news.