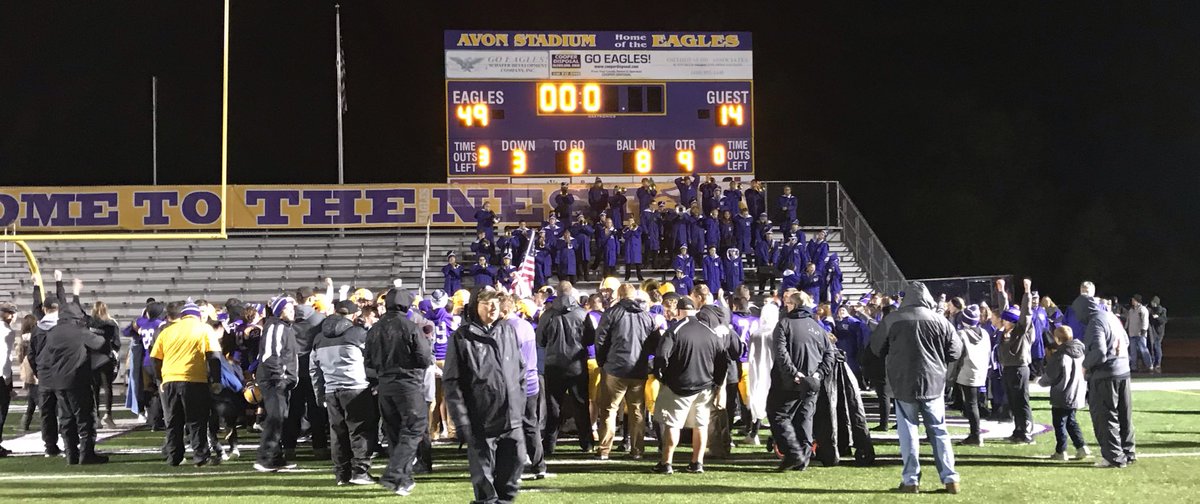 Avon,OH- Making their first playoff appearance since 2004, the Springfield Blue Devils, full of confidence and riding a record setting offensive juggernaut, ran into the Avon Eagles hard nosed and playoff tested squad and the obstacle was too much to overcome.
On a cold and rainy night at Joe Firment Stadium, Avon flexed their playoff muscles and ran past and through the overpowered Blue Devils, 49-14 to advance to the second round of the OHSAA Division II playoffs next Friday night versus Anthony Wayne at a site to be determined Sunday afternoon.
Springfield boasted one of the state's prolific passing attacks featuring QB AJ Gucciardo and WR Devin Johnson, and were left looking forward to building on their success next year. Johnson will undoubtedly break the school receiving record, but that means little now that the dream season has ended.
Avon, showed why they are still the class of the SWC and undoubtedly the team Region 6 has to go through to advance to Columbus. Once again the leadership of QB Ryan Maloy settled the team down and led them to a second quarter run that put the game out of reach.
Springfield actually drew first blood as Avon chose to attempt an onside kick on the opening kickoff and the Blue Devils recovered at midfield and were set with only half a field to navigate.  In six plays they marched 50 yards and Gucciardo snuck it in from a yard and Springfield took a surprisingly quick 7-0 lead.
Avon's plan was to thwart the vaunted Springfield pass attack but also use their own weapons and Maloy was happy to oblige. The Eagles marched 80 yards on the ensuing kickoff and Maloy finished it with a gorgeous 19 pass to WR Ryan Jones tying the score at 7. After holding the Blue Devils to a three and out, Maloy marched them 77 yards and again hit Jones from 13 yards to take a 14-7 lead.
Springfield was not impressed however and drove 79 yards themselves as Gucciardo found Johnson for a 28 yard score and suddenly the first quarter ended tied at 14.
The second quarter came and so did the weather. The thermometer dipped, the wind started whipping and torrential rains came fast and hard, and like sharks in the water so did the Eagles. They smelled blood and took over the game.
The Eagles intercepted Gucciardo on the second play of the quarter, his first of four picks on the night, which Maloy turned into a 4 yard TD run, his first of three. From there it was all downhill for the Blue Devils.
On the ensuing possession, Avon CB Kam Erskine picked off Gucciardo and scampered 25 yards to stretch the lead to 28-14. After another Springfield turnover, a fumble recovery by LB Matt Steinmetz, Maloy cashed that one in and the halftime score of 35-14 looked as ominous for Springfield as the weather.
Avon came out in the second half and physically manhandled an already defeated team. Springfield was no match for them after intermission. Two more interceptions of Gucciardo and if not for the inclement weather this would have been much worse.
RB Nick Perusek put the final nail in the Blue Devils coffin in the first play of the second half as he took the handoff from Maloy, busted through the defense and blasted his way 80 yards for a score. Maloy's third touchdown run of 3 yards ended the scoring and advanced the Eagles to the next round. Maloy's numbers although not stellar were steady, finishing 12/21, 151 yards, 2TD, 3 rushing TD, Perusek bulled his way to 208 yards on 18 carries.
The dynamic Springfield duo: Gucciardo 12/20, 166 yards, TD and 4 INT, Johnson was held to 4 catches for 95 yards.
Avon, 10-1, moves on, their sights on a bigger prize. Springfield, 7-4, ends their season with exciting young stars and hope for future trips to Division II postseasons.
Tonight's player of the game: Avon RB Nick Perusek with 276 total yards from scrimmage.
NEO Sports Insiders thrives on our relationship with many fine sponsors all over Northeast Ohio. We are currently in search of winter sports sponsors. Please contact Vince McKee with any small business you feel would benefit from the massive exposure we can give them, Vince can be contacted at coachvin14@yahoo.com

NEO Sports Insiders Newsletter
Sign up to receive our NEOSI newsletter, and keep up to date with all the latest Cleveland sports news.