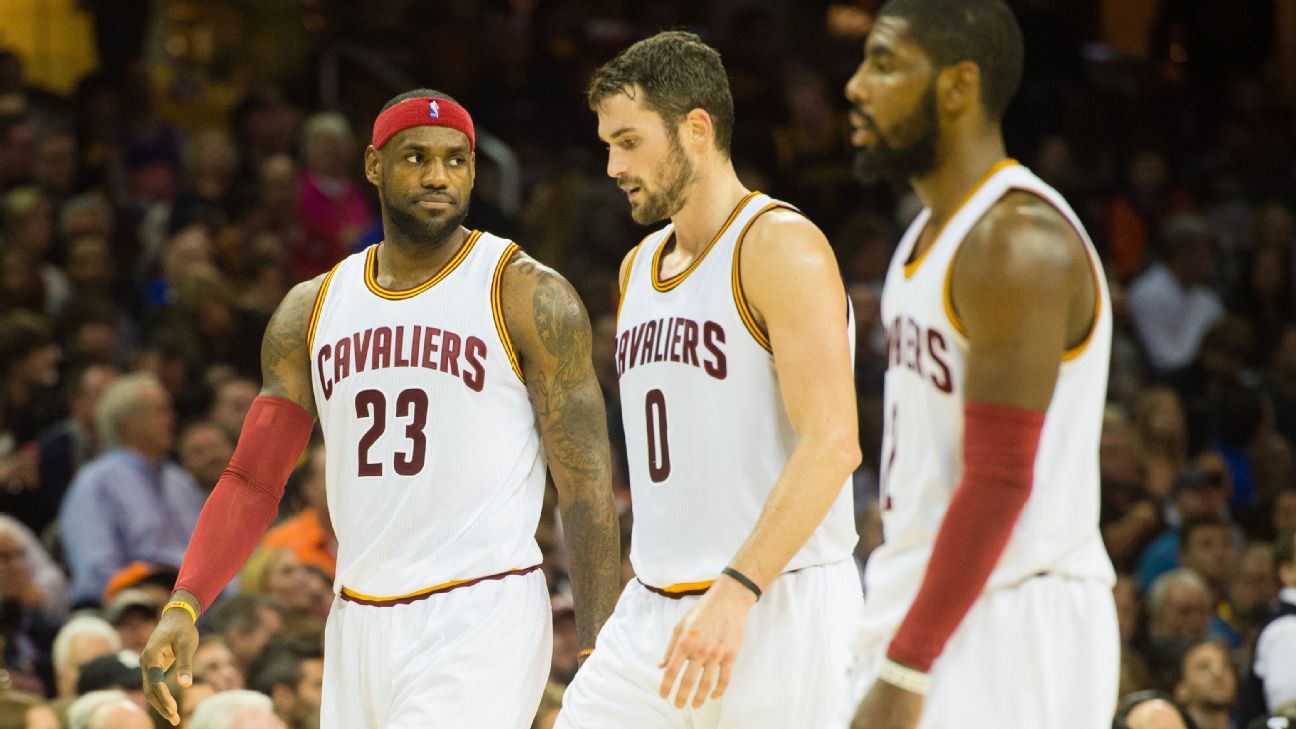 Last night, the Cavs lost to the Chicago Bulls, a decidedly bad basketball team, bizarre TNT home winning streak aside.
That loss was their 10th this month, marking the first time LeBron James has lost 10 games in a month since… HIS FIRST MONTH FULL MONTH IN THE NBA.
Last night was not an isolated incident, either.
The Cavaliers have lost four of their last five games. Since January 1st, they are 22-20. They've been playing mediocre basketball for over half the season.
And yet, LeBron has expressed little emotion in recent press conferences. Last night, he called his team's lack of focus on defense "unfortunate."
Ty Lue chuckled after calling the Spurs faster and more athletic than the Cavs after Monday's blowout loss to San Antonio
That seems like it could be a serious problem.
Now, there are some perfectly reasonable explanations for Cleveland's recent dip in status. Injuries galore, fatigue on the players who aren't injured, and typical LeBron regular season disinterest.
But at some point throughout nearly every regular season slog LeBron has experienced, there has been a volatile press conference. Earlier this season, it was the delightfully overdramatic "I need a f****** playmaker" quote.
LeBron got his F****** playmaker in Deron Williams, yet the Cavs are still mediocre. They are no longer the top seed in the east, and this the worst defense any James-led team has ever played.
But they seem to believe these are all just slight glitches. They seem to think they will still be able to transform into a championship level team the second the calendar turns to April 16.
With the way they're currently playing, how can they still be so confident?
Do they still not respect the Eastern Conference?
It's possible, although the Wizards and Celtics have each beaten them over the past month.
And while the Cavs have more talent than both, they're not that far off from surrendering home court to Washington as well in a potential playoff series.
They lead the Washington by just 1.5 games. Bradley Beal and John Wall are problems for Cleveland.
Is it the supreme confidence that comes with winning a championship?
Could be. There's precedent for this. The 2000-2001 Lakers entered the playoffs as a 2-seed that played zero defense in the regular season.
They ended up losing one postseason game on their way to a second straight championship.
The 1994-1995 Houston Rockets repeated as champions, but without home-court advantage in any series they played. They won their second straight championship from the sixth seed in the West.
But neither of those teams had to return to the finals the next season and face the same opponent that added a top-3 player in the league.
The Cavs need to elevate their play from last year's finals, not merely return to the same level.
Could the Cavs have checked out of the regular season entirely? 
It sure looks like it.
But if that were the case, why would LeBron still be averaging 37 minutes per game since the all-star break? Why would Kevin Love try to come back so early?
None of it makes sense.
The state of the defending champs is impossible to define right now. According to their recent postgame comments, they don't have much of a description for it, either.
Maybe they will return to championship form as soon as the playoffs start, despite all signs to the contrary.  Maybe they are just disinterested in the regular season or disrespecting the East or on a championship hangover.
But whatever the reason is for their recent embarrassing play, I'm not sure they should be this calm about it.

NEO Sports Insiders Newsletter
Sign up to receive our NEOSI newsletter, and keep up to date with all the latest Cleveland sports news.