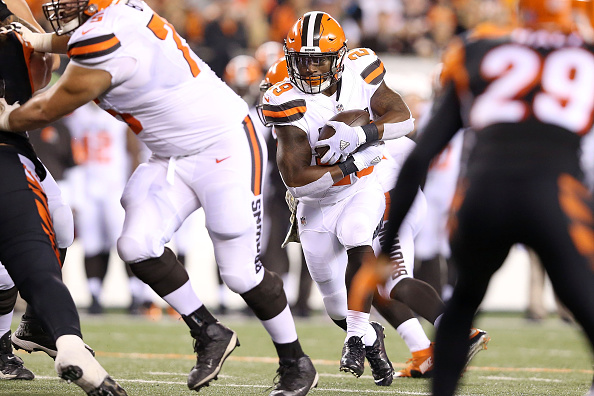 Browns wideouts Jarvis Landry and Josh Gordon made headlines earlier this offseason when they declared their receiver room the NFL's best. That group certainly has a case, but, the Browns running backs may beg to differ though.
Featuring a trio of veteran Carlos Hyde, rookie Nick Chubb and the versatile Duke Johnson, Cleveland has a loaded arsenal of talent to utilize in their backfield. All three players could ultimately find places to contribute this season, which should bode well for the Browns.
Fans will get their first look at how all three will be used when training camp opens later this week. To temper your excitement in the meantime, let's take a look at where each fits in the offense.
Carlos Hyde
Hyde is the elder statesman of the group, coming from San Francisco where he spent the first four years of his career. Playing for a 49ers team that never finished better than .500 sort of left Hyde flying under the radar at times. In reality, though he should be considered an upgrade from Isaiah Crowell, who departed in free agency back in March.
2017 marked the second consecutive season in which Hyde rushed for over 900 yards. He posted a career-high 988 rushing yards the year before. 2016 was by far the most productive campaign of the 27-year-old's career, featuring a 4.6 yards per carry average, six rushing touchdowns and all three of his career receiving touchdowns over 13 games. This past season – under offensive guru Kyle Shanahan – Hyde played in all 16 games for the first time, logging career bests in rushing touchdowns (8), receptions (59) and receiving yards (350). Among running backs with more than 250 carries in each of the last two seasons, Hyde ranked 12 in yards per carry (4.21) and yards per game (66.4).
The fact that he has only played one complete season is probably the biggest knock on the Ohio State product. Hyde has dealt with a number of injuries throughout the early stages of his career, including a broken foot in 2015 that forced him to miss more than half the season. Still, when healthy, Hyde is an effective power runner between the tackles and possesses an impressive burst of speed for creating separation at the second level. The fact that he's proven to be a formidable pass catcher in recent years makes a complete, three-down back. Thankfully, he won't have to carry the bulk of the workload like he did in San Francisco, because Browns are so deep at the position.
Duke Johnson
Behind Hyde, Cleveland's depth at running starts with Johnson, who the front office was proactive in locking up long-term this summer. Johnson inked a three-year, $15.6 million extension this summer to keep him in Northeast Ohio through 2021. The 2015 third-round pick will earn that money primarily as a third-down, pass-catching back.
In each of his first three pro seasons, Johnson has eclipsed 500 yards receiving, highlighted by a record-setting campaign this past fall. His 74 catches and 693 receiving yards in 2017 were not only career highs but franchise records for a running back. Even more evidence of Johnson's atypical role for his position is the fact that he's never once finished with more rushing than receiving yards – although he has scored an identical five touchdowns both ways. Only one RB has more receptions and receiving yards than Johnson over the last two seasons: Le'Veon Bell.
Don't expect his role to change much in 2018 either. Last season, the Miami product was on the field for more third down snaps than any of the previous years, hauling in 27 passes for 285 yards. 164 of that yardage came in situations of third-and-seven or longer.
It's not as if Johnson can't be more of your stereotypical running back either. In each of the last two seasons he's averaged over four yards per carry. That versatility is what made Johnson worth the three-year extension he earned this offseason. Now, it just comes down to new offensive coordinator Todd Haley utilizing maximizing such a unique talent in his offense.
Nick Chubb
And that brings us to the newbie of the group, Nick Chubb. Unlike his running back compadres, Chubb isn't known for being much of a pass catcher as he enters the NFL. In his final season at Georgia, he caught only four passes for 30 yards and he caught just 13 passes combined between 2015-2017.
That's not to say he can't develop that phase of his game and in today's pass-happy NFL he'll surely have opportunities to do that. However, with so much depth surrounding him he doesn't have to worry about being "the guy" and doing it all right away. Instead, the second-round pick will likely find a role spelling Hyde. That said, Chubb is a powerful back in his own right and could easily take on more of a feature role if necessary.
For what it's worth, radio personality Colin Cowherd actually said he thought the 22-year-old could end up earning the AFC Offensive Rookie of the Year. It's certainly plausible.
Without question, the only concern with Chubb stems from the grotesque knee injury he suffered in 2015. A sophomore at the time, Chubb walked away having avoided an ACL injury. He did, however, need surgery after damaging multiple ligaments and cartilage in his left knee.
Ultimately, Chubb just represents more stability at the running back position for Cleveland. Having this much depth and versatility at such an important position is a luxury and will be vital in the Browns having success this season.
Follow: @Spencito_

NEO Sports Insiders Newsletter
Sign up to receive our NEOSI newsletter, and keep up to date with all the latest Cleveland sports news.