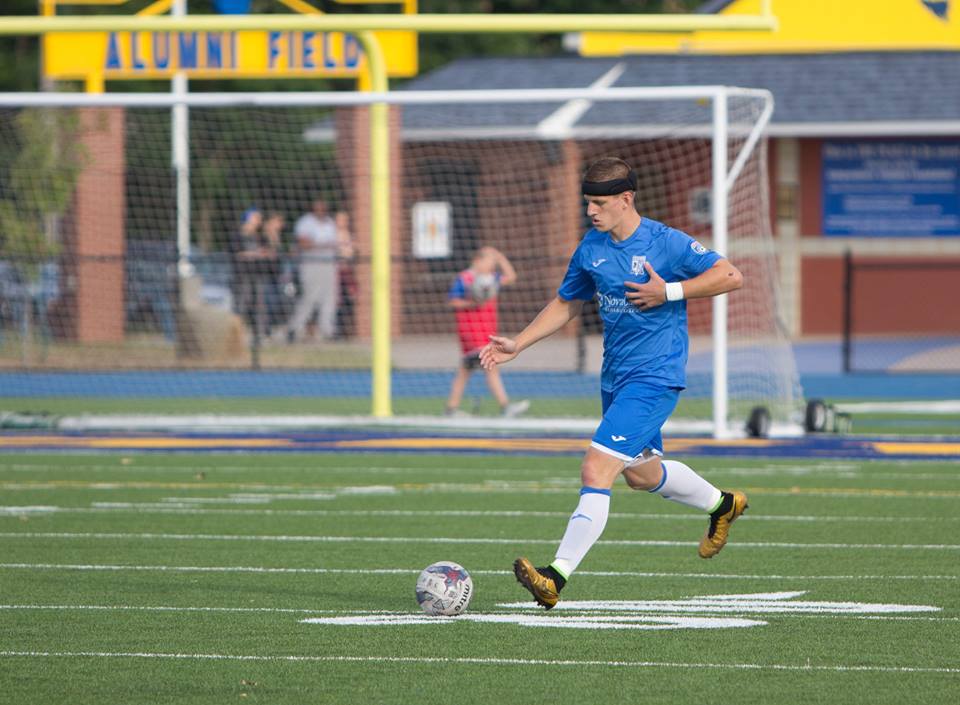 This AFC Cleveland vs Syracuse FC recap is brought to you by our fine sponsors at
http://www.frontlinesoccer.com/
http://www.ohionorthsoccer.org/futsal/
http://clubs.bluesombrero.com/Default.aspx?alias=clubs.bluesombrero.com/handsonsoccer
The AFC Cleveland Royals improved their record to 8-5-1 tonight with a 2-0 victory over the visiting Syracuse FC.  They won on the strength of great all around play, with goals scored by Tom Beck and David Jordan.  Both goals scored on headers.
It was a huge victory that keeps their playoff hopes alive.  It was also impressive as the win came without their captain Admir Suljevic who is still nursing a very bad back.  Head coach Mike Sesar hopes to have his captain back soon but realizes you cannot rush a bad back.
Tom Beck got the scoring going at the 33 minute mark as he played a beautiful header into the back of the net.  The Royals almost scored again in stoppage time of the first half, but a Vinny Bell shot was just narrowly blocked as Syracuse FC found a way to keep it 1-0.
The second half saw plenty of fireworks as tempers flared in the 56th minute as a scrum developed.  It would result in a red card ejection for Maclin Sprayling of Syracuse FC.  It also resulted in 3 AFC Cleveland players getting yellow carded as well.  Those three royals to get handed a card where Mikey Derezic, Yianni Sarris and Dec McGivern.
Ealier in the matchup, Tom Beck was handed a yellow card as well in the 36th minute.  Two previous yellow cards were handed out too Jacob Colebrunner and Damenco Vitarel of Syracuse FC.  Later in the second half, it was Bejamin Ramen also getting carded with yellow.
Despite the mayhem on the field, the AFC Cleveland Royals kept their composure and were able to eventually extend their lead in the 75th minute.  A streaking David Jordan used his head to blast a shot past goalkeeper Patrick Castle.  The header was set up perfectly by a well timed, well placed pass from Lolo Karpeh.
This win keeps their playoff hopes alive with three games to go.  They next play at home, this Friday night as they welcome in the Lancers from Rochester.
For more from todays game, including Man of the Match and Final Stats, along with interviews, please see below.
And finally, the match stats from today's 2-0 @NPSLSoccer victory over @Syracuse_FC. #WAMPUS pic.twitter.com/bG66Z0mxYc

— AFC Cleveland (@AFCCleveland) July 1, 2017
This evenings @drinkNOOMA Man of the Match is David Jordan! #WAMPUS pic.twitter.com/hUFzRsNpHZ

— AFC Cleveland (@AFCCleveland) July 1, 2017
Here's the second goal for you fans! pic.twitter.com/ekGJm16lu2

— AFC Cleveland (@AFCCleveland) July 1, 2017
76' – AFC #Cleveland goal! Lolo makes a great run in the box and puts it across goal for an open net. Headed in by @DavidJordanTS pic.twitter.com/I2UQeJpgBi

— AFC Cleveland (@AFCCleveland) July 1, 2017

NEO Sports Insiders Newsletter
Sign up to receive our NEOSI newsletter, and keep up to date with all the latest Cleveland sports news.