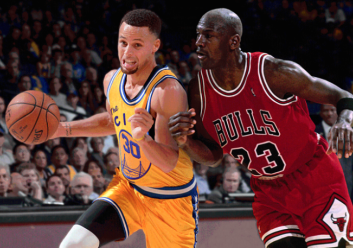 The Golden State Warriors have taken their place in NBA history dethroning the Chicago Bulls of 1996. Now the question that everyone is asking is if these two teams squared off in a best of 7 series who would walk away victorious?
Of course the eras that these two teams played in are totally different. Chicago's era was a lot more physical. Now for Golden State, play is much softer with the removal of things like the hand check, trash talking and the forearm to the back to defend.
So it could be debated that the Warriors would win because their style of play fits better in this era of basketball, or could it be debated that the Chicago Bulls would thrive in this style because they could dominate in the isolation's situations. We will break it down and look at what the match-ups would look like if these two teams took the court, as well as who would come out victorious.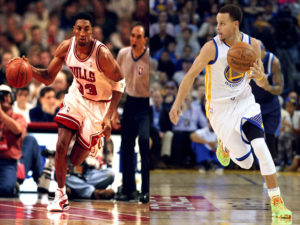 Scottie Pippen vs. Stephen Curry
Scottie was notorious for taking the biggest challenge for his team, so you know he would be the guy who answers the call to take on the reigning MVP Steph Curry. Pippen's defensive skills led him to be a First Team All Defensive player 8 times in his career.
Taking nothing away from Curry, his ability on offense has never really been seen before. That's why he is a 2 time NBA MVP. His 3-point shooting is absurd and nothing that has ever been seen before. Having the ability hit 3 pointers from nearly half court without a problem. His ball handling skills are one of the best in the NBA if not THE best in the game today.
However, it's been shown throughout this past season that when teams play smarter around Golden States pick & roll they have been able to cause him trouble. So you know that even if they tried to switch off Pippen from Curry, there is still the fact that he would be looking at either Michael Jordan or Ron Harper in his face trying to contest his shot.
Scottie Pippen even went on to say that the Bulls would take care of the Warriors in a 4 game sweep and that he would keep Curry scoring less than 20 points. I don't believe that Scottie Pippen will be able to keep Curry under 20 points for every game, but I do feel like Scottie could keep Steph in check with that 6'8 frame of his.
Matchup Winner: Scottie Pippen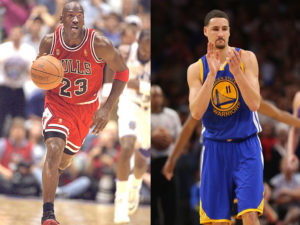 Michael Jordan vs. Klay Thompson
The next matchup would be at the shooting guard position as MJ takes on Klay Thompson. A lot of people may feel that this is a no brainier, but none the less we still have to evaluate both sides here.
Michael's game is unparallel to anyone that's ever laced up a pair of sneakers. Yes you've got Kobe Bryant, LeBron James & Stephen Curry, but Jordan is basically the golden standard in the NBA. Even the greats before MJ with Magic, Larry, Wilt, The Big O and Kareem were fantastic in their own rights but Michael Jeffrey Jordan came along and changed the entire landscape of the NBA.
Klay Thompson on the other hand is such a pure 3-point shooter. His shooting stroke is so smooth and that's what makes him so effective. This has been on display as of late with Curry injury in the playoffs. Thompson is also able to play beyond the three point line and drive to the basket as well, which helps out his game immensely.
Squaring up against the six time NBA champion and finals MVP as well as a five time league MVP, does not bode well for Klay Thompson as Michael Jordan will hands down handle Thompson and lock down the backcourt for the Bulls.
Matchup Winner: Michael Jordan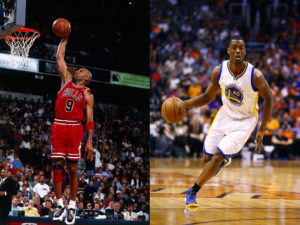 Ron Harper vs. Harrison Barnes
With Scottie Pippen taking on the challenge of playing Stephen Curry, it takes Ron Harper away from his normal point guard position and puts him on Golden States small forward Harrison Barnes.
Although Harper was able to reinvent himself under Head Coach Phil Jackson after disappointing and injury prone seasons as a member of the Los Angeles Clippers. Harper showed that he was a great lockdown defender and a pretty good mid range and during this point in his career a decent 3-point shooter.
The fact is that Barnes' speed and length will prove to be a difference in this matchup. Using that two inch difference in height gives Barnes the upper hand on Harper. Just like Ron Harper, Harrison is a proven shooter from mid-range and beyond the 3 point line.
Neither player shoots efficiently from beyond the arc, Barnes takes the advantage with his career 40% compared to Harper's 26%. Barnes with his ability to create his own shots and play well off the ball gives the former Tar Heel the edge over the Ohio native Harper.
Matchup Winner: Harrison Barnes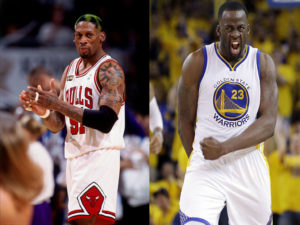 Dennis Rodman vs. Draymond Green
This would be such an exciting battle to see on the hardwood. The Worm vs. Draymond would be such an intense battle. It's hard to determine who comes out on top.
Dennis Rodman was notorious know for being such a nuisance to anyone he defended. Anything to get under your skin he would most definitely do it. Don't believe me just as Karl Malone.
Rodman was never an offensive threat by any means, but his rebounding was beyond comparable. His tenacity on the board and battling for every loose ball made him such a fantastic player on the court, not bringing up the off the court headaches he caused.
For Draymond Green, this guy has that ability to do it on both sides of the ball. He can stretch the floor, play inside, defend and rebound as well as anyone in the NBA today. He was such a steal for Golden State late in the draft and has proved to be such a crucial piece to this Warriors' ball club.
In this matchup the fact that Draymond does such a fantastic job stretching the floor for Golden State, it's definitely going to take Rodman away from the basket.
Once they get to the paint though, this is where Rodman makes his presence felt. Not only would he would get into the head of Green and take him out of his element, he would be able to out rebound Green.
Matchup Winner: Dennis Rodman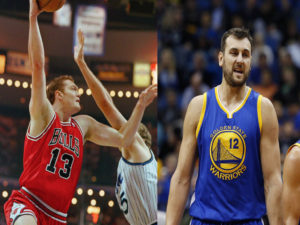 Luc Longley vs. Andrew Bogut
The starting center position puts the battle between a pair of Australians. This is a tough matchup to see who would come out victorious.
Both Luc Longley and Andrew Bogut are key pieces in the paint for their respective teams. When it comes to rebounding and ability to score that would be in favor of Bogut.
The center position has diminished with time, while Longley was in Chicago he had to go up against centers such as Shaquille O'Neal, Dikembe Mutumbo, and Patrick Ewing. When you look at the position currently for Bogut there are not a lot of true pure centers in the game aside from Dwight Howard, Roy Hibbert, and a couple others.
Between these two though, you have to give the edge to Andrew Bogut and he helps out Golden State establish an inside presence.
Matchup Winner: Andrew Bogut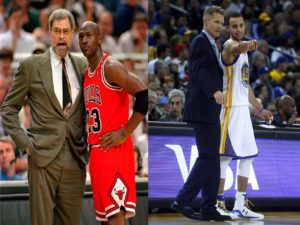 Phil Jackson vs. Steve Kerr
This has to be an instance of the protégé learning from the master.
Phil Jackson finished his career with 13 NBA Championships under his belt. He played with the Knicks where he earned two and then with Chicago and Los Angeles where he earned eleven as a head coach.
Steve Kerr had an illustrious career winning a total of 6 NBA Championships. He won five as a player, three with the Chicago Bulls and two with the San Antonio Spurs, and one as a coach with the Warriors last year.
In this matchup it's a no-brainer though. Phil Jackson is the one of the best coaching minds ever in the game of basketball.
Even though Kerr will most likely have a very successful career as a head coach, he still has quite some time to be the head coach Jackson ever was.
For Kerr and Golden State this year must end in winning an NBA title. If they are unsuccessful in capturing the trophy then that 73-9 season pretty much becomes a bust. So Steve Kerr you got 1 down and 10 more to go.
Matchup Winner: Phil Jackson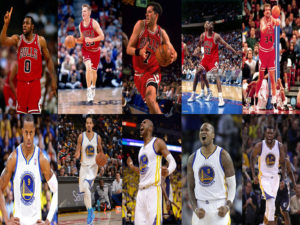 The Bench Production
When it comes to the bench depth for these two teams, it's clearly lopsided. The Golden State Warriors bench is a deadly group. It could even be a starting 5 for some of the weaker teams in the NBA.
Golden States bench starts with Andre Iguodala, Shaun Livingston, Leandro Barbosa, Mareese Speights, Festus Ezili and Anderson Vareajo. When the starting 5 goes to the bench, there's not much production that falls off. Iguodala and Livingston do a great job of facilitating the offense. Barbosa, Speights and Vareajo can stretch the floor, and Ezili can battle down low with the rest of them. They are still able to score at will against teams, especially when they move to that small ball lineup.
When you look at the bench of the Chicago Bulls, it could be something where they would run into problem. Including Randy Brown, Steve Kerr, Toni Kukoc, Bill Wennington and John Salley they would have a tough time matching up with the speed and physicality of the Warriors bench. Aside from Kukoc, most of the Bulls' bench was unable to create shots for themselves.
The only thing that Chicago has going for them is size. With Kukoc, Wennington, Salley & James Edwards they could present a formidable presence down low for Golden State. However Golden State would be way too quick for some of the taller veterans on the Bulls' team.
Matchup Winner: Golden State Warriors Bench
When it comes to who could win in a seven games series, I believe that the Chicago Bulls would be able to defeat the Golden State Warriors in 5 Games. Possibly winning one either at home or maybe even on the road in Chicago. I would feel they could squeak by and gain one win on their home court.
Surprised? Hear me out.
When you think back on the 6 championships for the Chicago Bulls, they had to go through teams such as the defending NBA Champions "The Bad Boys" from Detroit who may have been one of the most physical teams in NBA history. The New York Knicks with Ewing, Oakley, Starks and Smith, that played the Bulls with just as much tenacity matching Detroit.
You have to look it and say if the Chicago Bulls were able to climb atop of mountain in those types of conditions, the Bulls would be able to surpass those accomplishments in an era now where none of that type of play is even remotely close to being allowed.
Some may disagree, but to each their own. Even though this whole thing is nothing but hypothetical, it all comes down to having the greatest player of all time
…..At guard, From North Carolina, 6'6 #23 Michael Jordan.
BULLS IN 5!

NEO Sports Insiders Newsletter
Sign up to receive our NEOSI newsletter, and keep up to date with all the latest Cleveland sports news.