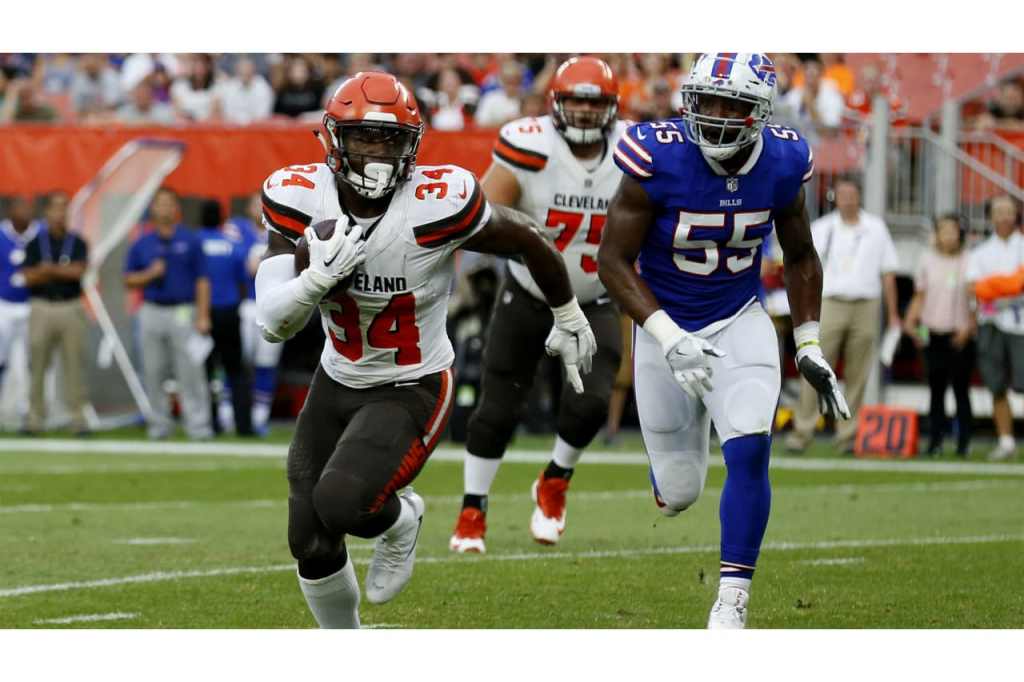 CLEVELAND – There may be no better opponent for a preseason game dubbed the final dress rehearsal than the defending Super Bowl champion Philidelphia Eagles. That's who the Browns welcomed to First Energy Stadium on Thursday night for their third preseason contest
Scoring was hard to come by in this one, as Cleveland played to a bizarre 5-0 victory. In true preseason fashion, this game featured a goal line stand, a safety, lots of turnovers and even a missed field goal. There were plenty of other things to observe in this one as well, particularly for the Browns.
Here are five takeaways from the Browns preseason win:
1) Who needs offense?

With this being the final time most of Cleveland's starters will play before that Week One showdown with Pittsburgh, it's safe to say no one has a good read on the identity of this Browns offense. In the first preseason game, the passing attack stood out. Against Buffalo last week it was the run game and that continued in spurts against the Eagles. Still, at no point throughout the preseason has the Browns offense put together a complete performance where both phases looked in unison. That has to be at least a little concerning.
For what it's worth, Cleveland finished with 138 rushing yards, compared to 120 passing yards in Thursday's win. Tyrod Taylor was 11-for-16 but only threw for 65 yards and couldn't punch a drive in on the goal line. As a unit, the offense was 0-for-2 in the red zone for the game. Again, there were spurts of potential but nothing sustainable.
2) Mayfield's first mistake

Tyrod Taylor is the team's starting quarterback, that's clear at this point. But throughout the preseason, there have been plenty of calls for Baker Mayfield to at least see some action with the first team. His moment arrived on Thursday night, but not how the Browns brass hoped it would. An injury to Tyrod Taylor's wrist sent him to the locker room for the final six minutes of the first quarter and left Mayfield to lead the offense for two drives. The Heisman winner completed two of his five passes over that span and led the offenses only scoring drive.
He promptly returned to his backup role though as Taylor returned to the field and finished out the first half  – talk about a bold move from Hue Jackson by the way, putting Taylor back in and risking further injury. Mayfield was reinserted under center at the start of the third quarter and was constantly berated with pressure. He felt similar effects behind the Browns second offensive line last week too, only this time it led to his first interception of the preseason in the fourth quarter. As you'll see below, Mayfield tried to force a throw with the rush barring down on him and paid the price.
https://www.youtube.com/watch?time_continue=5&v=N02VEVwoMRY
3) Turnovers galore

Speaking of interceptions, this game had plenty of turnovers, particularly in favor of the Browns. Dominant as Cleveland has been on defense throughout the preseason, they hadn't been creating turnovers. That changed on Thursday night, as the Eagles were handing them out like candy on Halloween. Philadelphia turned the ball over on four straight possessions in the first half. Three of them can be credited directly to Super Bowl MVP Nick Foles, who threw to bad interceptions and fumbled the ball away once. At one point head coach Doug Pederson even told sideline reporter Erin Andrews that Foles performance was "very disappointing." For as little as we know about the identity of the offense, this Browns defense showed they can be special throughout the preseason.
4) Dynamic Duo

Again, in spurts, the run game showed it's potential for a second consecutive week. It looks like the Browns are really on to something with the running tandem of veteran Carlos Hyde and rookie Nick Chubb. Hyde was breaking off some big gains, including a game-high 33-yarder for a second consecutive week. He looks primed for a great season. Also, for once, Chubb actually saw some reps running behind that first O-line and found some success, with a 21-yard rush immediately after Hyde's big run. What a luxury for Todd Haley to have those two at his disposal.
5) Red zone/Goal line struggles
Entering Thursday's game, the Browns were actually three-for-four in the red zone during the preseason. So going oh-for-two is far from ideal, especially when one of those chances stalled on the Eagles one-yard line. Not only that, but the sequence of plays the Browns ran from the one, during their second possession were brutal.
On first-and-goal, it was a pick play to the right and Taylor seemed to ignore a wide open Rashard Higgins on the slant and targeted Landry in the back corner of the end zone instead. Incomplete. One play later, Taylor threw into some heavy traffic over the middle and was lucky to not be intercepted. On third down they went right back to the same pick play they ran on first down, Taylor targeted Landry again and failed again. Then on fourth down, Taylor booted to his left to avoid some pressure and wound up hurting his wrist after throwing an incomplete pass. Four plays from the one, not one of them was a run. Yes, it's the preseason, coaches want to test certain situations, but it wasn't pretty regardless.
Follow: @Spencito_

NEO Sports Insiders Newsletter
Sign up to receive our NEOSI newsletter, and keep up to date with all the latest Cleveland sports news.