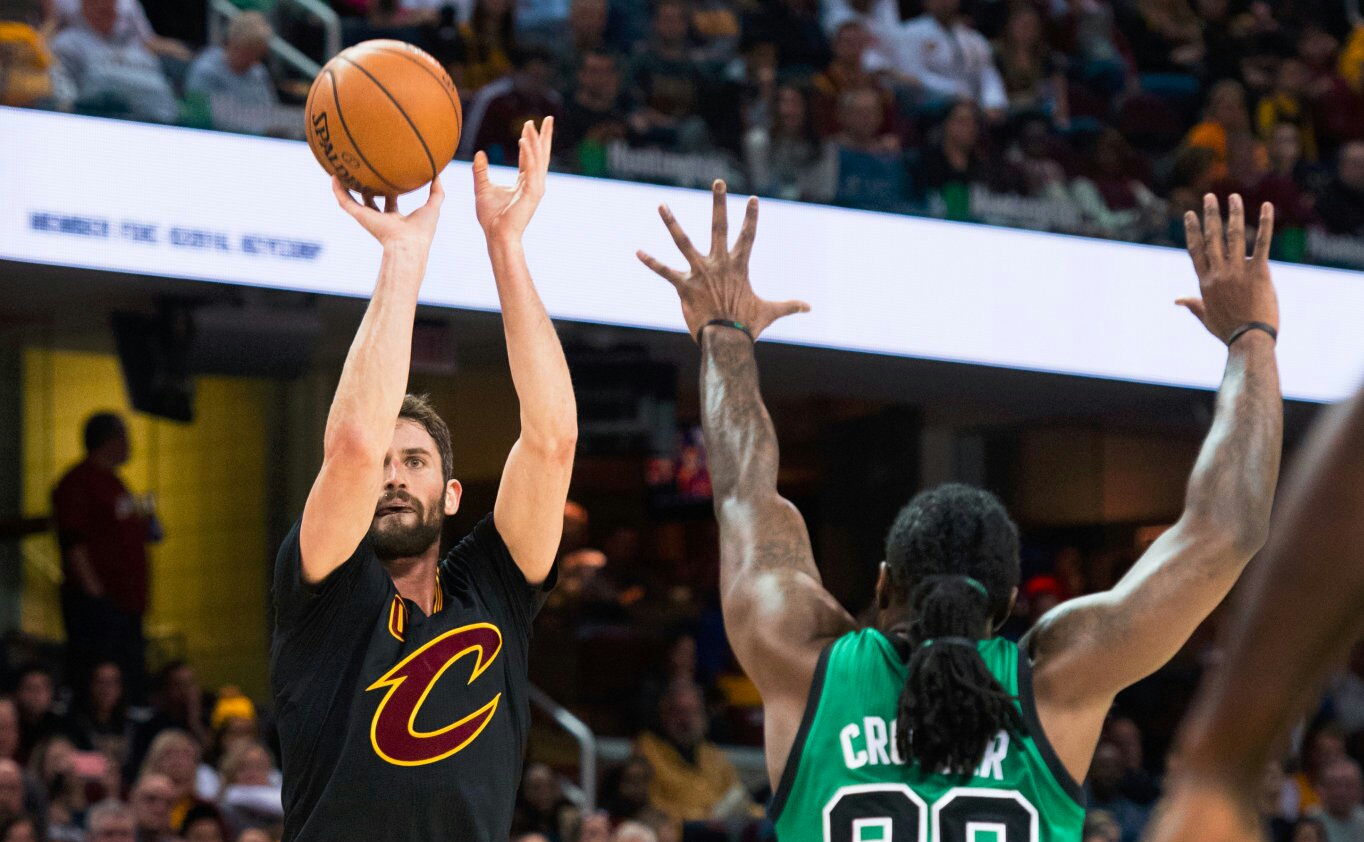 1. Kyrie Irving's Assists
Irving finished with 32 points and 12 assists.
It was the fifth time in his last six games that the 24-year-old posted double-digit assists.
His evolution is happening right in front of our eyes and during what some would call a "meaningless" regular season, it's one of the biggest factors that could make the Cavs even more dangerous come April, May, and June.
2. LeBron Gives Himself an "F"
LeBron (23 points, 11 assists) was two rebounds away from his fourth triple-double of the season.
Apparently, LeBron would grade that performance an "F." But that was mostly attributed to his eight turnovers.
He called his performance, especially some of his unforced turnovers "unacceptable," but was happy to make some plays down the stretch.
Irving said, "that's what makes the greats great," praising LeBron for holding himself to a high standard.
3. Love's All-Star Starter Campaign Continues
This just comes with the territory of averaging 22 points and 11 rebounds, but Love is worthy of not just an All-Star spot, but a starting job in New Orleans on Feb. 19.
His 30 points and 15 rebounds were par for the course and made Thursday his 19th double-double in 28 games played this season.
15 of his points came in the first quarter, a trend for the power forward, as head coach Tyronn Lue likes to get him involved early every game.
Some would say Love could simply take the spot that Chris Bosh occupied last year to make the Eastern Conference squad as a reserve, but you'll be hard-pressed to find a more consistent big in 2016-17 than the kid from Oregon.
Love's breakout performance in his third season as a Cavalier is another development as to why the games played between late-October and early-April are not meaningless.
4. Role Player(s) of the Game
Not only did the Big 3 combine for 85 points, but Richard Jefferson (11 points), DeAndre Liggins (8 points) and Tristan Thompson (11 points) made big contributions.
Jefferson also hauled in what may have been the game-sealing rebound and hit both free throws to close it out. The 36-year-old was 7-for-9 from the line on the night and has played well for the past few weeks after getting out to a slow start.
Lue credits Jefferson's strong play of late to his conditioning through two full months of action.
"He's in good shape, at least better than he was early in the season and has been playing great," said Lue.
This playing time for the reserves, particularly for Liggins, will be valuable to get ready for the Playoffs, while J.R. Smith recovers from a broken thumb.
After Smith returns in late-March, there's a good chance it will take a while for him to get back in a groove. If he's not back to his old self in a short period of time, other players may need to pick up the slack.
5. Eastern Conference Finals Preview?
The Cavs got the best of Boston in this round, but in an Eastern Conference with no clear-cut second-best team, the Celtics are near the top of the list of potential opponents in the 2017 Conference Finals.
The Celtics trailed by 18 heading into the fourth, but fought back to make it a one-point game with less than a minute to play.
Toronto may only be two games back of Cleveland, but if the Celtics can finish with the third seed, they avoid a conference semi-finals meeting with Cleveland and would likely play the Raptors in the second round.
There's a long way to go until then, but with a core of Isaiah Thomas (31 points), Al Horford, Jae Crowder, Avery Bradley (23 points), and Marcus Smart, the Celtics have arguably the deepest roster of any of Cleveland's challengers in the East.