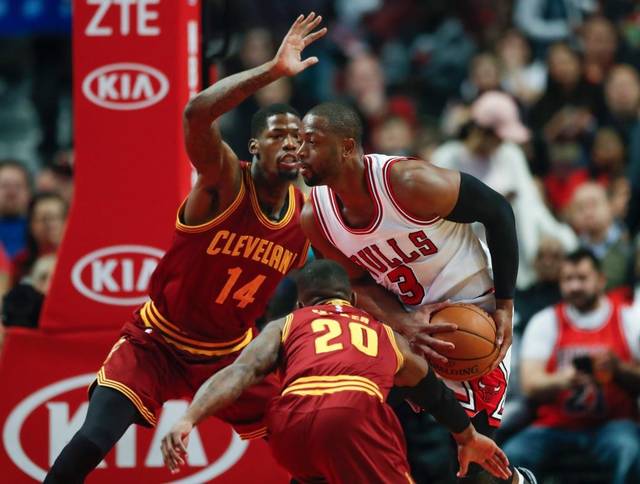 The Cavs (18-6) are pretty much rolling through competition, with the exception of a few hiccups and a recent loss in a game that did not feature LeBron James, Kyrie Irving and Kevin Love.
It may seem like nit-picking, but there is at least one issue, if not a few others, that has stood out throughout the first 24 games:
The Backup Point Guard spot.
Coming into the season, it looked like the position could be one of the weaknesses on the roster.
So far, it hasn't really come back to bite the Cavs, but Tyronn Lue's recent decision to give Irving two consecutive games off could be a sign that he was playing too many minutes for the liking of the coaching staff.
The Cavs split those two games and probably would have been able to squeeze out a win if LeBron played in Memphis.
That's neither here nor there.
What I'd like to focus on is that position, specifically.
Throughout the season, the Cavs have used a combination of Iman Shumpert, Kay Felder, and DeAndre Liggins at point guard when Irving is on the bench.
Often times, the ball starts out in LeBron's hands and he conducts the orchestra from there.
More than 1/4 of the way through the season, here are five questions that have stood out – some of which I and others have asked Lue already.
#1. Is Shumpert Capable of Filling Those Minutes?
Early in the season, Shumpert was the primary backup point guard.
He is having a solid season, playing 22 minutes per game, averaging 7 points and shooting 49 percent from the field.
Something that we are starting to notice with this rotation is that starting shooting guard J.R. Smith has gotten off to a pedestrian start (shooting 32 percent from the field).
Along with Smith's struggles, Richard Jefferson and Mike Dunleavy have both struggled. Jefferson's underwhelming production could be attributed to the fact that he's 36 years old in his 15th NBA season.
Dunleavy is 36 and trying to fit in on a star-studded team.
Because Smith, Dunleavy, and Jefferson are not quite playing up to their standards, Shumpert's production has made up for it in some ways. It also means that perhaps the Cavs are relying on Shumpert more to fill that shooting guard role than they originally anticipated, making him less of an asset at the backup point guard spot.
#2. Is DeAndre Liggins Able to Pick Up the Slack?
In two short weeks, Liggins has carved out a regular role in the rotation. First, it came as a fill-in for Smith at shooting guard.
But this week, Liggins started both games at point guard.
Liggins is certainly earning the playing time with his hustle and scrappy defense, but hasn't raised eyebrows with his ball-handling or offensive performance.
When asked how much more comfortable Lue is with the backup point guard spot based on Liggins' performance, the coach said "I'm comfortable…," but limited the praise for Liggins to his defense and hustle and did not go much beyond that.
What this seems to indicate is that the Cavs still don't have that guy who they can trust with the ball in his hands at the backup point guard spot.
Liggins has certainly picked up in an area where former-backup point guard Matthew Dellavedova was so valuable – the defensive end – but doesn't offer the passing or three-point shooting that Delly provided.
#3. How Much Can Kay Felder Benefit from Riding the Bench?
The second-round draft pick has not seen significant playing time, but when he does get minutes, it's clear he has a long way to go.
He's played in 11 of 24 games, averaging less than 10 minutes per game.
If you take away his 23-minute game on Wednesday, it's only seven minutes per game.
How much longer is it a good idea to sit this guy night in and night out? And how much can he really gain by flying around with the team from city to city?
Sure, the experience of being around an NBA locker room is valuable.
There are definitely things he can learn in practice.
But if the plan from the get-go is to sit him on the bench unless it's garbage time, why not have him play 30 minutes a night in Canton?
Just a thought.
#4. What to Do with Jordan McRae and Mo Williams?
It seems like it's only a matter of time before the Cavs unload Williams' contract and trade McRae to a team that could actually give him playing time.
A large group of players became trade-eligible on Thursday, Dec. 15.
Put two and two together.
Here are just a few names that could fit the Cavs' wish list via trade:
Jerryd Bayless, Sergio Rodriguez, Isaiah Canaan, Aaron Brooks, Ramon Sessions, D.J. Augustin, Marcelo Huertas, Leandro Barbosa, Garrett Temple, Deron Williams, Tim Frazier, and Langston Galloway.
Those are only the guys who became trade-eligible on Thursday and players who appear to be on teams that either aren't using them, or teams who have little hope of a playoff-berth.
#5. Do the Cavs Wait it Out for Free-Agents?
The names that have stood out since the offseason continue to include Norris Cole and Mario Chalmers.
Fans would probably be more excited by those names than the ones mentioned above.
We've seen that the Cavs have been able to "get away" with the roster including Liggins and Shumpert as backup point guard options, but the fact that Irving is already tired after only 22 games, may be an indication that the team needs to act quickly and get this position taken care of sooner rather than later.
The longer the team goes without addressing it, there appears to only be three or four possible answers.
A. Liggins proves himself worthy of the backup pg role.
B. Smith, Dunleavy and Jefferson get back to playing at high levels; Shumpert can play more pg.
C. Trade for one of the players who was made available recently.
D. Wait it out and sign Cole or Chalmers.
The absolute last option I'd like to bring up is that of Canton Charge point guard Quinn Cook.
Cook is averaging 25 points, 4.5 rebounds, and 6.0 assists per game through 13 games in the D-League.
He recently broke the franchise record for points in a game, dropping 49 points and dishing out 11 assists.
One possibility is that the Cavs could essentially swap Cook and Felder between Canton and Cleveland.
It's pre-mature to say that this will or will not happen, but why not?
Cook is lighting it up and Felder is riding the bench. It seems like a fair trade-off for both sides.
We'll keep you posted if anything develops on any of these fronts.

NEO Sports Insiders Newsletter
Sign up to receive our NEOSI newsletter, and keep up to date with all the latest Cleveland sports news.