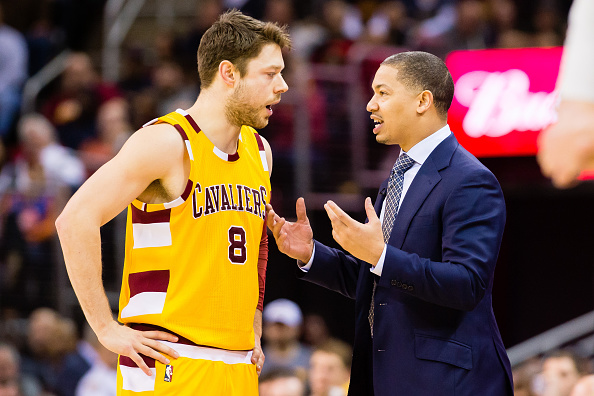 CLEVELAND – It was a one-off, a happenstance, a freak occurrence…there are many possibilities to consider regarding the Golden State blowout.
One thing is certain; when the Cavaliers were destroyed that Monday night the entire city went into panic mode. Any and all mitigating factors were ignored…the verdict was in: the 2015-16 Cleveland Cavaliers were deemed not good enough to win the NBA title.
In a city that has become synonymous with professional sports futility, when Golden State came into Quicken Loans Arena and left with the Cavs' collective manhood there was almost a fan-wide feeling of resignation. It was almost like everyone was waiting for the other shoe to drop, and it did.
With a bang.
Here's the thing…are things really as bad as they seemed in the waning hours after the Warriors' demolition of the Cleveland Cavaliers?
The backlash was fairly brutal. David Blatt, who had patiently guided his charges to the Eastern Conference title last season, was shown the door. Enter his No. 1 assistant, Tyronn Lue, who was given the chance of a lifetime…with all the expectations in the world riding on his ability to get things "turned around."
At the time of Blatt's firing the team had a four-game lead in the Eastern Conference standings. That lead is down to just two games over the surging Toronto Raptors.
In the first game of the season the Cavaliers lost a tight one on the road to the Chicago Bulls. In the first game of Lue's tenure they lost a home game to those same Bulls…a game that wasn't very close.
Here's the thing: things were not as bad as they seemed. Sure, Blatt did not have a firm handle on his team and the relationship between him and his players was on the downside. It's hard to respect a coach that doesn't even know when his starting shooting guard is almost two hours late for the biggest game of the season, as was J.R. Smith on the evening of the Golden State fiasco.
The team, however, was fine. People are talking about this big roster shakeup that "has to happen" for the team to actually compete with the Warriors in the NBS Finals. Sorry, this is not reality.
Let's look at the way things are, and the perception of where things should be.

NEO Sports Insiders Newsletter
Sign up to receive our NEOSI newsletter, and keep up to date with all the latest Cleveland sports news.